San Antonio Stock Show and Rodeo
Boijsoli, Mowry Shine in San Antonio Stock Show and Rodeo Finals
Ann Bleiker
---
Shelby Boisjoli describes herself as shy and quite. She prefers to let her roping do her talking and her roping was anything but shy and quite enroute to her first career San Antonio Stock Show and Rodeo title.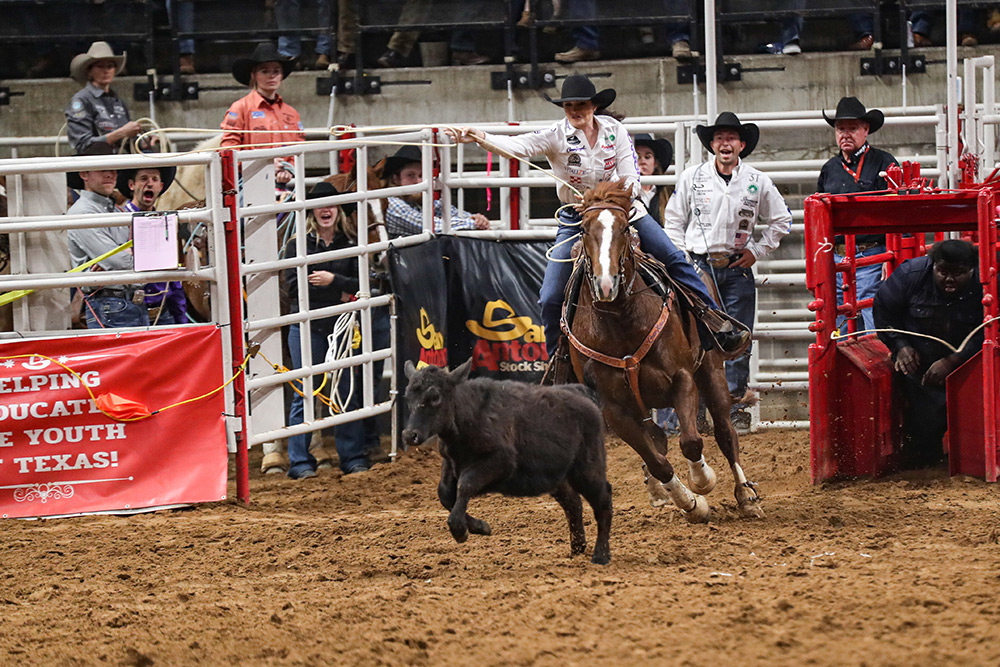 Shelby Boisjoli
Photo by Hailey Rae
Boisjoli, a Canadian roper who now makes her home in Stephenville, Texas, was the top money earner during the 2023 San Antonio Stock Show and Rodeo with her lightning-fast times. She competed in the fifth bracket wasting no time winning the first round in a time of 1.8 seconds. She placed second in the second round in a time of 2.4 seconds. Although she didn't pick up any money in the third round, she still led the bracket with most money won with $2,250 to advance to the semifinal round.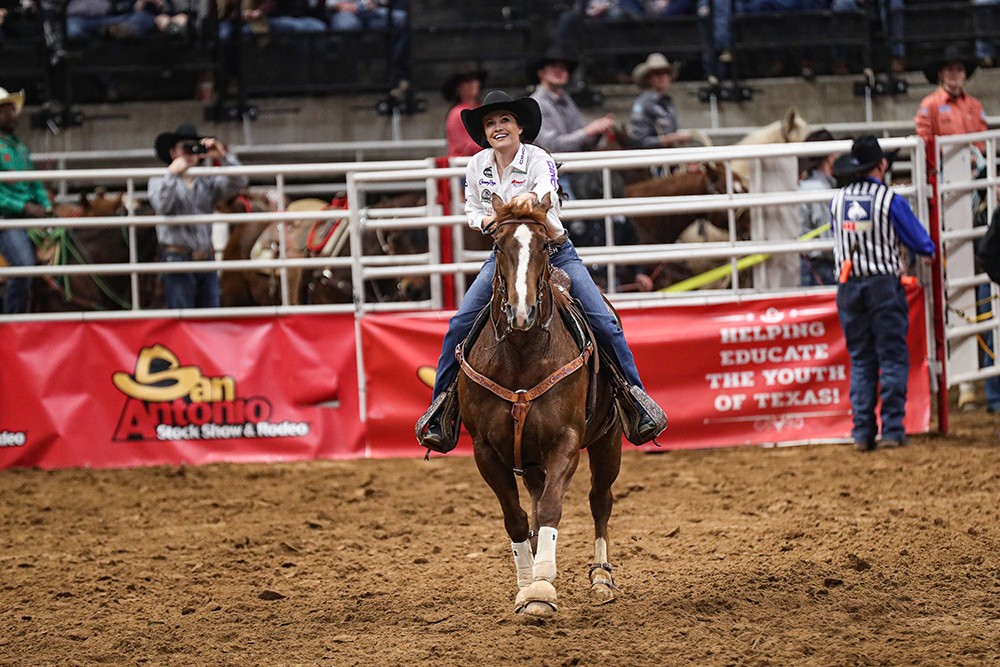 Shelby Boisjoli
Photo by Hailey Rae
In the semifinal round she won the round in a time of 1.9 seconds to add another $2,500 and advanced to the final round. As she backed in the box for her final run, she knew she had drawn a calf that would test her but she was laser focused on getting the best shot and let it play out. She wasted no time in taking her shot and stopped the clock in 1.7 seconds to tie with Joey Williams. Each lady picked up $5,500 in the finals but due to money won coming in Boisjoli captured the title with a total of $10,583.
            "I was competing against myself in the final round as that calf liked to go right and I had to attack my weakness to get past that one," stated Boisjoli. "I just try to take my best shot every time."
            Boisjoli has qualified for all three Wrangler National Finals Breakaway Roping events and in 2021 finished as reserve world champion.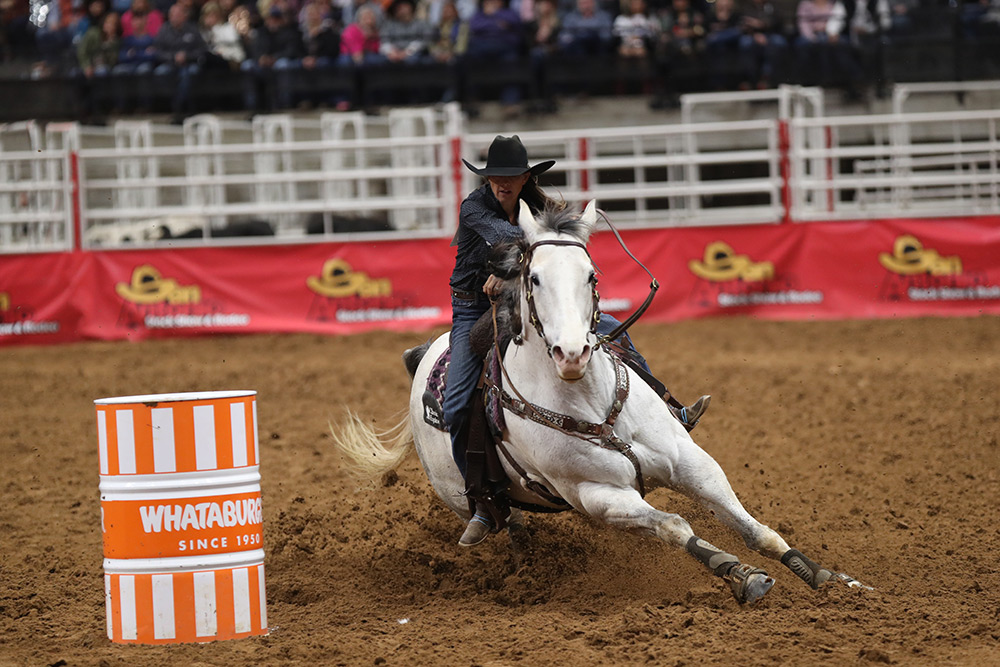 Kassie Mowry
Photo by Hailey Rae
Kassie Mowry has become one of the most efficient barrel racers on the circuit as she splits her time between the ProRodeos and training the next great barrel horse through the futurity and derby circuit. Mowry qualified for her third NFR last year after going to just 26 rodeos. She has become a master with making it count when she shows up with her talented trailer load of horses.
            She captured her first San Antonio Stock Show and Rodeo title aboard CP He Will Be Epic "Will" and added $22,500 as she searches for her fourth NFR berth. Mowry competed in the second bracket winning the third round in a time of 13.87 seconds to snag the fourth and final qualifying spot for the semifinals out of her bracket having collected $2,500. She would fail to cash a check in the semifinal round resulting in having to compete in the wild card round for a spot in the Finals. The wild card round was Saturday afternoon (Feb. 25) with the finals later that evening.
            Mowry and Will put the pedal to the medal in the wild card round stopping the clock in 13.96 seconds to punch their ticket to the final round. Once there they didn't let off the gas and stopped the clock in 13.95 seconds to win the round and title.
            "This win means so much especially after raising him from a baby to see him come run on a big stage like this, is just a dream come true," stated Mowry about her great horse Will. "Wins like this make it feasible for me to keep coming back."
            When asked about how it was to run twice on Saturday she simply stated, "well it certainly didn't hurt any."
            Boisjoli is currently ranked 11th in the world standings with $11,053, while Mowry is now sixth with $27,302. Both will be looking to add to their totals at RodeoHouston which kicked off on February 28.
Briggs and Domer Making It Count in San Antonio
Ann Bleiker
---
The San Antonio Stock Show and Rodeo will crown its 2023 champions this Saturday, Feb. 25. There is no doubt every contestant who has qualified for the semifinals, later this week, will be looking to get one step closer to that title and the big payday that comes with it. A big winter rodeo payday can set up a ProRodeo athlete nicely for the remainder of the year.
Jordon Briggs is one that likes to maximize her opportunities and she and Rollo are doing just that thus far in San Antonio. Briggs, the 2021 WPRA World Champion Barrel Racer, dominated bracket No. 4 of the tournament-style rodeo winning all three rounds to easily advance to the semifinal round. Briggs began her quest for the San Antonio title stopping the clock in 13.93 seconds to edge Kelly Allen (14.09 seconds), who shared the win in Rapid City at the beginning of the month. The second round looked like a round at the 2022 Wrangler NFR with Briggs winning the round in 13.97 seconds, WPRA Rookie of the Year Bayleigh Choate taking second in 14.01 and NFR Average Champion Shelley Morgan placing third in 14.13 seconds. Briggs and Rollo would save the best for last in their bracket stopping the clock in 13.77 seconds. Only Sissy Winn in bracket #2 has turned in a faster time when she won the second round of that bracket in a time of 13.75 seconds. Abby Pursifull would finish second to Briggs in that round in a time of 13.96 seconds.
When the fourth bracket competition came to a close Briggs had collected a cool $7,500, so far the most of any WPRA barrel racer, to advance to the semifinal round.
One bracket of competition remains to play out Tuesday and Wednesday before the semifinal round field will be complete. Thus far the barrel racers joining Briggs will be Choate, Morgan and Pursifull out of the fourth brackets as well as Jackie Ganter, Hailey Kinsel, Steeley Steiner, Kassie Mowry, Emily Beisel, Molly Otto, Latricia Mundorf, Sharin Hall, Brittany Pozzi Tonozzi, Sissy Winn, Lisa Lockhart and Leslie Smalygo.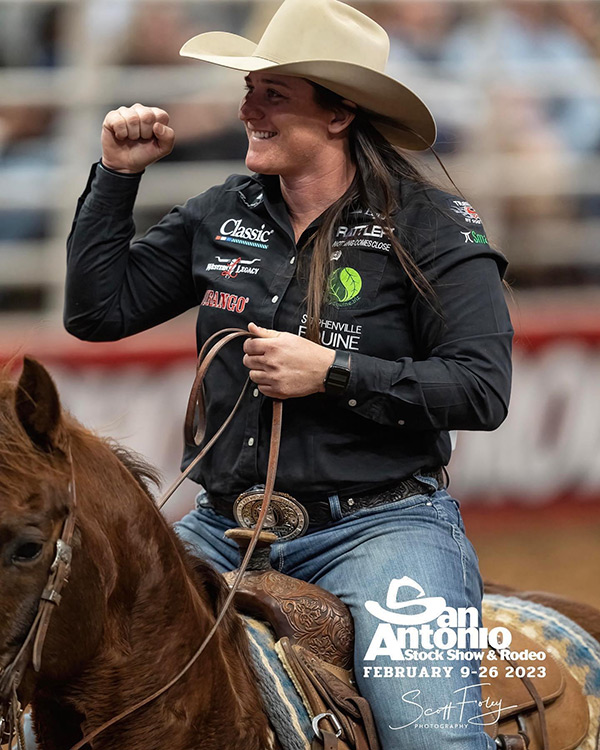 Kelsie Domer
San Antonio Stock Show and Rodeo photo by Scott Foley
On the breakaway roping side no one has been faster than Kelsie Domer inside AT&T Center. Domer, who also competed in bracket #4 set a new arena record in the third round with a 1.6-second run. Domer knew she had to place high in that round to guarantee a spot in the semifinals, so she went ahead and made history as well. Domer placed third in the first round in a time of 3.0 seconds. As a result of the record run, Domer ended up being the high money winner of the fourth bracket with $2,000.
The highest money winner thus far in the breakaway roping has been Joey Williams from the third bracket. She placed in all three rounds to collect $2,625 heading into the semifinals.
Other ropers that will join Domer and Williams in the semifinals are TiAda Gray, Taylor Hanchey, Tacy Webb, Aspen Miller, Jackie Crawford, Sammy Taylor, Laramie Johnson, Alex Loiselle, Brighton Bauman, Jordan Jo Hollabaugh, Martha Angelone, JJ Hampton, Erin Johnson and Madison Outhier.
The Cowboy Channel will be airing the remaining action this week.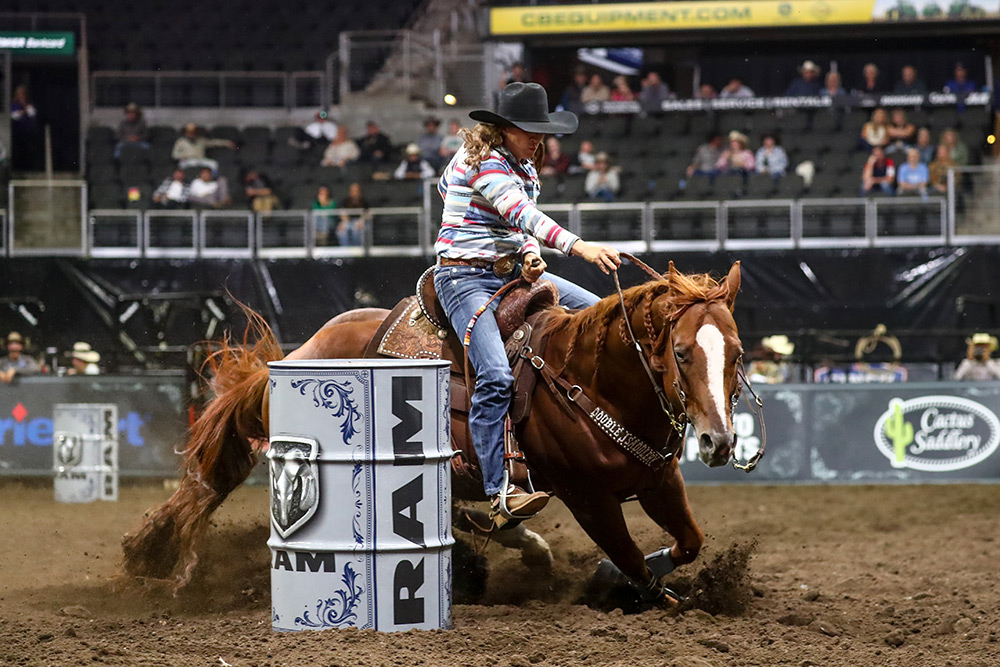 Brittany Pozzi Tonozzi Member Spotlight Pozzi Tonozzi Sets New WPRA Regular Season Earnings Record By Ann Bleiker Photo by Roseanna Sales Brittany Pozzi Tonozzi officially set a new WPRA regular season earnings record during the first round of the inaugural Cinch...
(719) 447-4627
(719) 447-4631 (fax)

431 South Cascade
Colorado Springs, CO 80903
DIRECTIONS
(719) 447-4627 | (719) 447-4631 (fax)
WORLD CHAMPIONSHIP BARREL RACING — Where the Elite Compete®
WORLD CHAMPIONSHIP
BARREL RACING
Where the Elite Compete®