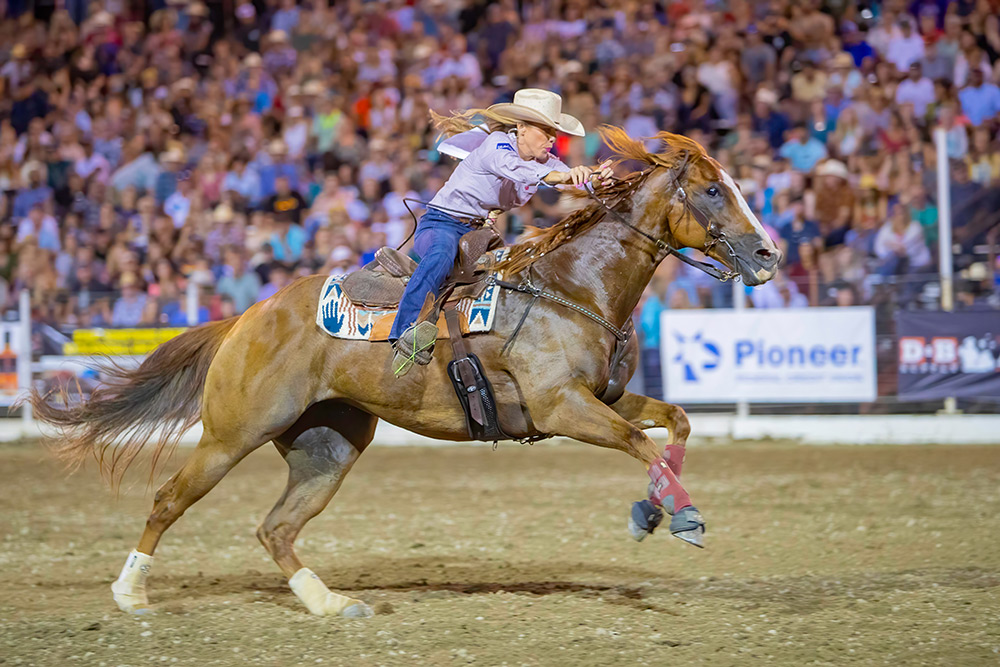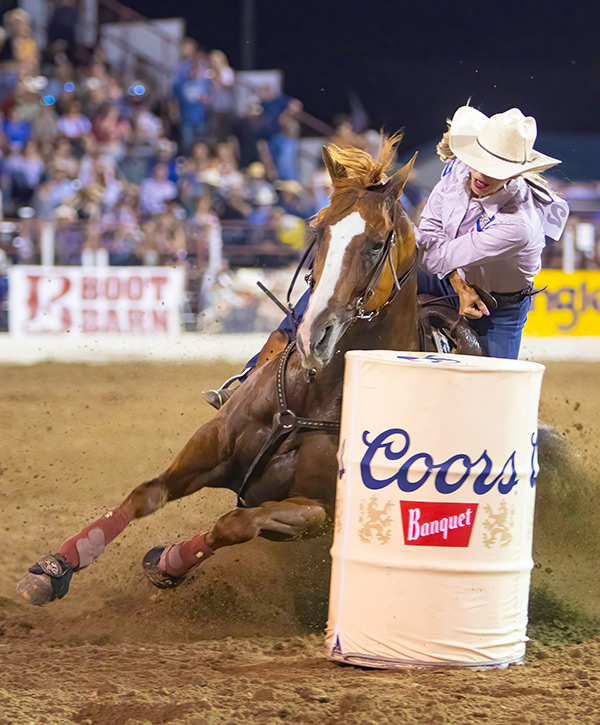 Crowther Wins Big Cash in Caldwell
By Ann Bleiker
Photo by Ty Stockton
---
Margo Crowther describes herself as a professional barrel racer, wife, mom, horse trainer/breeder and a beach and boat lover. Well she hasn't had much time for the latter this year as she is chasing her dream of qualifying for the Wrangler National Finals Rodeo.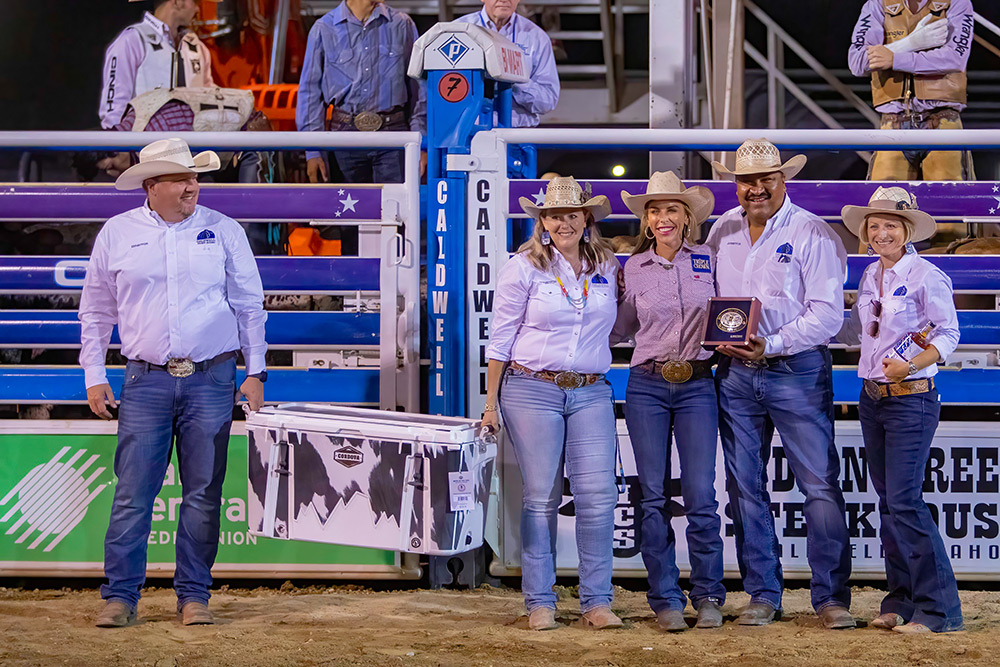 Margo Crowther
Photo by Ty Stockton
Crowther of Fort Myers, Florida, has headed west where rodeo dreams become reality and despite being miles and miles from home she is finding her groove and is currently ranked No. 13 after a big win at the Caldwell (Idaho) Night Rodeo.
            Crowther won the average in a total time of 51.81 seconds on three runs. For the Florida cowgirl the Caldwell Night Rodeo was a bit of a glimpse of the NFR competition with three-time world champion Hailey Kinsel and Sister winning the first round in a time of 17.27 seconds. Crowther was second in a time of 17.34 seconds, with another former NFR qualifier Cheyenne Wimberley taking third in a time of 17.35.
            The second round was won by Paige Jones in a time of 17.03 seconds. Jones (No. 14) is also in search of her first Wrangler NFR. Top Fourth of July earner and No. 1 ranked WPRA rookie Bayleigh Choate tied with Madison Camozzi for second in the second round in a time of 17.04 seconds. Crowther was third stopping the clock in 17.12 seconds.
            The final round was won by yet another former NFR qualifier Dona Kay Rule with a time of 17.03 seconds. Crowther finished fourth in a time of 17.35 seconds to land atop the leaderboard and take home her first Caldwell title. In so doing, she also added $8,074 to her 2022 earnings to keep her in the top 15 with just over a month left in the regular season.
            The Caldwell win comes on the heels of her win at the Omak (WA) Stampede in a time of 16.25 seconds worth $3,087. Crowther also got a big win the end of July at the Deadwood (SD) Days of '76 Rodeo.
            The Caldwell Night Rodeo hosted breakaway roping for the second consecutive year and it was also record setting. Taylor Munsell from Alva, Oklahoma, won the final round with a 2.2-second run, the fastest recorded in Caldwell. The event was won by Beau Peterson, from Council Grove, Kansas with a total time of 8.4 seconds on three head.
            Michelle Darling, like Crowther, is in search of her first NFR qualification. In fact, Darling is currently ranked 12th with $75,870, with Crowther right behind her with $74,538. Darling also took home a win in Idaho over the weekend in record fashion. Darling won the barrel racing title at the Gooding Pro Rodeo in an arena record time of 17.88 seconds. Ivy Saebens, currently 19th, was second in a time of 16.89.
            Taylor Hanchey got the win in the breakaway roping in Gooding stopping the clock in 2.2 seconds adding $5,753 to her 2022 standings. She is currently ranked third with $62,573.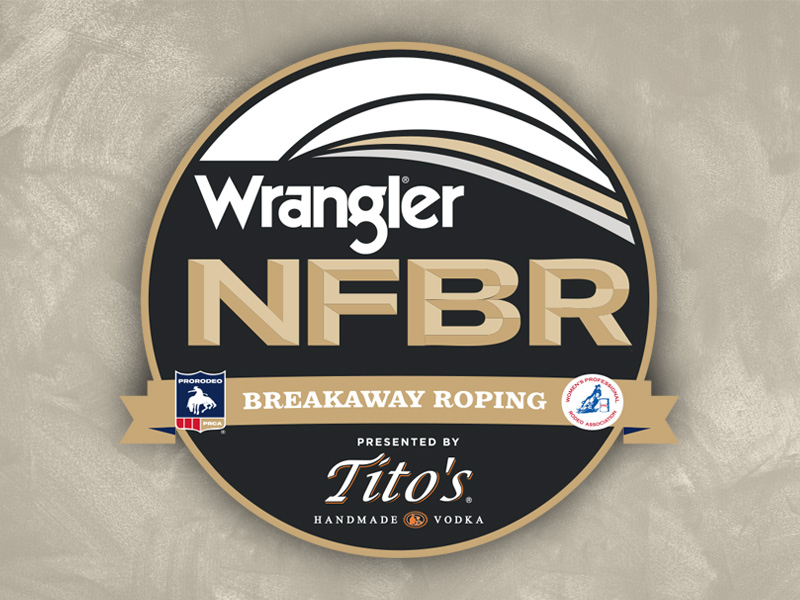 Nominations for Outstanding Committee Woman of the Year Tito's Handmade Vodka Named Official Vodka Sponsor of the WPRA Sponsorship Includes Presenting Sponsor for 2023 Wrangler National Finals Breakaway Roping By Ann Bleiker COLORADO SPRINGS, Colo. (November 21, 2023)...
(719) 447-4627
(719) 447-4631 (fax)

431 South Cascade
Colorado Springs, CO 80903
DIRECTIONS
(719) 447-4627 | (719) 447-4631 (fax)
WORLD CHAMPIONSHIP BARREL RACING — Where the Elite Compete®
WORLD CHAMPIONSHIP
BARREL RACING
Where the Elite Compete®