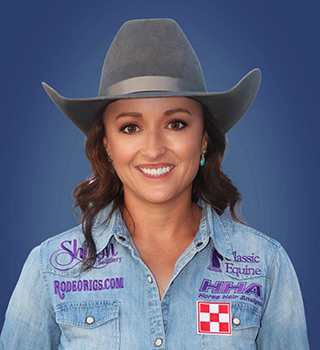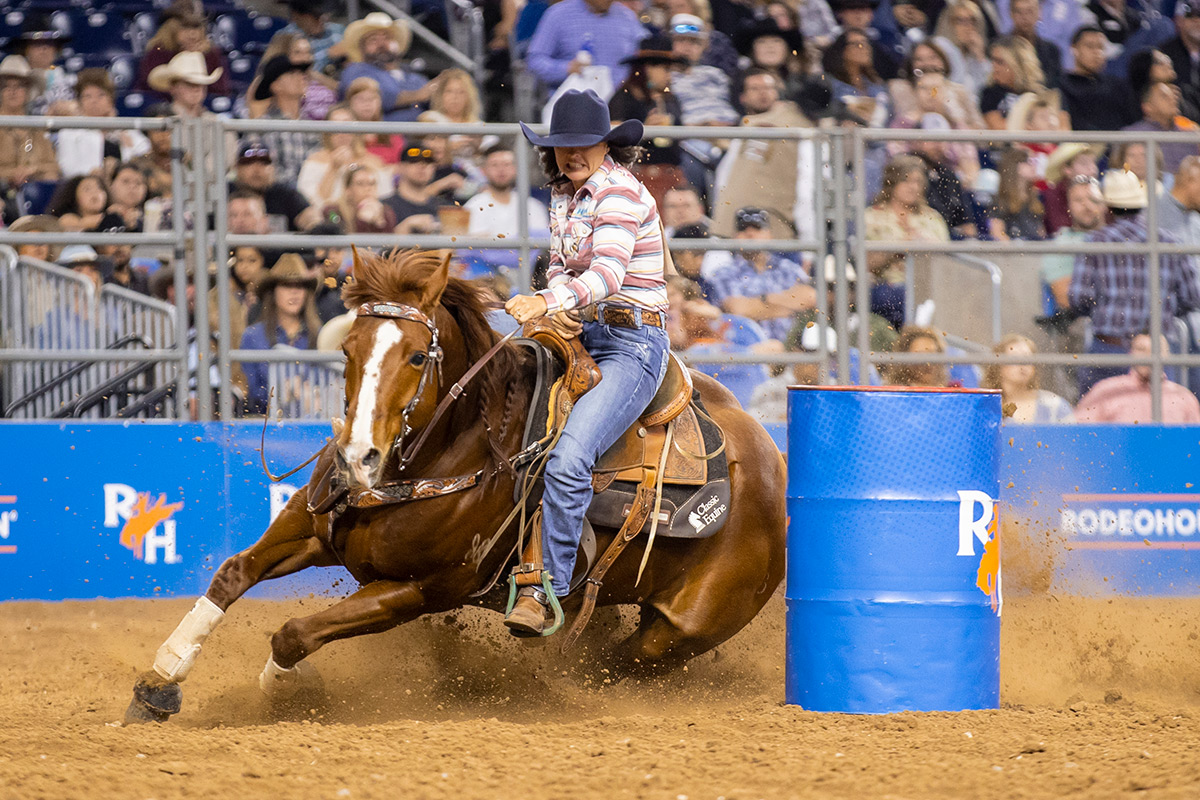 Briggs, Johnson Strike it Big in Houston
By Ann Bleiker
Photo courtesy RodeoHouston
---
RodeoHouston is definitely a bucket list rodeo that every WPRA member would like to win and have on their resume. Before 2022, this dream was only achievable by barrel racers but thanks to the explosion of breakaway roping events and RodeoHouston adding a second female only discipline for the first time, a whole new group of ladies can now dream of standing in the winner's circle inside NRG Stadium.
Following the conclusion of RodeoHouston in 2022, after being abruptly stopped in 2020 and not holding the event in 2021 due to the pandemic, reigning world champion Jordon Briggs and three-time WPRA breakaway roping world champion Erin Johnson etched their name in the history books of this prestigious event and shot to No. 1 in the WPRA world standings in their respective disciplines.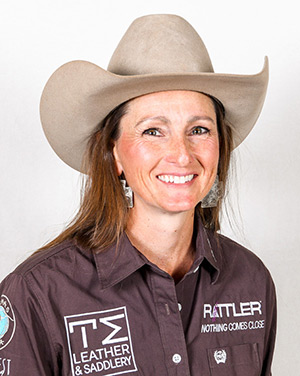 Briggs and her Horse of the Year, Famous Lil Jet "Rollo," won the sudden-death final round in a time of 14.33 seconds and in so doing hit it big with the $50,000 payout to the winner. Interestingly enough Briggs edged Kassie Mowry, a fellow futurity horse trainer, who rode Famous Ladies Man "Emmitt." Both Rollo and Emmitt were bred and raised Busby Quarter Horses. Mowry finished in a time of 14.55 seconds, while three-time world champion Hailey Kinsel and Sister was third in 14.80 seconds. World Champion Nellie Miller and her blue roan also know as Sister finished fourth after a downed barrel in a time of 19.80 seconds.
During the semifinal round, Briggs and Mowry went 1-2 as well in times of 14.52 and 14.54, respectively. Kinsel won her semifinals in a time of 14.59 seconds. Briggs has won $90,511 at seven rodeos thus far in 2022, while Kinsel is second with $63,101, with her big win in San Antonio last month. Early indications appear it will be another good horse race between these two ladies and their standout horses.
On the roping end, Johnson made history by being the first woman to win the breakaway roping title. She did so by turning in the only clean run of the final round stopping the clock in 2.7 seconds. Ironically enough, she barely squeaked into the finals after turning in a 12.2-second run to finish fourth in the semifinal round. Amanda Coleman won the semifinal round in a time of 2.5 seconds but a broken barrier cost her in the finals finishing third in 12.4 seconds. Laramie Johnson was second in the final round in 12.2 and JJ Hampton had a no time.
Johnson of Fowler, Colorado, earned $25,000 for her winning time in the finals to move ahead of Fort Worth's breakaway champion Kelsie Domer. Johnson has won $49,899 at eight events in 2022, while Domer is second with $35,443 at seven events.
Complete coverage of both winners will be available in the April issue of the WPRA News.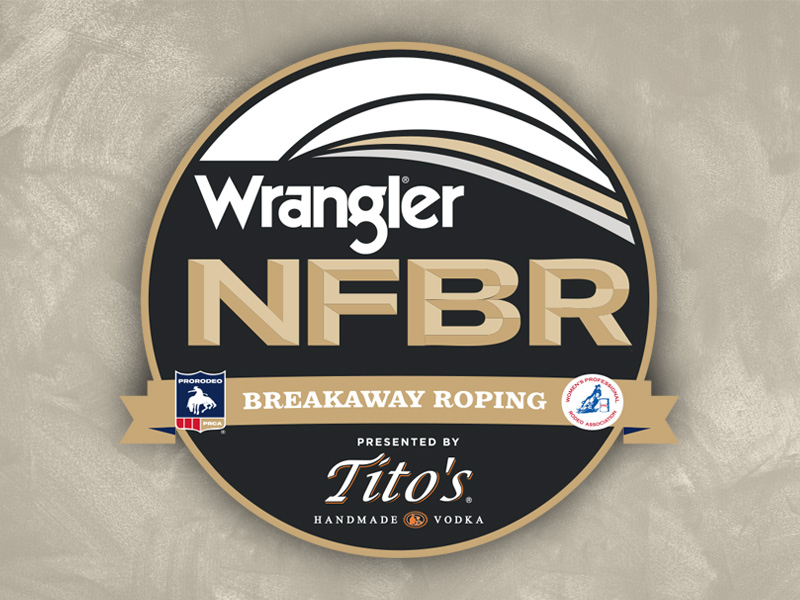 Nominations for Outstanding Committee Woman of the Year Tito's Handmade Vodka Named Official Vodka Sponsor of the WPRA Sponsorship Includes Presenting Sponsor for 2023 Wrangler National Finals Breakaway Roping By Ann Bleiker COLORADO SPRINGS, Colo. (November 21, 2023)...
(719) 447-4627
(719) 447-4631 (fax)

431 South Cascade
Colorado Springs, CO 80903
DIRECTIONS
(719) 447-4627 | (719) 447-4631 (fax)
WORLD CHAMPIONSHIP BARREL RACING — Where the Elite Compete®
WORLD CHAMPIONSHIP
BARREL RACING
Where the Elite Compete®