Kinsel Collects Ellensburg Rodeo Title for First Time in Her Career
By Ann Bleiker
Photo by Bill Lawless
---
Three-time WPRA world champion Hailey Kinsel and her standout mare DM Sissy Hayday "Sister" are adding new wins to their already illustrious resume. During Sister's career she has proven she can dominate in little pens and big pens so it doesn't come as a surprise that the duo won the Ellensburg (WA) Rodeo over Labor Day weekend for the first time in their career. Actually, it was also the first time the duo had even run in that pen.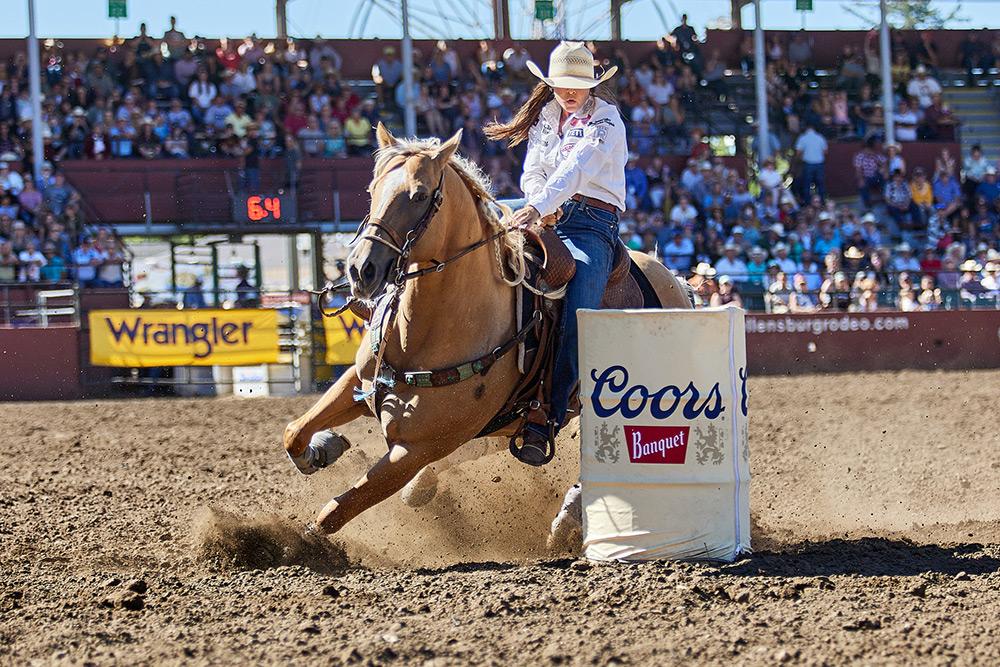 Hailey Kinsel
Photo by Bill Lawless
"It was so exciting," said Kinsel of the win. "This is a great rodeo. I have wanted to come to Ellensburg for a long time and this year it finally worked out. I knew she (Sister) would like it here but didn't know if we would win it but felt like I had the horse to win it. That is the type of confidence you want to have coming into a short round."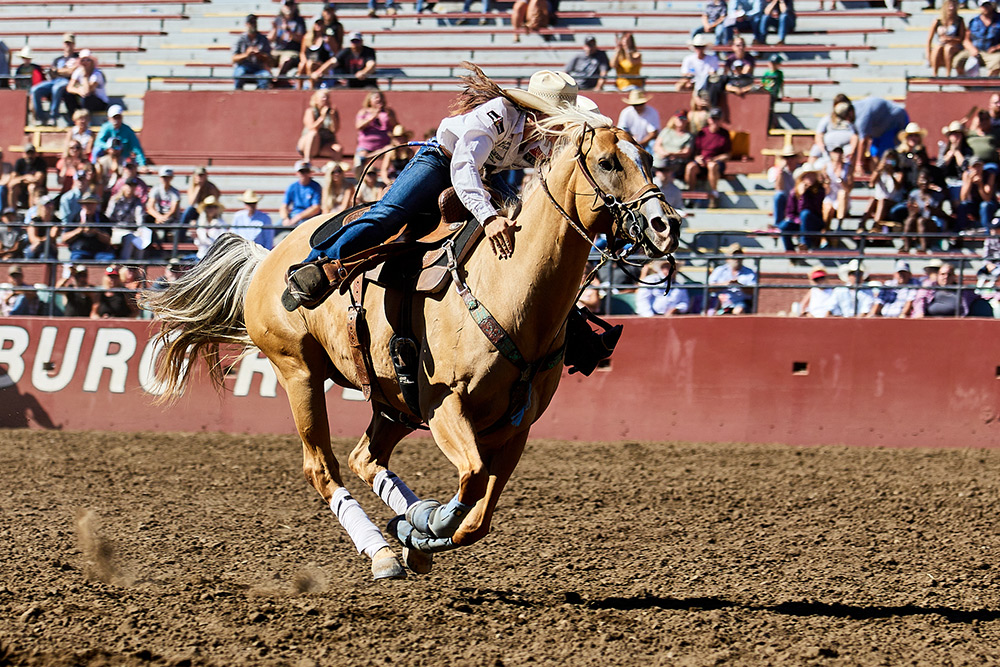 Hailey Kinsel
Photo by Bill Lawless
Kinsel and Sister finished in a tie for seventh in the first round in a time of 17.34 seconds. Stevi Hillman, who had just lost her great mare Lemon Drop, won the first round in a quick time of 17.14 seconds aboard her great gelding Truck, followed by Emily Beisel in 17.19 and Lisa Lockhart, who is fighting for her 16th straight NFR qualification, was third in 17.28 seconds. The top two times in the second round were much faster with Summer Kosel taking the win in 16.97 seconds, followed closely by Kinsel in 16.99, putting Kinsel atop the leaderboard in the average heading into the final round. Katie Pascoe was third in 17.22 and Hillman and Lockhart tied for fourth in the second round in 17.26 seconds.
Once in the final round, Lockhart set the bar aboard Rosa with a 17.18 second time as the second lady out but California Circuit Director Katie Pascoe would clock the unbeatable time of 17.04 seconds in the final round as the fourth gunner out. Kinsel and Sister ran right after Pascoe and stopped the clock in 17.18 seconds, moving them to the top of the average leaderboard in a time of 51.51 seconds. Hillman and Truck finished with a 17.22 in the final round to take the second place spot in the average in a total time of 51.62 seconds and Lockhart was third in 51.72 seconds. Ironically enough, Hillman and Lemon Drop won second in the average at the 2021 Ellensburg Rodeo, so was special to have Truck secure her the second place finish this year.
"We have been blessed in so many ways," noted Kinsel in her interview with Amy Wilson of the Cowboy Channel. "I can't take credit for any of it but she (Sister) is just amazing and God has given me a heck of a team to keep her at the top for as long as she has been. I am so grateful to them for all their help and to her for giving me her whole heart for every run. "
Kinsel added $7,336 to her 2022 earnings, Hillman picked up $7,316 and Lockhart a much need $6,742.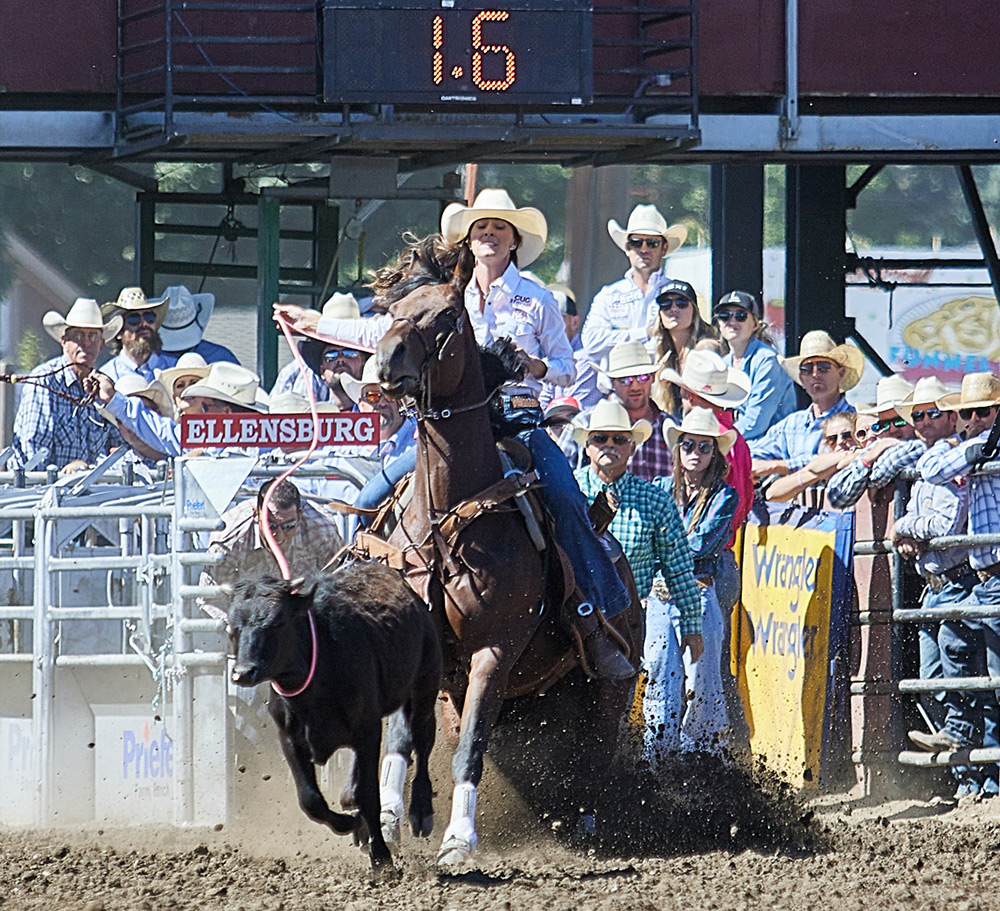 Joey Williams
Photo by Bill Lawless
The Ellensburg Rodeo was one of the first major rodeos to add breakaway roping to their rodeo during the WPRA pilot program conducted in the Columbia River Circuit starting in 2017. This year's winner was Montana's Joey Williams who won the three head average in a total time of 7.2 seconds.
Williams of Volborg tied for the win in the first round with JJ Hampton as they both stopped the clock in 2.1 seconds. The second round was won by Cheyenne Frontier Days co-champion Tiffany Schieck in 2.1 seconds. Williams tied for second with a 2.4. Twenty-time WPRA world champion Jackie Crawford won the final round in 2.5 seconds, with Williams taking second in 2.7 seconds.
All totaled Williams added $7,436 to her 2022 earnings to keep her solidly in the top 10 as she eyes her second Wrangler NFBR qualification. Crawford on the other hand is scratching and clawing her way to the Top 15. She helped her chances picking up $3,727 in Ellensburg.
Be sure to keep your eyes on Lockhart and Crawford as they fight for their 2022 NFR berths in the final weeks of the regular season.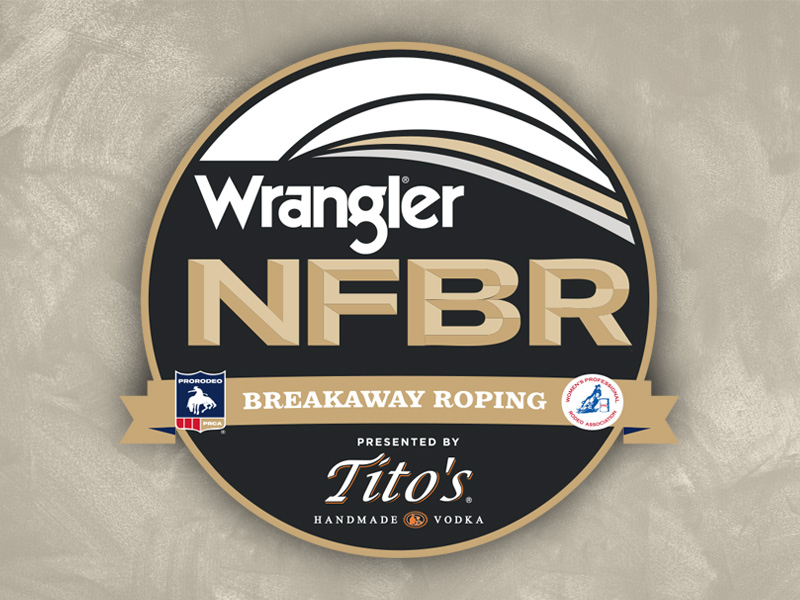 Nominations for Outstanding Committee Woman of the Year Tito's Handmade Vodka Named Official Vodka Sponsor of the WPRA Sponsorship Includes Presenting Sponsor for 2023 Wrangler National Finals Breakaway Roping By Ann Bleiker COLORADO SPRINGS, Colo. (November 21, 2023)...
(719) 447-4627
(719) 447-4631 (fax)

431 South Cascade
Colorado Springs, CO 80903
DIRECTIONS
(719) 447-4627 | (719) 447-4631 (fax)
WORLD CHAMPIONSHIP BARREL RACING — Where the Elite Compete®
WORLD CHAMPIONSHIP
BARREL RACING
Where the Elite Compete®