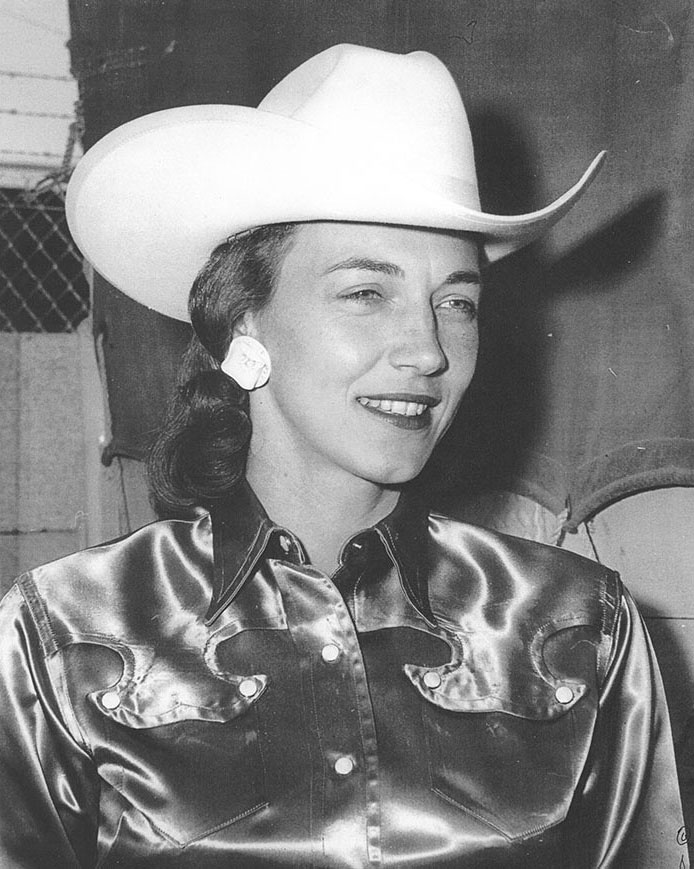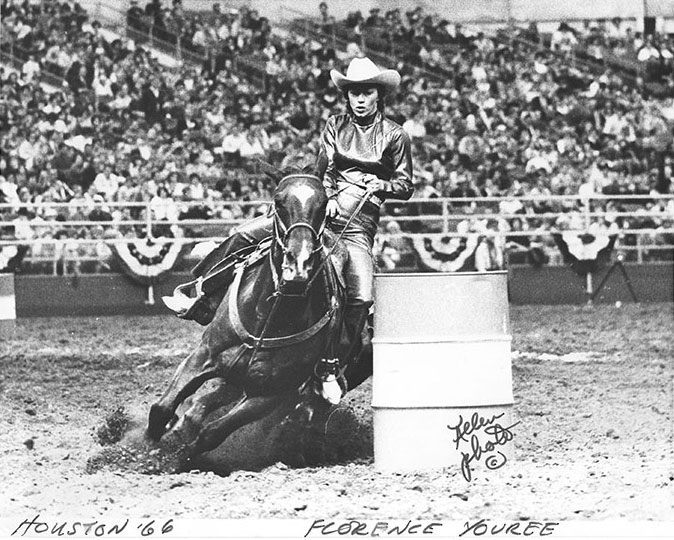 Florence Youree to be Enshrined in ProRodeo Hall of Fame
By Jolee Jordan
---
With grace, humility and more than a fair share of humor, Florence Youree led the Girls Rodeo Association (GRA) from struggling beginnings all the way to the National Finals Rodeo (NFR), bridging the gap from upstart organization to thriving member of the ProRodeo community. After her time in ProRodeo, she did it all over again with the Barrel Futurities of America (BFA), leaving a lasting legacy for barrel racers from the pro ranks to those campaigning young horses.
One of the most influential women in the history of the GRA, now known as the Women's Professional Rodeo Association (WPRA), and in the entire sport of barrel racing, Youree will be enshrined in the ProRodeo Hall of Fame in August of 2019. A part of the third annual class of WPRA members to be honored with induction into rodeo's most hallowed halls, she is the first in the notable category to be chosen.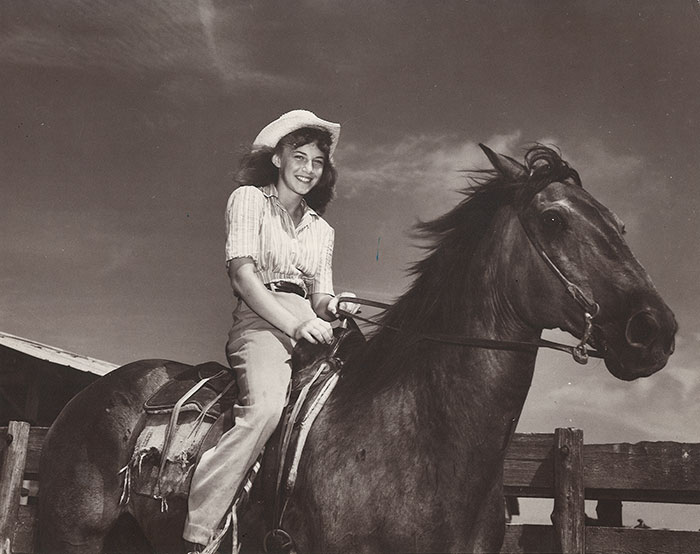 "I never dreamed of something like this," Youree says. "You just don't think of things like this . . . I was doing what I enjoyed. It was my life."
Youree and sister Sherry Johnson grew up the only children of rancher John Henry Price outside of Addington, Oklahoma. According to Youree they worked for their father "as his boys." The girls inherited their father's love of horses and rodeo and the beginning of Youree's journey into the history books can be traced to the family's annual trip to watch the Southwestern Exposition and Fat Stock Show in Fort Worth, home of the world's first indoor rodeo.
Ironically, it wasn't barrel racing—still a new event that wasn't included in many rodeos—that started the embers of her competitive fire.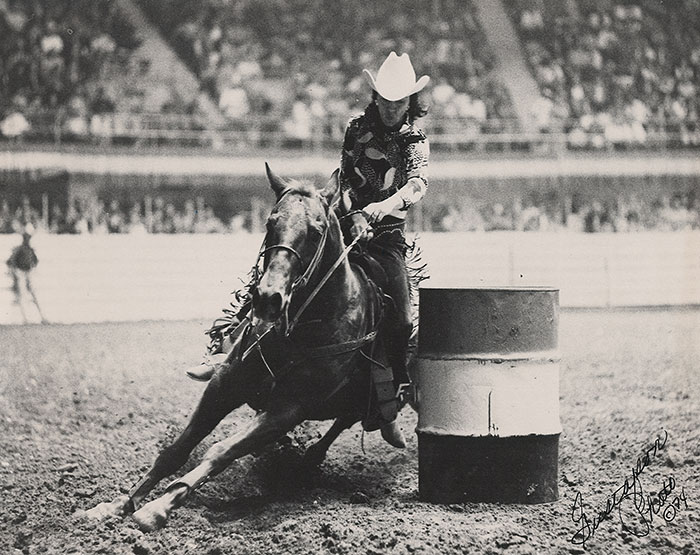 "They had musical chair races on horseback," Youree said for an article for Barrel Horse News. "I thought, 'well, anyone can do that!' But really, what I saw was that there was a place for girls in rodeo."
The Price sisters soon discovered barrel racing and embarked on their new careers in the sport riding one of their father's steer wrestling horses and learning just by doing. A stallion named Chubby Dan, a purchase made by their grandfather, launched both cowgirls' careers—they would often win first and second while competing in the same performance, both on Chubby; they won many saddles with the stallion but prizes were the norm, not prize money, back then.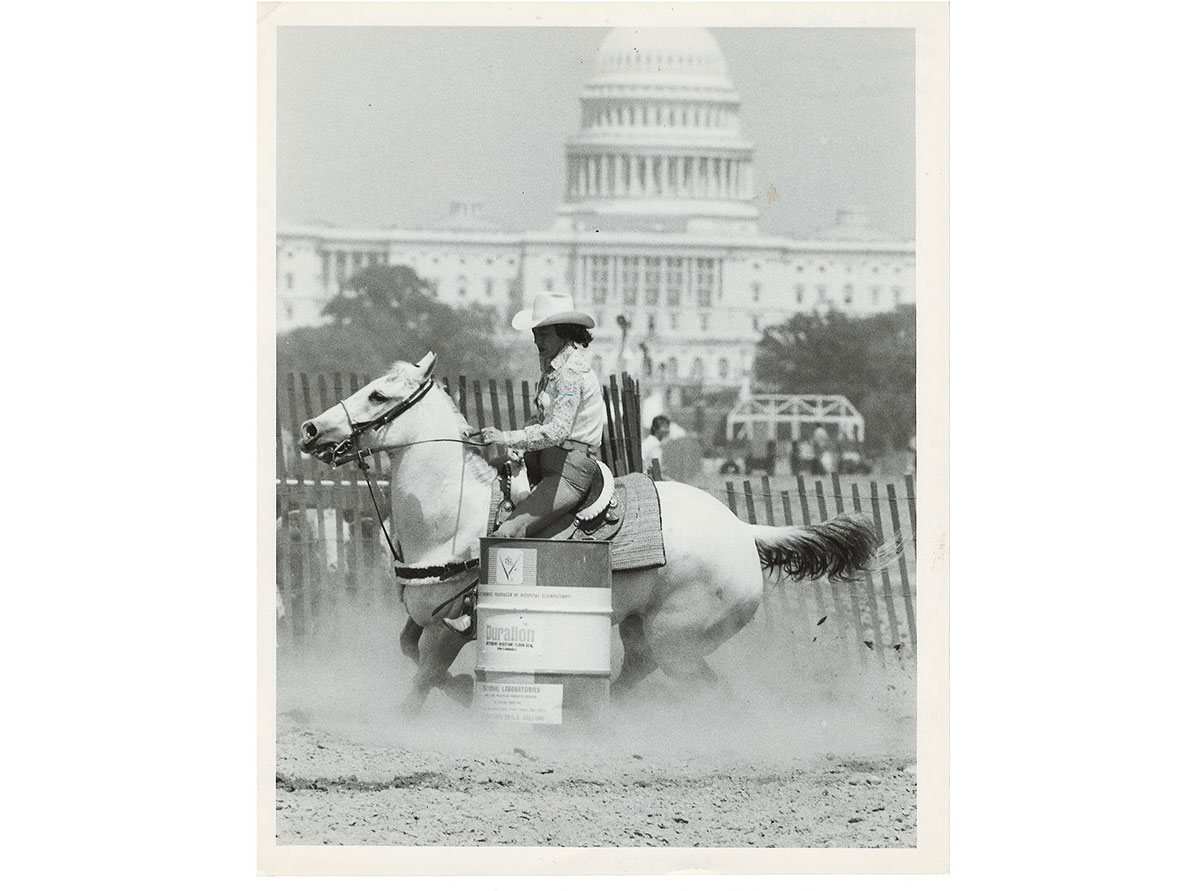 Still a teenager, Florence met Dale Youree, a young calf roper competing in college rodeos as well as the Rodeo Cowboys Association (RCA) in 1947. Married in 1950, the Yourees, with sister Sherry in tow, hit the rodeo road full time.
"There were lots of little RCA rodeos then and most held some contest for the girls that had to do with barrels," Youree explains, though the pattern varied from one rodeo to the next. "I didn't care, whatever they had, that's what we did."
While at a rodeo just 30 miles from their home in 1951, Youree and her sister got their first taste of competing in a GRA-sanctioned contest. With encouragement of friends within the RCA, the gals finally joined the new Association later that season while competing in a GRA All Girl rodeo.
"We joined in Dallas and I won the barrel race and got a new pair of Justin boots," Youree says with a laugh.
"That was before they even added $50 to the barrel race," she remembers, adding she was happy to have any competitive opportunity at the pro rodeos. In her first season as a professional, Youree finished third in the GRA World standings in barrel racing.
The three traveling buddies continued to work the family ranch, balancing their rodeo schedules with family obligations. The Yourees welcomed two children, daughter Renee and son John, to the family and it was while Florence was pregnant that Dale started helping out with the barrel horses, the beginning of what would become a legendary career in the sport for him as well.
"He got to helping us [with the horses] because we had a bunch of young horses out there at Daddy's," Florence remembered for the Barrel Horse News. "He'd get on them for us and he just took to it."
Despite their success as competitors, the Yourees found they still needed more money and began accepting outside horses for training; training and selling quality horses quickly became their business. Dale and Florence would often use the same horse for both the tie down roping and barrel racing at a given rodeo; most would eventually be sold to new owners and the pair would start the training process all over again.
Youree qualified to the NFR six times and rode a different horse each time, often one still unseasoned as she'd sold the one that helped her qualify before getting to the final event. One exception was the year she borrowed her sister's horse Red, the 1962 GRA World Champion and a 2017 ProRodeo Hall of Fame inductee.
She competed in the first GRA NFR, which was held in conjunction with the RCA's steer roping in Clayton, New Mexico in 1959. She competed in Scottsdale in 1960, Dallas in 1962 and Fort Worth in 1965-66. She claimed the All-Around World Championship in 1966 competing in the cutting, barrel racing, flag racing and breakaway roping.
"I loved it . . . that's all I can say," she says of rodeoing. "I really enjoy the big ones—they were all great—but I did enjoy the big ones. I was blessed to have good horses; Dale helped with that."
"It was a way of life," she continues. "We took our children and we went."
Youree competed in two more Finals after other competitors chose not to attend as prize money back then was so sparse it wasn't worth a long haul.
"When it was in Clayton, I think there was $200 added and it wasn't worth it for girls like [1965 World Champion] Sammy [Thurman] to come all the way from California; they couldn't win enough," Youree explains.
That fact spurred the cowgirl to step into a leadership role with the GRA, elected first as a director and then to the Presidency in 1960.
"I just wanted bigger and better barrel races for the girls, and for myself," she notes humbly. Officers and directors were responsible for everything from convincing committees to include GRA events, to securing sponsorships for those events, to showing up early to set the stakes for the barrel pattern.
The Board attended the RCA's annual convention and Youree always enjoyed the experience. She remembered a notable time not long after she was elected President when she and then-Vice President Mildred Farris, a ProRodeo Hall of Fame inductee, approached RCA President Jack Buschbom.
"We asked him, if an RCA rodeo held a barrel race, if they would insist that it be GRA approved," she says. Buschbom agreed, a move that led to a large increase in approvals for the Association.
"It helped that they recognized us. And we asked that our purse be at least 10-percent of the total purse for the RCA events. We didn't always get it but many of the committees added that much." The results of Youree's and Farris' negotiations were a big jump in the money for which the ladies were competing.
Calling herself a talker, Youree recalled one phone conversation with a committeeman from the Dakotas.
"I talked, and talked, and talked, trying to convince him to add the 10-percent to the barrel race," she laughs. "He finally said, 'we'll have the barrel race, but I want you to come here and work for me on my car lot, I think you could sell lots of cars for me!'"
The friendships made in her time on the Board meant a lot to Youree. Mr. W.R. Watt of the Fort Worth Stock Show became a close friend, even traveling to Addington to go coon hunting with Dale.
"Gene Pruitt helped me a lot, told me how to do things," she says of the RCA's one-time secretary. "He was very kind hearted. I had no education, I graduated high school in our little, bitty town. I always remembered and appreciated that from him."
In 1965, Youree stepped down as President to take over the Association's vacant Secretary position. One of her first moves was to initiate the Girls Rodeo News that would be mailed monthly to the members.
"I decided we needed a newspaper," Youree says. Youree had a newspaper man in Addington who helped with production. Once the newspaper was printed, the Youree family—Florence, Dale, and children Renee and John—would get in a circle on the living room floor.
"We'd address, stamp and staple. It just grew and grew," Youree said. It still exists today as the WPRA News. "It's one of the achievements I'm most proud of. Before that, we just had a sort of mimeographed kind of newsletter thing. I didn't ask the Board, I just decided to do it."
Youree also recognized that as the barrel race was growing, the All Girl rodeos were struggling in the mid-1960s, and she took action to try to create a revival of that aspect of the Association, recognizing that most of the GRA's founding cowgirls competing in events other than the barrel race.
"They had kinda died out so Dale and I started producing a few, in Duncan and Wichita Falls," Youree says. "We went and got some young bulls out of daddy's pasture and we flanked our barrel horses to use for the bareback riding. We probably weren't the best producers but it seemed to get them started back.
"The all-girl rodeos were a lot of fun, everybody got together for them. We made friends for life."
Along with Association responsibilities and a still full rodeo schedule, the Yourees undertook an annual summer camp instructing students in barrel racing and roping. The camps often had as many as 100 kids and lasted a month. Future GRA/WPRA World Champions—Connie Combs, Missy Long and Jackie Jo Perrin—all came through Addington and another World Champ, Carol Goostree helped out as an instructor for several years.
But it was when the NFR moved to Oklahoma City in 1965 that Youree made likely the most important move in the history of the GRA. Knowing that the GRA had lobbied since the NFR's founding in 1959 to be included with the rest of the RCA events, Youree approached Stanley Draper, CEO of the OKC Chamber of Commerce, to once again make the pitch for the ladies. With the backing of NFR General Manager Clem McSpadden, the deal was made for the 1967 event.
"We had hosted our finals with the other events but it always felt like a jackpot. To be included in Oklahoma City with the NFR was the ultimate," says Youree, whose last NFR appearance came that historic year. She finished fourth in the average and sixth in the final World standings.
"I was always nervous before a run," she laughs. "We'd been in Clayton and froze, Scottsdale where it was nice but still outdoors. Plus those were day runs. To run inside, all night perfs in front of a full house . . . there was nothing like it."
"We all had to work, carry flags, do TV appearances," Youree explains. Youree, Johnson and Farris helped with pre-rodeo media and even had to supply the barrels, which they got painted with the NFR and GRA logos. Those same barrels were used for the rodeo's entire run in Oklahoma City. The barrel racers were also required to ride in the parade and help out in the rodeo office.
"I think we had somewhere between $1,000 and $1,250 in purse," she remembers, adding that was a large sum at the time. Participation by the GRA in future NFR's was not guaranteed until producers saw how the first year was received.
"It was a crowd pleaser, especially in the coliseum," says Youree. "And they continued to add more money [in the years to come]." In fact, prize money jumped to $2,500 in 1968, an increase of 250% from the first year.
Though Youree never made another NFR appearance, her daughter Renee went in 1985 and granddaughters Janae Ward-Massey and Kylie Weast have both been as well. Ward-Massey claimed the WPRA World Championship in 2003.
In 1970 Youree stepped down after 17 years of service to the GRA. The Yourees finally left the rodeo road behind but continued to influence the sport. They started the Oklahoma Youth Rodeo Association and were founders of the Barrel Futurities of America (BFA). Youree served as Vice President and President, sitting on the Board for nearly 20 years. She also reached out to old friend Draper when the NFR left Oklahoma City, setting up a profitable run for the BFA's World Championship Futurity in town for years to come.
Youree continued to compete in futurities but her competitive career was cut short when a horse flipped on her, crushing one disc and cracking another in her neck. She was 50 at the time. One of her last rides was during the Folklife Festival in Washington, D.C. in 1981; she and Dale ran barrels in an exhibition on the National Mall, leaving them with one-of-a-kind photos with the U.S. Capital as the backdrop.
Still admitting to watching results from the rodeos closely and keeping up with what's happening in the sport, Youree spent more than four decades as a pioneer and innovator in barrel racing. Youree has been named the WPRA/Coca-Cola Woman of the Year and has been inducted into the National Cowgirl Hall of Fame and the Cowboy Hall of Fame in Oklahoma City.
"I just wish I was young enough to do it all again," she jokes. Though Dale will likely be unable to attend the ceremony in Colorado Springs in August, her daughter and her girls will join her and her sister and niece. Youree was on hand when Johnson accepted Red's induction two years ago but fell ill the night before and missed her speech.
"I'm very excited and nervous," she admits. "I'm a talker, not a speaker. I'm scared to death. But I'll get by."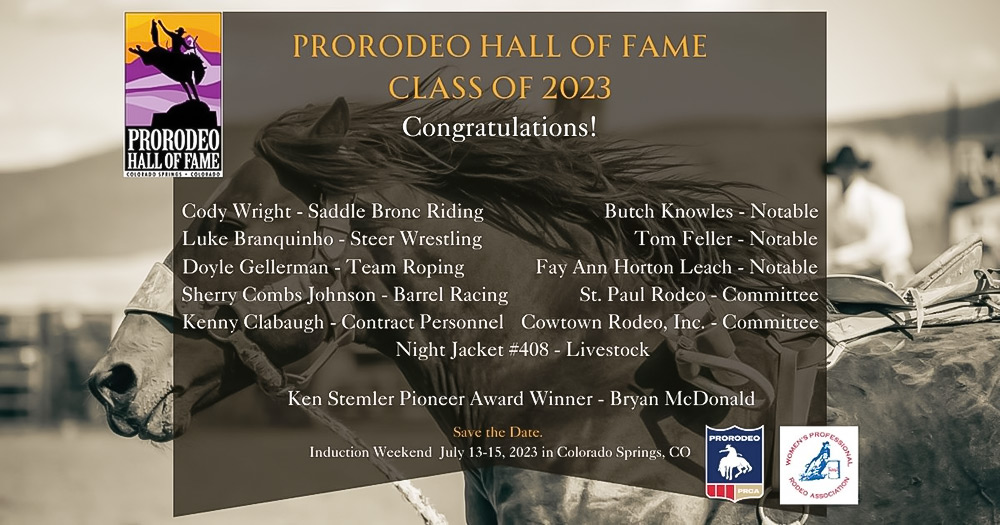 2023 ProRodeo Hall of Fame Class Announced By Ann Bleiker COLORADO SPRINGS, Colorado - The Class of 2023 ProRodeo Hall of Fame inductees were announced on Monday, March 27 and will mark the 44th annual induction. A total of 11 will be inducted including two...
(719) 447-4627
(719) 447-4631 (fax)

431 South Cascade
Colorado Springs, CO 80903
DIRECTIONS
(719) 447-4627 | (719) 447-4631 (fax)
WORLD CHAMPIONSHIP BARREL RACING — Where the Elite Compete®
WORLD CHAMPIONSHIP
BARREL RACING
Where the Elite Compete®