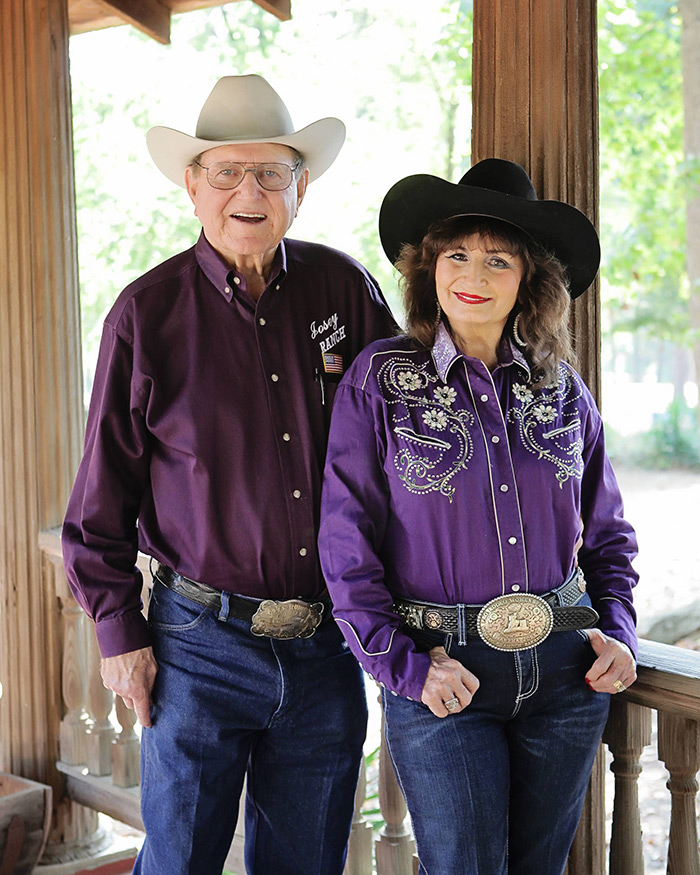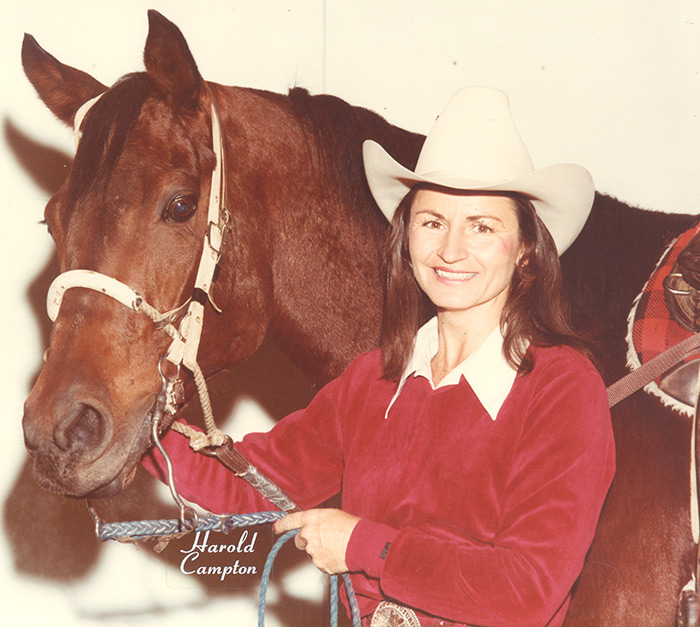 Magnificent Martha Josey Fashioned Hall of Fame Career from Meager Beginnings
By Neal Reid
---
Sitting in the grandstands at a rodeo in Shreveport, Louisiana, in the mid-1950s, 17-year-old Martha Arthur made a decision.
The Texas teenager concluded she was no longer content to sit idly by as a spectator. The fact that she had never run barrels competitively mattered little to the determined spitfire.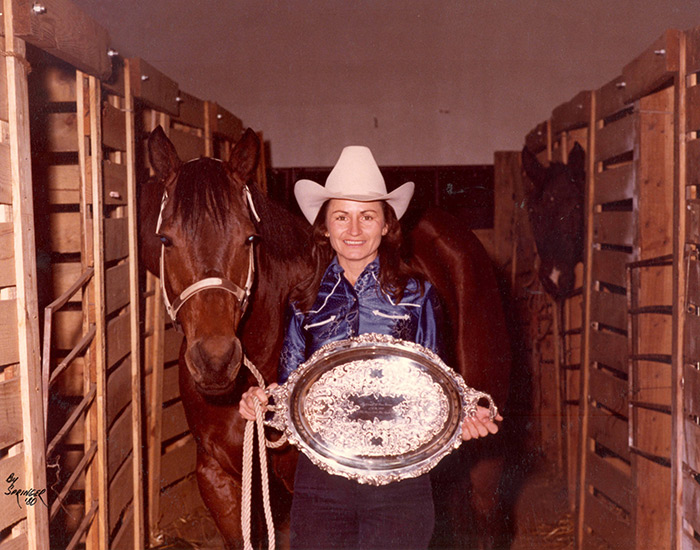 Sitting in the grandstands at a rodeo in Shreveport, Louisiana, in the mid-1950s, 17-year-old Martha Arthur made a decision.
The Texas teenager concluded she was no longer content to sit idly by as a spectator. The fact that she had never run barrels competitively mattered little to the determined spitfire.
"I was like, 'Oh, I don't belong up here. I belong down there,'" said the barrel racer, who, as Martha Josey, would go on to 11 National Finals Rodeo qualifications, the 1980 world championship and now, a spot in the ProRodeo Hall of Fame.
Josey's father, Henry, was one of the first four directors of the Quarter Horse Association and brought some of the first quarter horses to east Texas near the family home in Marshall. From him, she developed a love of horses and the Western way of life, but he passed away suddenly when she was just 10.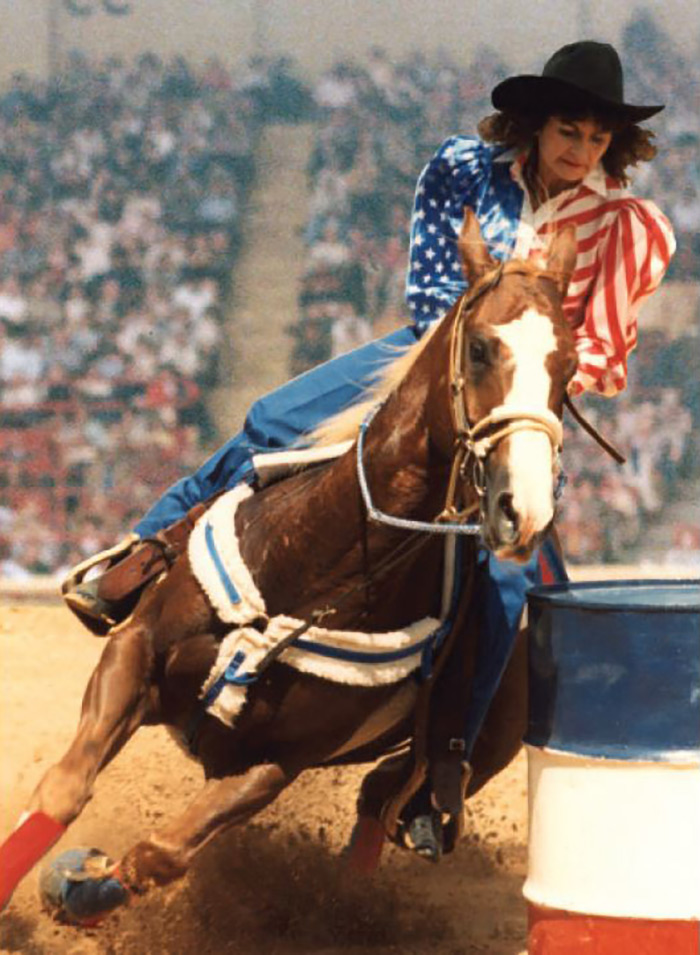 Her mother, Martha, was forced to sell their nearly 40 mares, keeping just one stallion, a horse that spent most of his time in the barn. Heartbroken, the younger Martha shifted her focus to more traditional sports, including basketball, a sport she loved and excelled in enough to eventually play in the semi-pro ranks after high school.
"I had loved horses forever, but my mother had sold all the horses," she said. "My dad was really the horse person. I didn't really have the ways or means to barrel race."
Fate would intervene, however, in the form of her life-changing epiphany in Louisiana. What happened afterward is a success story that grew from the most meager of origins into a pioneering horsewoman's legendary career that continues to this day.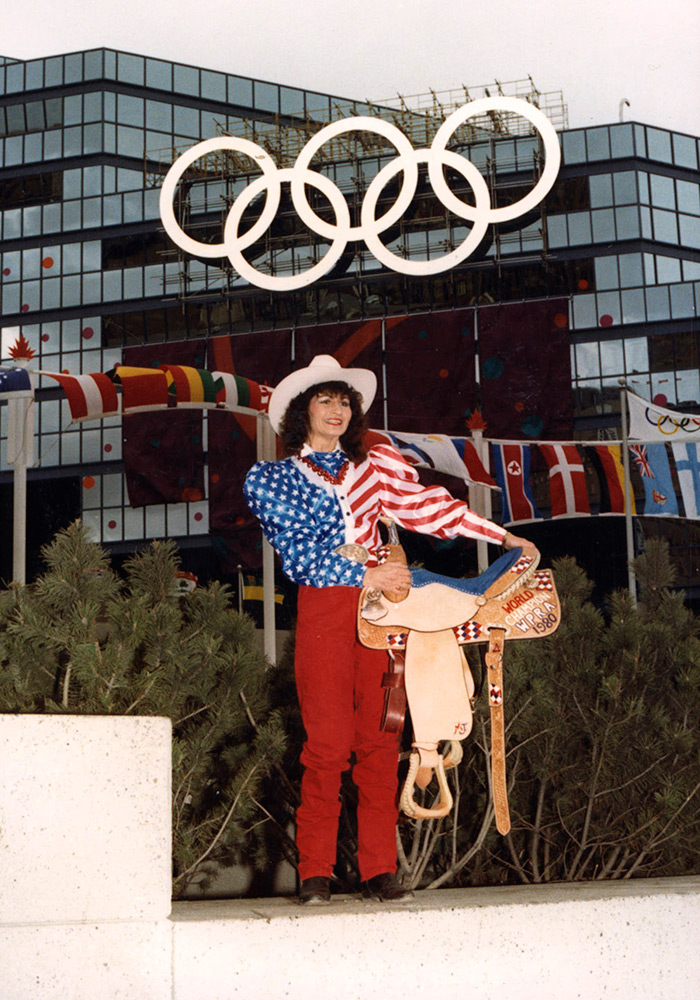 "The next day, I got him out of the barn," she said of the family's lone equine. "I found my dad's roping saddle and put out some barrels, and that's how I started barrel racing. I basically had nothing."
A year later, a man named C.B. Reynolds would help create Josey's first superstar horse pairing.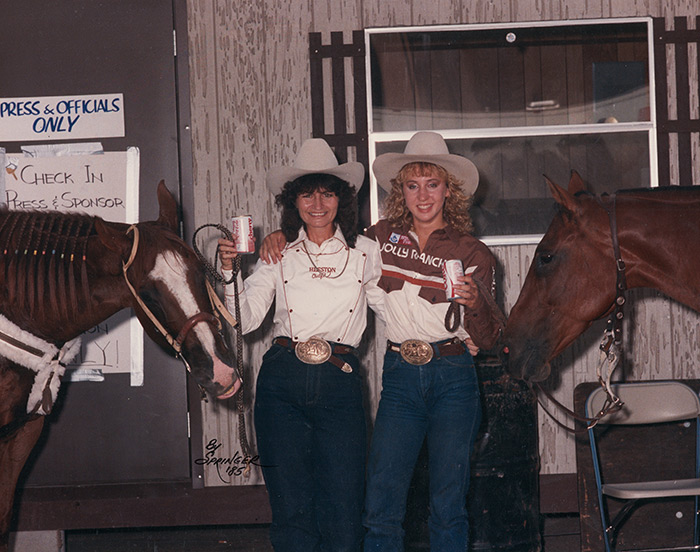 "He called and said, 'You're Henry Arthur's daughter, and I know you can really ride," Josey said. "You need to come over and get this horse named Cebe Reed.' I didn't have a trailer or any way to haul the horse.
"My mother had a Buick that had 300,000 miles on it, and I went and rented a horse trailer for $5. Really, Cebe Reed started my career."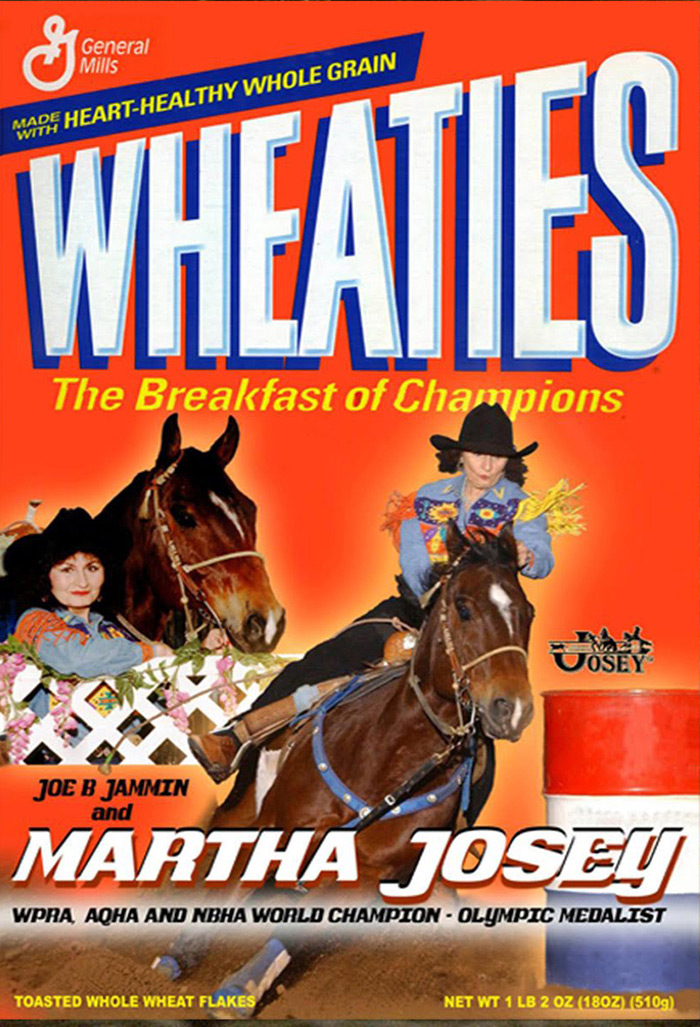 Her mother covered the $2,500 Martha had promised Reynolds for the horse using money earned from leasing oil land, and Josey cut her teeth at amateur rodeos, working to find chemistry with her new horse and develop as a top-flight barrel racer. The family would overcome a devastating house fire that cost them everything during her teenage years, and she and Cebe Reed would grow into a dynamic duo.
"Before I joined the professional ranks, I won everything there was to win," said Josey, who won 52 consecutive barrel races during one impressive stretch. "I think I won seven horse trailers, and I was winning quite a bit of money. I was working at a big government plant down in Karnack, Texas, and I was able to quit that to go rodeo for a living."
Along the way, she met R.E. Josey—a talented cowboy who would win three American Quarter Horse Association (AQHA) calf roping titles—at a rodeo, and it was love at first sight. They were married in 1967, and a year later, she qualified for her first NFR on Cebe Reed.
That 1968 qualification came despite what could have been a career-ending injury for Josey in Houston in March. She and her prized horse went flying over a bar that was erroneously left blocking the alleyway as they exited the arena, and she ended up with a concussion that would cost her four months of the season.
They still managed to finish 11th in the world standings after a trip to Oklahoma City in December, but Josey speculates the injury could have cost her even more.
"I feel like, had I not had that accident, I probably could have won the world championship," she said.
Josey and her talented gelding also qualified for the Finals the following year, finishing fourth in the world. She also rode bulls and broncs, rode cutting horses and tied goats while competing in all-girl rodeos. In 1969, Josey won the Girl's Rodeo Association reserve All-Around World Championship behind world champion and fellow ProRodeo Hall of Fame inductee Wanda Harper Bush.
She would have to wait nine years for her third NFR qualification, but stayed busy conducting roping and barrel racing clinics with R.E. They quickly gained a devoted following of students and a reputation for putting on some of the best schools in the country.
Nearly 55 years after their first clinic, more than 1,500 hungry participants of all ages still flock to their ranch for instruction each year. Several of her students—including Lynn McKenzie, Mary Walker and Fallon Taylor—have gone on to win barrel racing world championships.
Martha and R.E. found her next superhorse, Sonny Bit O'Both, from one of her barrel racing students in 1978, and she rode him all the way to the NFR that year for the first of four consecutive trips to the Finals. In 1980, Josey would duel McKenzie at the NFR, with the neck-and-neck battle for the gold buckle going down to the wire.
"It went to the 10th round, and all I had to do was make a decent run and not hit a barrel," Josey said. "On that 10th run, Sonny stumbled real bad going into the first barrel, and it made him come out wide. I had a lot of trouble getting him over for the second barrel. I barely got him over, and it was really, really close."
Josey held on, and she and Sonny—who had helped her win the AQHA World Championship earlier that year—edged McKenzie and her super steed, Magnolia Missile, by $1,205 for the gold buckle. It still stands as the only time in history a horse carried its rider to an AQHA world title and a pro barrel racing championship in the same year.
Josey's joy was short-lived, however, as she fell victim to another potentially career-ending injury in March of 1981.
"I was doing a video training tape, and I had gotten on a young horse and was showing how to exercise a 3-year-old," she said. "He threw me and broke my shoulder and broke my pelvis in so many places that the doctor said I would never walk again and that I would definitely never ride again."
But she had other plans.
"I had a miracle recovery, and I ended up making the Finals that same year," said Josey, who would go on to finish third in the world. "I probably came back in July. It was kind of a miracle, because I was really broken."
The desire she had as a competitor wouldn't let her quit.
"I think adversity brings out the best in a person," she said in a Purina documentary called "Stories of Greatness" that can be found on YouTube. "You can do anything you want to if you want it bad enough."
That would be her last NFR qualification until 1985, when Josey took another horse, Jetonfer Pay, to an eighth-place world standings finish at the Finals in Las Vegas. Another trip followed in 1987—aboard a horse named J.C.—and she also would ride that horse at the 1988 Olympic Winter Games in Calgary, Alberta, Canada, as part of the rodeo exhibition during the Cultural Olympiad.
Josey's individual bronze medal there helped the United States take the team title, and it was an experience she remembers fondly.
"Oh, that was one of the highlights of my career," she said. "The Olympics had always been something I'd always wanted to go to."
Josey returned to the NFR in 1989 and 1990 on her fifth NFR qualifier—a horse named Rev—finishing fourth and seventh in the world, respectively. Her 1990 qualification put Josey in rare air as a barrel racer, considering it was her fourth different decade as an NFR contestant.
"It's been a great thing to be able to say I made the NFR in four different decades," said Josey, whose NFR qualifications came on six different horses. "A lot of people say you can only have one good horse, but I've been lucky enough to have several. All of those horses were really great horses."
Another great horse, Orange Smash, carried Josey to numerous senior titles and her 11th and final trip to the NFR in 1998 at the age of 60. Josey was on pace to become the only woman to add a fifth different decade as an NFR qualifier in 2004, aboard a horse named Red Man Bay, if it wasn't for another freak injury in Austin.
Regardless, there's no doubt the talented horsewoman has a gift for spotting and developing horses, and her longevity in the sport as a barrel racer and horse trainer is second to none.
"I think finding the horse who wants to win as much as you do [is the key]," said Josey, who also has been an innovator in creating barrel racing equipment, as well as Western apparel. "R.E., has always been good at helping me find good horses. He's one of the reasons I've been able to have the nice horses, because he's really good at helping pick them out, how to keep them going.
"Looking for a barrel horse is kind of like scouting a quarterback. I always look for a horse with lots and lots of heart, and I was lucky that all six of those horses were really great horses."
Because of her many accomplishments and decades of excellence in the sport, Josey has been named to numerous Halls of Fame. In addition to the ProRodeo Hall of Fame—which she will join officially at the Aug. 1 induction ceremony in Colorado Springs—Josey was a 2011 Rodeo Hall of Fame inductee at the National Cowboy & Western Heritage Museum in Oklahoma City, is a member of the National Cowgirl Hall of Fame, the Texas Cowboy Hall of Fame, Texas Rodeo Cowboy Hall of Fame and Ark-La-Tex Hall of Fame.
Josey looks back on her rodeo career fondly, pointing out that the same determination and competitive fire that has propelled her to the most respected ranks as a horse trainer and barrel racing instructor carried her in the saddle all those years in the arena.
"I had lots of desire," said Josey, who celebrated her 82nd birthday in March. "I was very honored [with the induction]. I love being in all the Hall of Fames.
"It's been fun, that's for sure."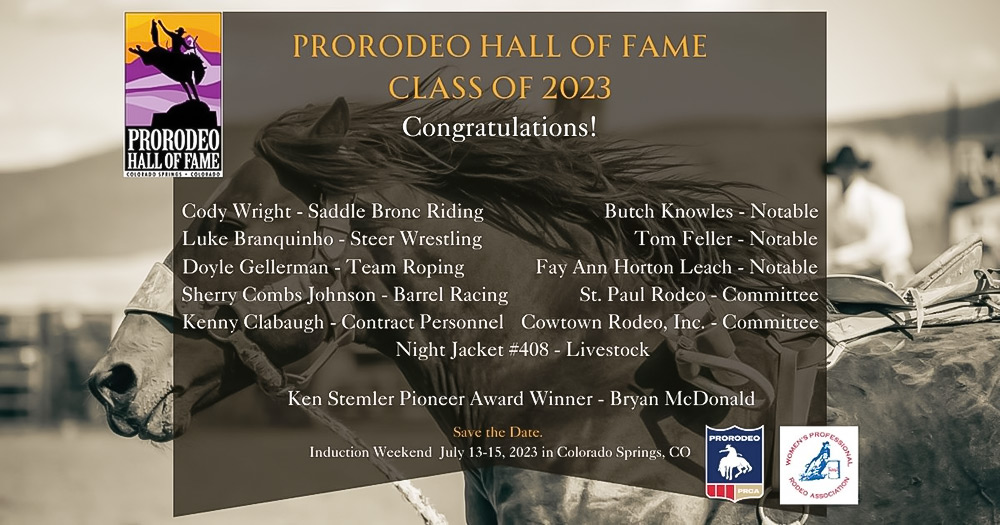 2023 ProRodeo Hall of Fame Class Announced By Ann Bleiker COLORADO SPRINGS, Colorado - The Class of 2023 ProRodeo Hall of Fame inductees were announced on Monday, March 27 and will mark the 44th annual induction. A total of 11 will be inducted including two...
(719) 447-4627
(719) 447-4631 (fax)

431 South Cascade
Colorado Springs, CO 80903
DIRECTIONS
(719) 447-4627 | (719) 447-4631 (fax)
WORLD CHAMPIONSHIP BARREL RACING — Where the Elite Compete®
WORLD CHAMPIONSHIP
BARREL RACING
Where the Elite Compete®