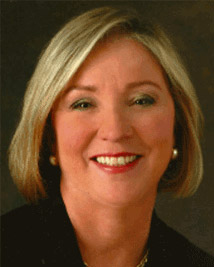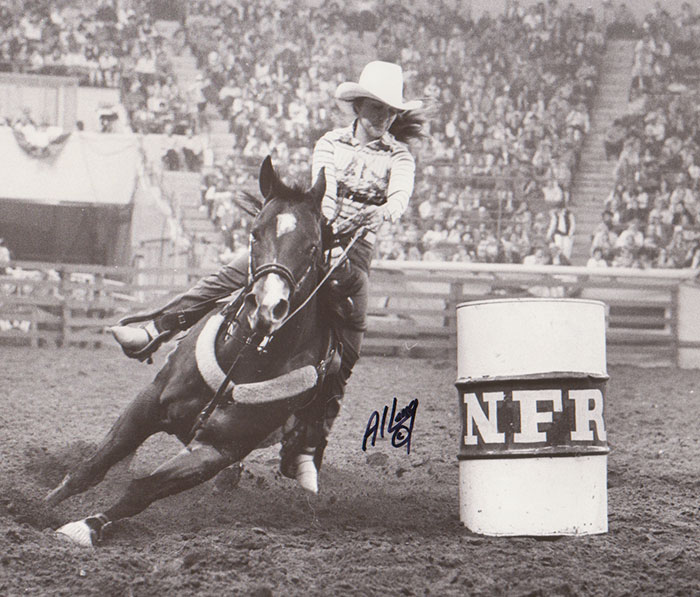 Jimmie Munroe to be Enshrined in ProRodeo Hall of Fame
By Jolee Jordan
---
In August of 1979, a young cowgirl attended the very first induction ceremony for the brand new ProRodeo Hall of Fame. She came to represent the Girls Rodeo Association (GRA), of which she had been elected President the previous year, but also to compete in the invitational exhibition rodeo held in conjunction with Induction Weekend.
"They held a rodeo at Penrose Stadium in Colorado Springs and they had a barrel race," remembers Jimmie Gibbs Munroe. "There were just two contestants in each event so it was a head-to-head match and I competed with Lynn McKenzie who was the GRA World Champion that year."
Munroe remembered being wowed by the class of inductees that year.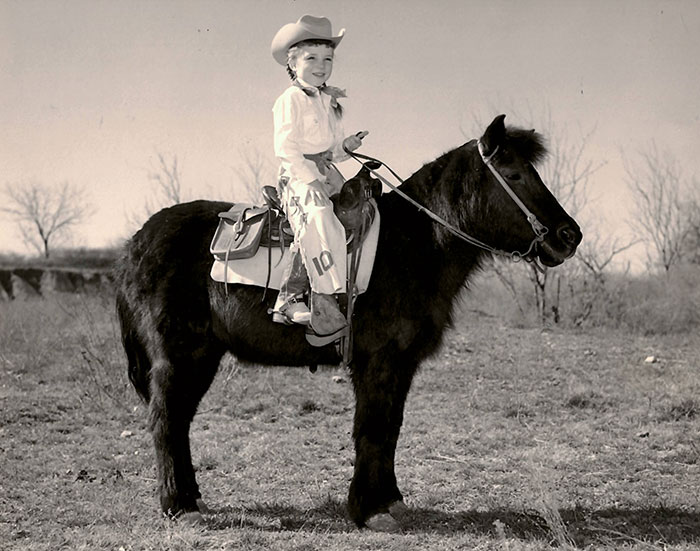 "It was such a great class," she notes. "I remember thinking, maybe we'll be in here some day," she adds, referring to her fellow barrel racers of the then-GRA.
"I can't believe that was 40 years ago . . . it makes me sound so old!"
Munroe has been back to the Hall over the years many times as a spectator. She was there in 2007 when her husband, Bud, a PRCA World Champion Saddle Bronc Rider was inducted and she came back again three years ago when the first class of WPRA inductees was honored, fulfilling a hope she had during that first ceremony back in 1979.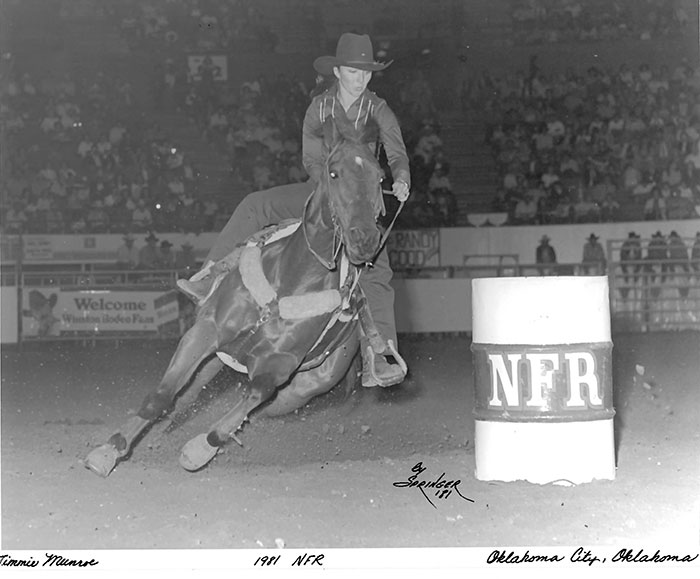 "That class was just amazing with Charmayne [James], Wanda [Bush] and Sherry [Johnson] for her great horse Red," Munroe says of the inaugural WPRA class of inductees.
In 2019, Munroe will join her heroes and her husband as a member of the ProRodeo Hall of Fame, part of the third class of WPRA inductees in the Hall's history.
"It's really special," says Munroe, already a member of the National Cowgirl Hall of Fame. "It's an incredible honor to be included in the ProRodeo Hall of Fame because it is solely dedicated to the sport of rodeo and dedicated to preserving its history. Rodeo has played such an important role in my life and of course, to join Bud in the Hall makes it that much more special."
The couple was also inducted together into the National Cowboy & Western Heritage Museum's Rodeo Hall of Fame in 2016.
From Roper to Champion Barrel Racer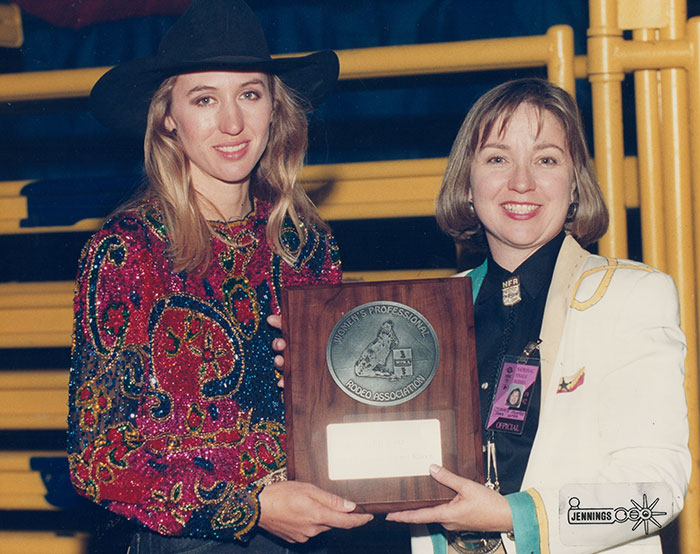 Munroe's journey in the sport began with family: her grandfather was Zack Miller of the Miller Brothers 101 Ranch Wild West Show and both of her parents competed, her father in the roping at amateur rodeos and her mother in reining and cutting shows. Munroe started at local horse shows at three years of age.
"My dad taught me to rope but he made me wait to rope off a horse. I think I had to spend a year roping on the ground," she says. "I started entering when I was 10 years old and I joined the AJRA when I was 11."
Munroe considered herself more a roper than barrel racer in those days but her life's path changed dramatically during her senior year in high school when the family went looking for a barrel prospect.
Robin Flit Bar was not the horse the Gibbs family had originally gone to try but Billy, as he was called, came home with them nonetheless. The gelded bay son of Flit Bar was three years old when Munroe got him. Her first memorable competition was an invitation to the Fort Worth Stock Show and Rodeo in 1971 in the days before the rodeo held a GRA-approved barrel race. Though still quite green, Billy earned her checks in two go rounds.
By then Munroe had earned a scholarship and position on the rodeo team at Sam Houston State University and college rodeos served as Billy's seasoning grounds. In 1972 he carried Munroe to the College National Finals (CNFR) where the team won a go round. Though she chose not to rush the gelding, taking a reduced schedule in 1973, by 1974 she had been convinced by her SHSU roommate Vickie Adams to join the GRA.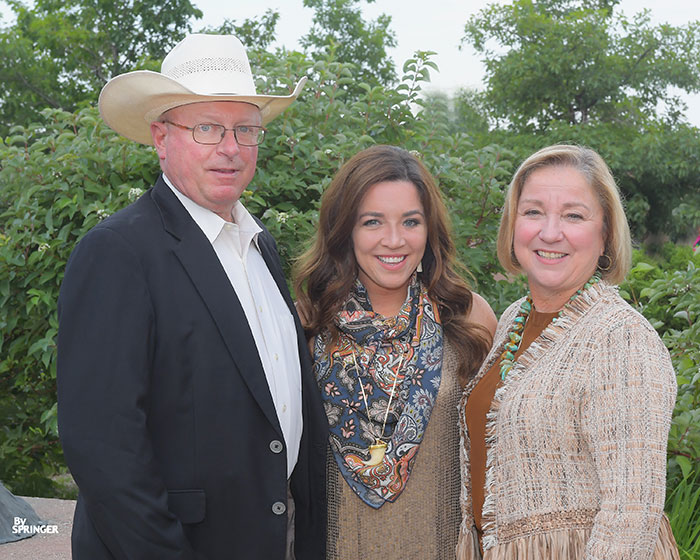 "She told me, you need to go ahead and go to the pro rodeos," Munroe remembers, adding it was a big decision at the time as many of the closer events to her home were open and she would no longer be able to enter those if she joined the GRA.
That year would be one of incredible firsts. After hitting the winter run of pro rodeos in Texas, she returned to college, advancing again to the CNFR where she won not only the National Championship in barrel racing but also the All Around along with a Reserve title in the breakaway roping. Sam Houston won the women's team title. Taking her mother with her for the CNFR, the Gibbs women hatched a plan.
"We hit Wichita Falls and North Platte on our way to the College Finals and then decided we would stay out after the Finals and enter some rodeos. If I did well, we would stay out." They didn't make it home until after Labor Day and Munroe qualified to her first National Finals Rodeo (NFR) in second place.
"Collette [Graves] was third in the standings and we were both rookies going into the Finals," says Munroe. "She won the average there and moved ahead of me to win the Rookie title. I finished third in the World standings and second in the Rookie." Interestingly, Graves had finished second to Munroe at the college finals a few months prior to the NFR.
The following season would be a breakout year for the Valley Mills, Texas cowgirl. Billy, now eight years old, was solid and tough all year, winning major rodeos like the Greeley (Colo.) Fourth of July rodeo. After earning a second consecutive National title in her final appearance at the College Finals, Munroe entered her second NFR with the highest back number ever earned by a GRA barrel racer at that point.
She won two go rounds en route to clinching her first World title with $22,769.
In addition to a busy college and pro rodeo schedule, Munroe had also made time to compete in GRA All-Girl Rodeos.
"I went to as many all girl rodeos as I could: my passion was still roping at that time. Of course, Billy gave me passion for barrels—how could you not?"
Munroe was a fierce competitor no matter which events: she won the GRA World title in tie down roping and finished second in the steer undecorating to cinch her first GRA All Around Championship. Munroe was the fifth GRA cowgirl to win the barrel racing title in the same year as another championship but she has thus far been the last.
Munroe and Billy went to the NFR again in 1976 and 1977, leading the regular season standings both years. However, the rules had changed and the World Championships were awarded to the NFR winners in those years in a sudden death format. Though Munroe placed in five rounds and won second in the average in 1976, she landed third in the rankings for the title.
In 1977 she carried what would have been an insurmountable lead into the NFR. Despite a decent NFR, she finished fifth in the standings.
"It was just the way it was," Munroe says of the change in format, noting it was done in hopes of making it easier for fans to follow. "For me it was poor timing. Billy probably worked as well as he had ever run that year."
Munroe captured major rodeo championships from Houston to the Cow Palace, from Cheyenne to Salinas en route to two more NFRs 1978-79 though a broken leg kept Munroe out of several rounds at the 1978 NFR.
Leading the Ladies
While her competitive talents had her on top inside the arena, she soon assumed a leadership role outside of it when she was elected the All Women's Rodeo Director in 1976, just her third year in the Association. At the time, the GRA sanctioned somewhere between 25 and 30 All-Girl rodeos a season with a variety of both rough stock and timed events.
"Rodeo was so good to me and it was important to me to try to give back," she states.
Two years later, Munroe was talked into running for GRA President.
"Honestly, I don't know if I had any business being President," she jokes of her young age and relative inexperience in professional rodeo. "But Mr. Hodgsen [the longtime GRA attorney] and Lydia [Moore, the Association's secretary] were a wealth of knowledge for me. A lot of people helped me."
Munroe presided over a time of historic transformations within the women's organization not the least of which was the name change in 1980 from Girls Rodeo Association to the current Women's Professional Rodeo Association (WPRA).
"We could see the possibilities of where the event could go. The purses were growing and the barrel racing was popular with the fans," she says. "And the ones who came before us had worked so hard to get the Association where it was."
Among the issues the Board tackled under Munroe's tenure were the use of electronic timers, inclusion of corporate sponsorships, introduction of the Association's first drug testing policies and of course, the struggle to earn equal prize money to the PRCA events.
"Electric eyes were not the norm and the places they were used, it was usually because one of the stock contractors had them like Steiner's and Cowtown back East," remembers Munroe. "The barrel race was and is so competitive that we felt it was important to get eyes at all the rodeos."
Nestea soon came on board as the timers' sponsor and the GRA Board worked with stock contractors to be responsible for their maintenance and to make sure they made it to each rodeo. The barrel racers all paid $2 apiece, a fee that was paid to the person who took care of the eyes for each event.
The Board also undertook its historic stance to achieve equal money. Implementing a five year plan to have equal money as a requirement in all rodeos by 1985, the Board asked rodeo committees to bring the barrel racers up to the same level as their PRCA counterparts.
"There were few rodeos that had equal money at that time," Munroe says. "It cost the barrel racers just as much to go down the road."
Noting the contributions of the Board members who came before, Munroe felt that her Boards had the luxury to build on that legacy.
"Thanks to the ones that came before us, probably 90 percent of the rodeos already had barrel racing," she notes. "I was so proud of how we went about it [achieving equal money]. We didn't just say, 'we're women and we should have equal money' and leave it at that."
"We noted that our event was popular and the expense for our ladies to travel and compete. If a committee was struggling, we offered to help and see if we could find a sponsor," she says. "The Board really worked hard at it and if a committee couldn't meet our deadline, we didn't burn bridges."
"The directors really put in lots of time," Munroe said in a 2018 WPRN story. Each director worked with the rodeos within her circuit to assess their needs.
By the deadline in 1985 all but a handful of rodeos had made the jump in prize money and those that were unable to came back with equal money within a few years.
Hand-in-hand with that effort came the jump in corporate sponsorships.
"There were not a lot of corporate sponsors for the whole sport at that time," Munroe remembers. "We began to try to reach out and work for that additional money." The Board voted at the time to split the All Women's rodeos into the Professional Women's Rodeo Association (PWRA), allowing them to seek out sponsorships for that part of the Association without tripping up over exclusive deals with PRCA sponsors.
Wrangler, Dodge, Coors and Purina were early sponsors to get on Board, helping out with added prize money for the NFR and bonus programs for the ladies.
Ground conditions and a drug testing program were also concerns of Munroe's Boards. They put together videos to help educate committees about the concerns of unsafe ground conditions for barrel racers.
"We took a more hands-on approach," Munroe says. "We got committees whose ground was very good to help us with suggestions for other rodeos." The Justin Best Footing Award program was born as an extension of the Justin Sportsmedicine Program. "They had the Justin Healers and we came up with the Best Footing as an incentive for better ground for the safety and health of the animal athletes just as the Healers worked on the health of the human athletes." The Awards are still going strong three decades later.
Along the same lines, the drug testing programs were designed to protect the animal athletes and to ensure the fairness of the competition at WPRA rodeos. Beginning in 1990, WPRA member horses were tested at major rodeos and the NFR for illegal, performance enhancing substances.
"The animal welfare issues and humane issues were starting to rise, even back then," notes Munroe. "So we began the testing to protect the sport and to educate the barrel racers about the effects of different medications."
"We even got a letter from the President of the National Humane Society at the time, thanking us for taking that step to protect our horses," she says. The drug testing program was suspended for a time but was relaunched in 2016.
"I enjoyed the time [as President]," states Munroe whose first term lasted for 15 years. "The Directors I served with were such an incredible group, so dedicated to the sport and to the women in pro rodeo. So many of them stayed on the Board and served a long time."
Munroe returned to the Presidency for another term from 2011-12.
A Decade of Excellence
Meanwhile, Munroe continued to be a force inside the arena. In 1980 she was on the verge of another championship when she tragically lost Billy to colic while in Idaho for the summer rodeos; he was just 13 years old. In her final month of rodeo with the great horse, she placed on 18 straight runs, winning $7,000 to move to second in the World standings; though she rode a young horse to finish the year, she just missed the NFR.
"When I lost Billy, what I remember thinking about was that we won the last six rodeos I ever got to run him at . . . . and that's how I remember him."
"He changed the course of my life," she told the WPRN in an article in 2011. "I don't know if I would have ever run barrels like I did. You never know how life would have turned out."
That year, she married Bud, beginning nearly a decade of being one of rodeo's power couples.
"Being able to rodeo together and competing together at the NFR for the first time in 1981, riding in the grand entry, that was one of my favorite memories rodeoing," she says. The couple competed together at rodeo's Super Bowl five times after they married when Munroe qualified in 1981 and again from 1983 to 1986.
In the summer of 1981, Munroe was on the road with a young horse after having a decent spring. She had been struggling and decided to finish her Fourth of July run and call it a year when her friend and fellow NFR cowgirl Lynn Flynn fell and broke her leg at the Red Lodge, Montana rodeo.
"I went with her to the hospital and then I took her good horse Leroy back to Billings where I was staying with Bud's mother," Munroe remembers. When Flynn was released the following day, Munroe offered to haul Leroy back to Arkansas as she headed home. "Denny [her husband] had flown in and they both said no, he's not going home. They said, 'he's in shape and working good and there is no use in taking him home and turning him out.'"
Munroe finally allowed that she would keep Leroy, who was registered Zantanon Chick, for the rest of the rodeos in which she had entered. But when Bud arrived from other rodeos to go with her, he persuaded her to keep entering. She stayed on the road and qualified to the 1981 NFR, finishing 11th in the WPRA World standings.
"It was a great summer, the first year we were married and we stayed on the road together all year," she says. "I didn't make the Finals until the last weekend of the year in November. I rode my young horse in Austin at a fall rodeo and Bud took Leroy to the Cow Palace. I placed in Austin then flew to the Cow Palace and Leroy won second for me there to clinch it."
"It was all due to Lynn and Denny's generosity and Bud's determination that I was going to make it."
By then Munroe had begun teaching clinics after starting as a helper for the great Wanda Bush in 1980 in Grand Junction, Colorado. She has continued to teach for many years, holding as many as thirty per year, and traveled to Brazil with Lee Ann Guilkey in the early 1990's as well as Australia and Canada.
"It was a great experience," she says of teaching. "I met a lot of people and most were so gracious and wanting to learn."
It was through her clinics that she found her third great horse Cat.
"In 1982 I put on a clinic in Grand Junction and Pauline Haller was one of the students," Munroe explains. She'd met Haller previously at the NFR. "She came to me after the first day and said she had a young horse with a lot of talent and ability and asked if I would ride him."
Haller brought the horse when the clinic concluded and Munroe agreed he moved well and was quick, hence his nickname.
"Then she asked if I would take him home to Texas with me and see what I thought," Munroe adds, noting that Haller had the horse started and had run him some. "I said, ok and was thinking, 'why in the world would I do that?'" she admits with a laugh.
Munroe spent the rest of the year taking Cat to jackpots and broke him into the rodeo world in 1983. She won Reno that year aboard the gelding who was registered Smooth Cadett and qualified again to the NFR.
"He just got better and better," she says. She returned to the Finals in 1984 and became the only barrel racer or contestant for that matter to win the first five go rounds of the NFR. "He was one of the toughest horses, so much heart and so gritty."
Cat took Munroe to four NFR's and Haller never took him away from her.
"She could have sold him for a lot more money that I had to buy him," says Munroe with gratitude. "She became such a good friend and was so proud of Cat. He died here on our place." Haller is now 90 and hoping to attend the induction ceremony in August.
Munroe seemed destined to return to Vegas in 1987 but Cat got sick that summer, curtailing her travel during the busiest part of the season. Even with limited hauling, Munroe barely missed a 12th NFR qualification. She attended the 1988 NFR as a spectator for her husband after spending much of the season pregnant.
After the birth of their daughter, Tassie, and Bud's decision to retire following the Cheyenne Frontier Days in 1989, Munroe slowed her own rodeo schedule, keeping more to circuit rodeos for a while.
"I was so blessed to have three great horses to ride in my career," she says, adding with a joke, "I often said I didn't have much to do with any of the horses that took me to the Finals . . . Mother picked out Billy and the other two were borrowed!"
"My father always said if someone had one great horse in their lifetime, they were fortunate," she continues. "I had the opportunity to ride three."
When looking back on a tremendous career, Munroe still points to the relationships built.
"I'm proud of the accomplishments and the championships," she notes. "But what I treasure the most are the friendships, the people we met."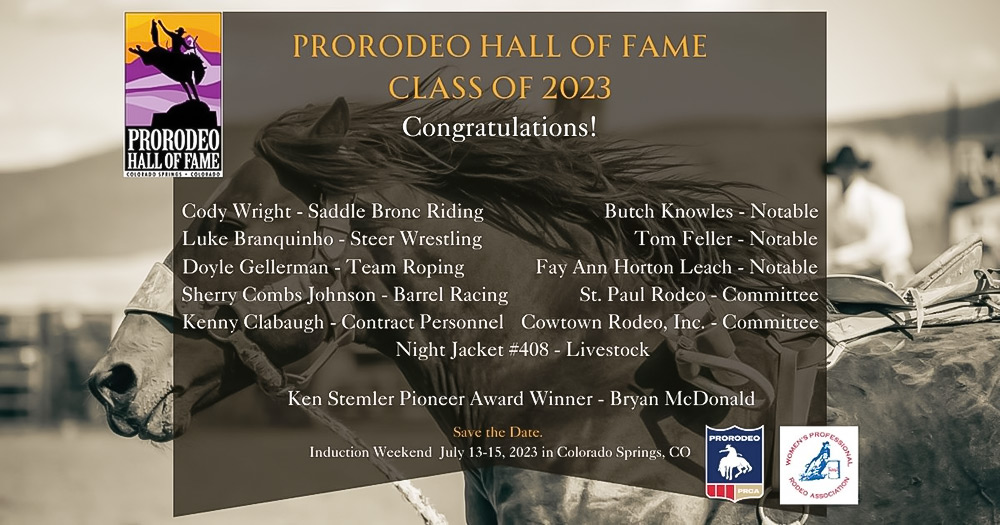 2023 ProRodeo Hall of Fame Class Announced By Ann Bleiker COLORADO SPRINGS, Colorado - The Class of 2023 ProRodeo Hall of Fame inductees were announced on Monday, March 27 and will mark the 44th annual induction. A total of 11 will be inducted including two...
(719) 447-4627
(719) 447-4631 (fax)

431 South Cascade
Colorado Springs, CO 80903
DIRECTIONS
(719) 447-4627 | (719) 447-4631 (fax)
WORLD CHAMPIONSHIP BARREL RACING — Where the Elite Compete®
WORLD CHAMPIONSHIP
BARREL RACING
Where the Elite Compete®