Nominate Your Rodeo Hero
By WPRA Office
---
The colorful history and equally colorful legends of professional rodeo live on at the ProRodeo Hall of Fame and Museum of the American Cowboy in Colorado Springs, Colo. In 2017, WPRA members and equine animals were inducted for the first time.
To be considered for nomination a WPRA member must be a World Champion Barrel Racer® that is retired from full-time competition or a member who has made significant contributions toward the advancement of the WPRA, who are not otherwise eligible in the barrel racing category. Eligibility based on individual's contributions to the sport of barrel racing and the WPRA. In addition, horses who have carried a WPRA member to a world championship can also be nominated. For more information click on the nomination form below.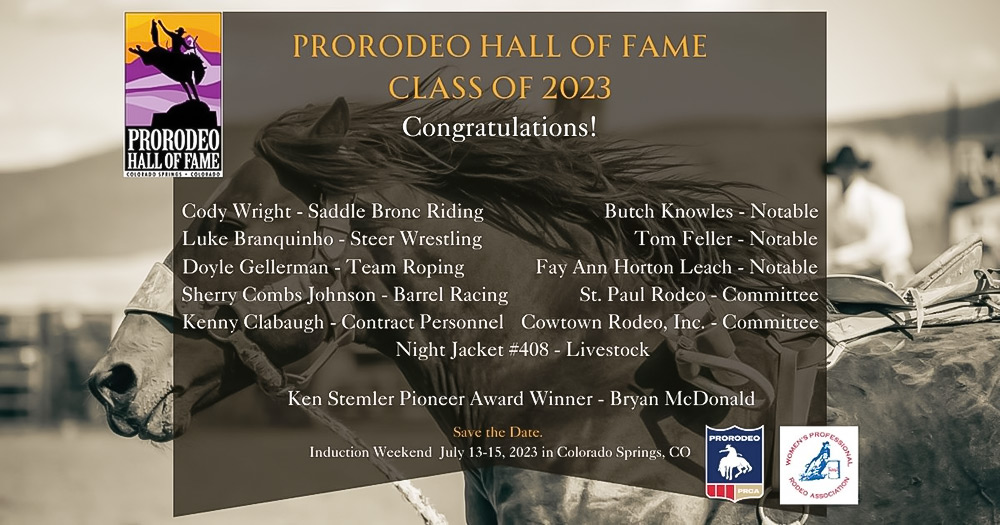 2023 ProRodeo Hall of Fame Class Announced By Ann Bleiker COLORADO SPRINGS, Colorado - The Class of 2023 ProRodeo Hall of Fame inductees were announced on Monday, March 27 and will mark the 44th annual induction. A total of 11 will be inducted including two...
(719) 447-4627
(719) 447-4631 (fax)

431 South Cascade
Colorado Springs, CO 80903
DIRECTIONS
(719) 447-4627 | (719) 447-4631 (fax)
WORLD CHAMPIONSHIP BARREL RACING — Where the Elite Compete®
WORLD CHAMPIONSHIP
BARREL RACING
Where the Elite Compete®