Beisel Brings the Heat in Round 4 at Wrangler NFR
By Ann Bleiker
---
LAS VEGAS, NEVADA – Emily Beisel had been waiting on this night since arriving in Las Vegas and knowing how hard her trusty stead Chongo was working. It all came together for her on Sunday night inside the Thomas and Mack.
Beisel took an early lead being the third racer out on the track setting the bar at 13.60 seconds. Two others came close, Margo Crowther and Lisa Lockhart with times of 13.65 seconds, but it was Beisel's night. She had three good luck charms that aligned tonight…her husband, Austin, is now in town' she was third out on the ground, which has been the popular spot for three out of four rounds and she was wearing unicorn socks.
"It is so funny, Jimmie Smith Tew sent me out here with some unicorn socks. In Arlington, she cracked her unicorn socks out for her round win (at the 2020 Wrangler NFR) and now I am wearing my unicorn socks tonight," noted Beisel. "There were plenty of good luck charms going on tonight."
Beisel started her fourth NFR with a fifth-place finish in the first round with a time of 13.82 seconds but was snakebit in the second and third rounds with downed barrels. She knew her horse was working better than he ever has out here so it was just a matter of time.
"It is really confidence boosting to have a horse working like Chongo has been working this week," stated Beisel. "It is a lot easier to fix an overachiever than it is to put a horse back together. He has just been overworking. Trying so hard to be so good and we were just inches from having it right. It is a game of inches. Tonight, I just tried to give him a little more room and it worked out."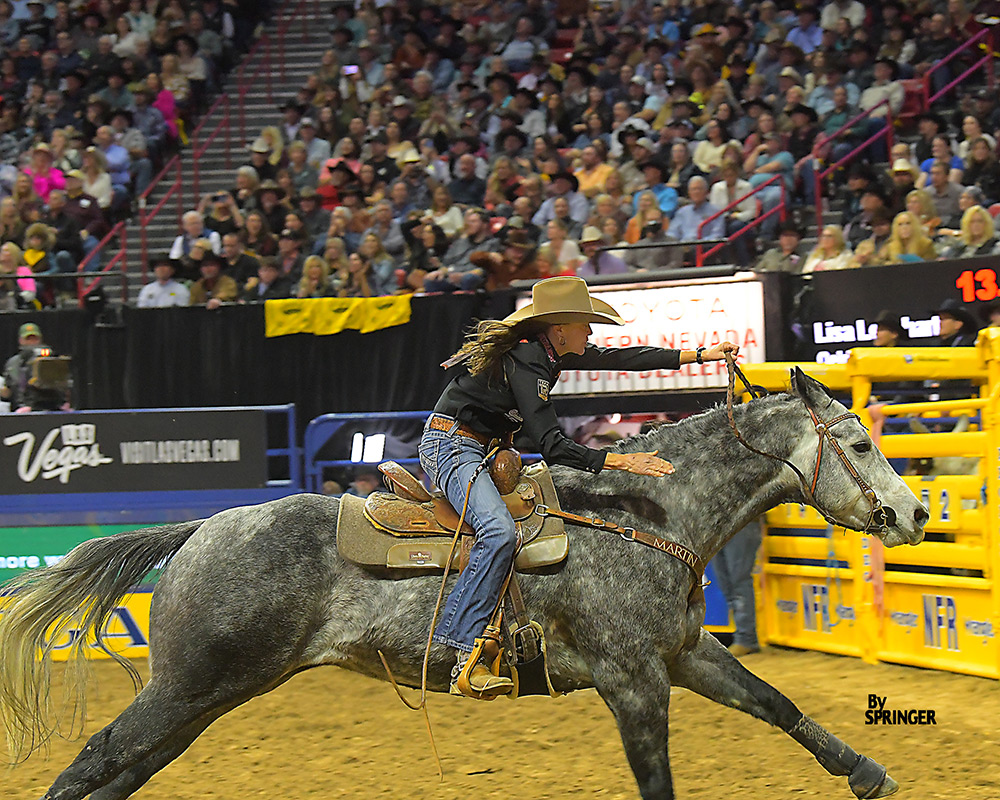 Lisa Lockhart
Photo by Kenneth Springer
Lockhart moved to first in the average in a time of 55.19 seconds on four runs, with reigning average and world champion Jordon Briggs holding down second in the average and still first in the world. Her lead has shrunk and holds only a $13,154 lead over No. 2 Hailey Kinsel, who was fourth on the night in a time of 13.66 seconds.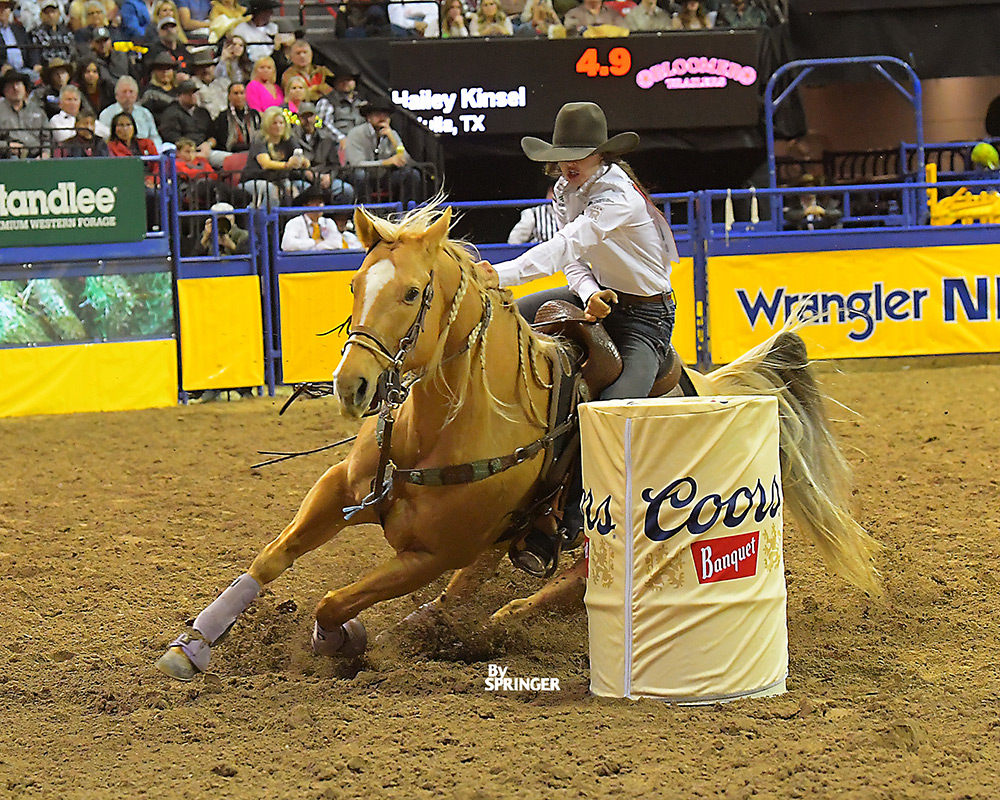 Hailey Kinsel
Photo by Kenneth Springer
Kinsel is the big money winner in the barrel racing thus far having amassed $79,953 and with that she crossed the $1 million mark in NFR earnings alone. Through four rounds at the 2022 Wrangler NFR she has won $1,006,599 at the NFR alone.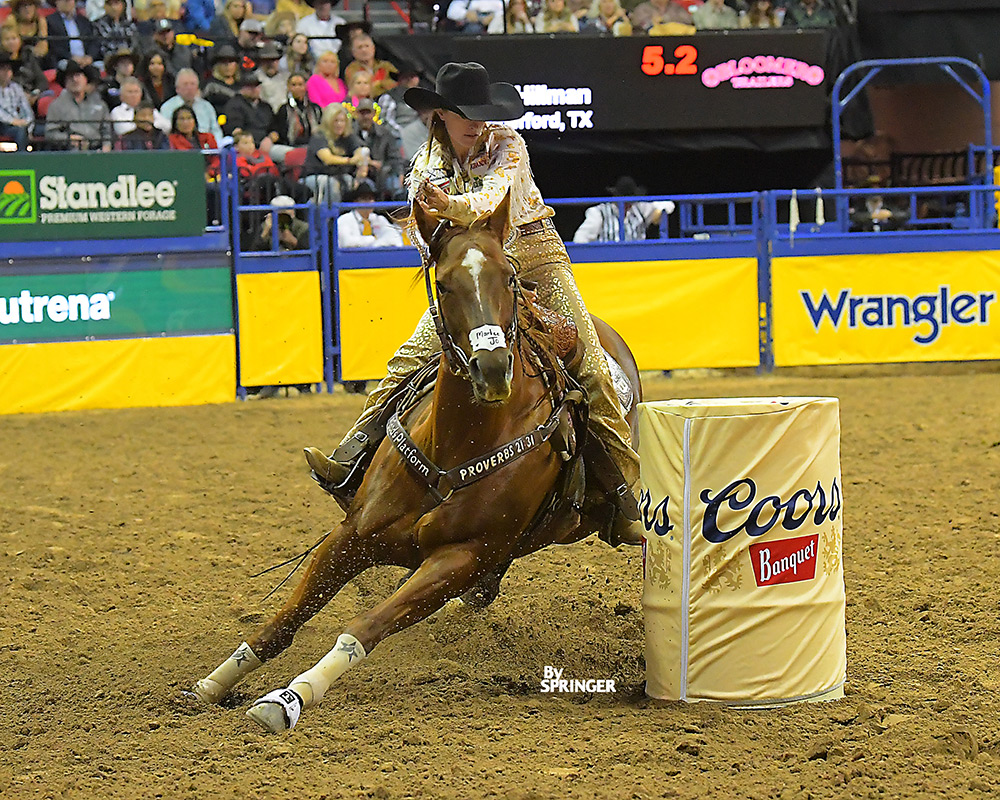 Stevi Hillman
Photo by Kenneth Springer
Stevi Hillman was sporting the gold tonight as she is not only competing for NFR money but also for the Jerry Ann Taylor Best Dressed award. Hillman was fifth on the night riding Sand In My Socks "Sandi" and stopping the clock in 13.67 seconds.
Fans can vote on the Jerry Ann Taylor Best Dressed award nightly for who they think looked the sharpest. The award is presented by the National Cowgirl Museum and Hall of Fame. Voting is at www.wpra.com
Fifth round action gets underway, Monday, December 5 at 5:45 p.m. PT LIVE on the Cowboy Channel.
Rd 4 results: https://www.wpra.com/nfr-2022-results-sunday-december-4-2022/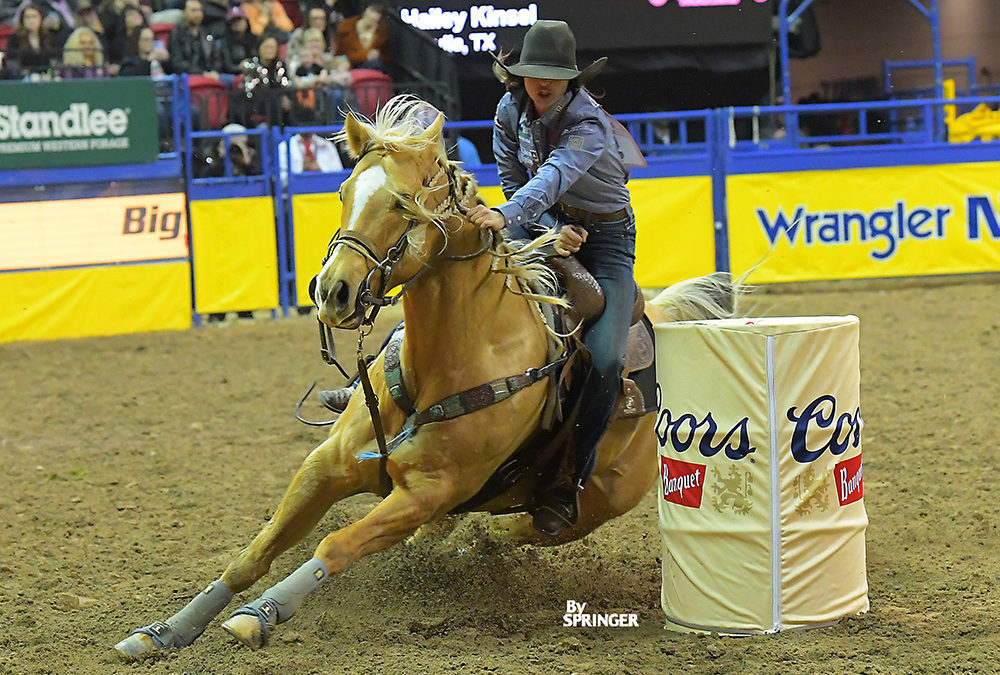 Kinsel Wins Fourth World Title, Morgan Captures First Average Title By Ann Bleiker LAS VEGAS, NEVADA – One year ago, Hailey Kinsel left the Thomas and Mack a little disappointed after her streak of world titles came to an end, but she was determined to not leave empty...
(719) 447-4627
(719) 447-4631 (fax)

431 South Cascade
Colorado Springs, CO 80903
DIRECTIONS
(719) 447-4627 | (719) 447-4631 (fax)
WORLD CHAMPIONSHIP BARREL RACING — Where the Elite Compete®
WORLD CHAMPIONSHIP
BARREL RACING
Where the Elite Compete®