BEST DRESSED
Crowther Catches Eye of Fans with Stylish Outfits at NFR
By Ann Bleiker
Photos by Kenneth Springer
---
LAS VEGAS, NEVADA – Margo Crowther was all in for her first qualification to the Wrangler National Finals Rodeo, which included being one of several WPRA members competing nightly for votes for the Jerry Ann Taylor Best Dressed Award.
The Florida cowgirl noted she loves fashion and wearing stylish clothes but had never fully brought that to the rodeo arena until her 10 runs down the alleyway at the Thomas and Mack.
"It was definitely out of my comfort zone in the arena, but this was different…it was Vegas after all. I had to go all out and do it up," stated Crowther.
The Jerry Ann Taylor Best Dressed Award is given in honor of 1986 National Cowgirl Hall of Fame inductee Jerry Ann Taylor, a daring trick rider with an incredible sense of style. The award is given out twice a year at the Fort Worth Stock Show and Rodeo and at the Wrangler NFR. At the NFR, the award is determined by fan and committee votes.
After a record number of votes, Crowther was honored as the 2022 Wrangler NFR Jerry Ann Taylor Best Dressed Award winner.
"It was an honor to win the Jerry Ann Taylor Best Dressed Award," noted Crowther, who received a custom bracelet and a $5,000 bonus check. "I had a group of amazing ladies help me with my outfits that I owe this award too. My mother, close friends, and a few new friends that helped, plus all the fans voting for me helped me achieve this honor."
Crowther definitely had a team behind all the outfits she wore in the arena and those she wore at her signings including tack for her horse Sissy. In fact, it was a chance meeting at the NBHA Open Show that made it all possible for her.
"Kaitlyn (Lorman) from Sundial Show Clothing helped me in a huge way!" noted Crowther. "She was a blessing to me because I really hadn't had time to figure out my outfits due to lack of time after the hurricane hit our home. I knew I wanted to participate in the best dressed but hadn't really had the time to plan until I met Kaitlyn and Nicole at the NBHA Open World Show.
"She had a booth at the show, but it was the fact that we were parked next to one another in the RV park and got to talking. She had made the NFR flag girl shirts before but never had a barrel racer wear her clothes. We got to talking and just clicked right away and she offered to help me get organized with my outfits and really inspired me to participate."
In addition, Crowther's two closest girlfriends Karen Krhon and Jill Murray designed her first and eighth round outfits, respectively and Karla Bañuelas, who worked with Tiany Schuster for the award in 2020, provided Crowther with the shirt she wore in the third round and some of the shirts she donned at her autograph signings.
"My favorite outfit was either the white rose pants with the red leather work combined with the red belt that my friend (Kaylie from Rockn' Wilsons Tack out of Florida) had made for me or the pink shimmery shirt with turquoise fringe that I wore during the ninth round. I called that my 'Florida themed' outfit," noted Crowther. "That was the shirt that caught my eye at the Sundial booth. I knew I wanted to wear something to represent Florida being that I was the only barrel racer from Florida. Originally, I thought I would wear orange and blue for the (Florida) Gators, since we are big Gator fans as well, but once I tried the pink shirt with fringe, I knew I had to wear it."
While the award is only awarded in Fort Worth and at the NFR, the hope is these ladies will wear these outfits again throughout the year at other ProRodeos.
"I will most definitely keep the outfits that I wore to run in again," stated Crowther. "I want to keep them to give to my little girls as well. It would be a dream come true for them to run at the NFR in one of the outfits that I wore at my first NFR."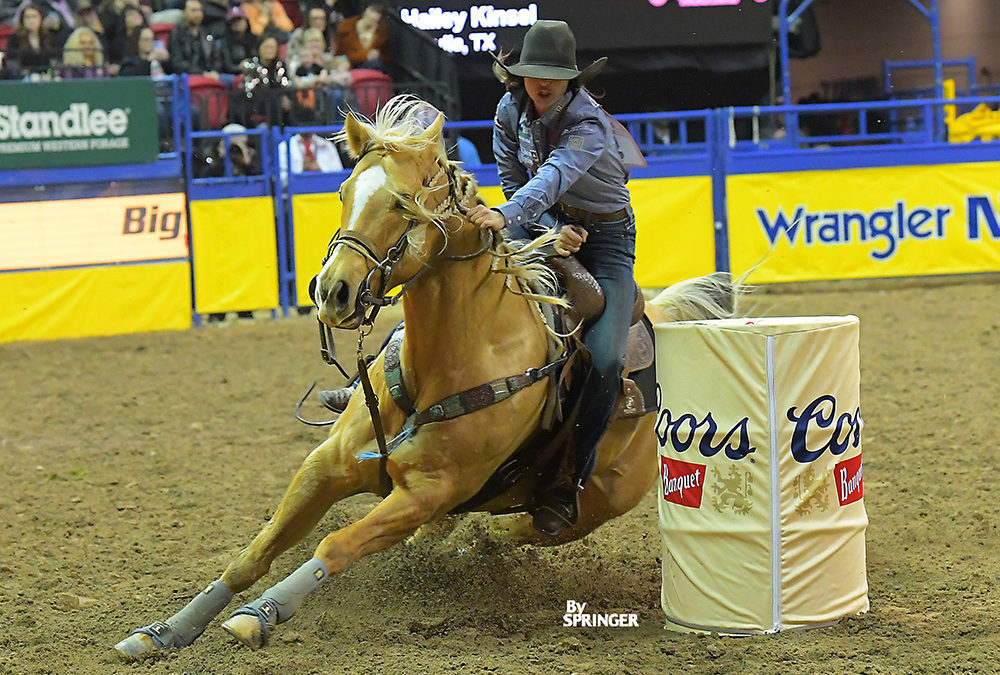 Kinsel Wins Fourth World Title, Morgan Captures First Average Title By Ann Bleiker LAS VEGAS, NEVADA – One year ago, Hailey Kinsel left the Thomas and Mack a little disappointed after her streak of world titles came to an end, but she was determined to not leave empty...
(719) 447-4627
(719) 447-4631 (fax)

431 South Cascade
Colorado Springs, CO 80903
DIRECTIONS
(719) 447-4627 | (719) 447-4631 (fax)
WORLD CHAMPIONSHIP BARREL RACING — Where the Elite Compete®
WORLD CHAMPIONSHIP
BARREL RACING
Where the Elite Compete®