Rookie Reality-Choate Clinches Rookie Title En Route to First NFR
By Kristen M. White
---
A year ago – maybe even six months ago – Bayleigh Choate would have doubled over with laughter if you'd told her that in 2022, she'd not only win the WPRA Rookie of the Year title, but also qualify for the National Finals Rodeo, and with the second-most money won in a regular season by a rookie ever.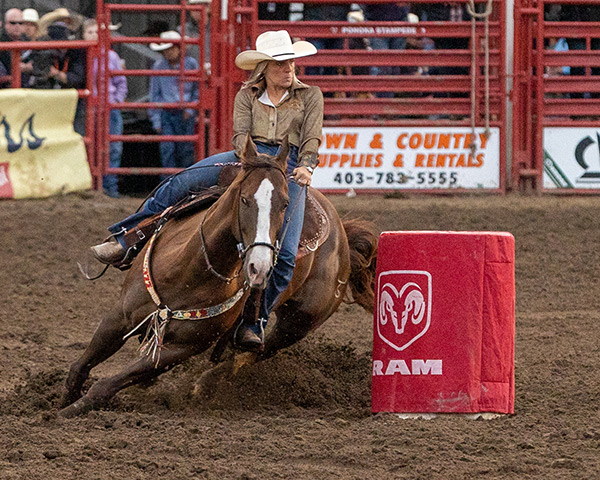 Bayleigh Choate
Photo by Jeremy Wombold
It's funny how sometimes things work out.
            "For the first six months, I didn't expect anything to happen, because it was all so terrible," Choate recalled. "I'd work so hard all week, and then at the rodeos I'd look so unprepared. I was so tired of going around the barrels for nothing and it wasn't very fun."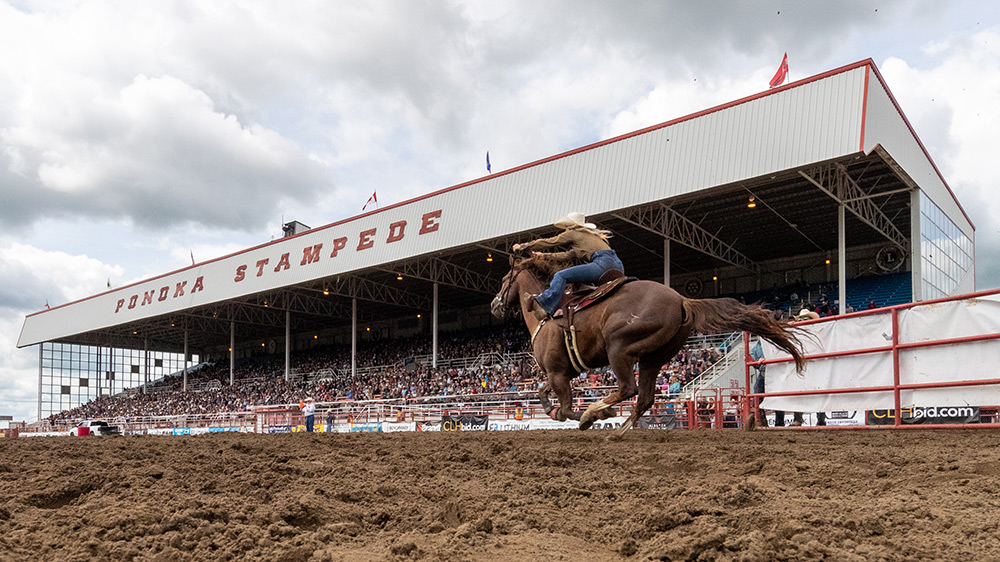 Bayleigh Choate
Photo by Jeremy Wombold
She'd just hit a barrel in Montgomery, Alabama, and was headed home to regroup when she got a call that there was an opening in Rodeo Austin. She said she figured since it was on the way home she'd make the runs.
            "I was basically just thinking, 'I'll go run these barrels so I can go home,'" Choate said with a laugh. "I was excited to finally draw up in a perf, because I'd been in slack almost every single rodeo for six months."
            And then … Rodeo Austin was amazing. She put down a nice qualifying run, won the semifinals at the rodeo, cashed checks to the tune of $11,581 and had a glimmer of hope in her eye.
            "I knew all along that my horse had the caliber to do it, and whatever needed to click, clicked. I couldn't tell you what it was, what happened in the trailer from Alabama to Austin … but it never turned off. I don't know what happened!"
            Austin skyrocketed Choate to #1 in the rookie standings, although only by a few hundred dollars so she wasn't counting her chickens just yet. By June she was on the bubble for the NFR, hovering around 15 or 16 in the world, and things began to see more like reality than simply hopes and dreams.
            Choate solidified things when she was the biggest money winner among barrel racers during the Fourth of July run, thanks largely to an amazing performance at the Ponoka Stampede. There, she made a clean sweep of things, winning every round. The checks she cashed there put Choate to fifth in the standings and she said she slowed down a bit to give herself and her horses a much needed break, but held on and ended 11th in the world to qualify for the NFR.
            Winning the rookie title is what Choate originally had her sights set on, although she wasn't even sure about that to start. She hadn't planned to buy her card for the 2022 season, but when she won in Denton, she qualified for the Fort Worth rodeo, where she couldn't compete on a permit.
            "I thought I was going to waste my rookie year!" she said. "My one horse Boozer was 4 at the time, young and inexperienced, and I didn't have Dash (her other horse) yet. I had planned to get some experiences and wait until I had more horses, but …"
            The rodeo gods seemed to have other plans, and now in hindsight Choate said it's crazy to look at her overall story of her rookie year.
            Boozer, or TJR Stinson Blue, loves the indoor building rodeos, but does not like running outside. After things clicked in Austin, Choate was thrilled – but knew with summer around the corner she needed another horse for outdoor runs.
            It turned out to be Dash (Hail To Be Famous), a horse that had been hurt in 2020 and wasn't expected to ever run again. But thanks to a special vet who put in a lot of work, he was back and although he'd never run in a performance, Choate threw him into the mix in Ponoka and he shined.
            "I think he was so scared and that's why he ran so fast – he was scared to death!" she said with a laugh.
            So, the rookie, running on two rookie horses, continued to put together a season to remember. Wining the Rookie of the Year title is something she says she wishes she could give to her horses, who have done more than she ever dreamed was possible.
            The reality of an NFR qualification hasn't really set in yet, Choate said. She plans to give Boozer the call a few nights and maybe Dash a few nights, possibly a third horse on some others.
            "I'm just going in with an open mind to do my best. Literally talking about it doesn't feel real!" she said. "It's a once in a lifetime experience. I mean, I pray that I go 20 times, but you never know what tomorrow or next year will bring. You never know what the next run holds. So I'm taking the pressure off and just want to enjoy the experience."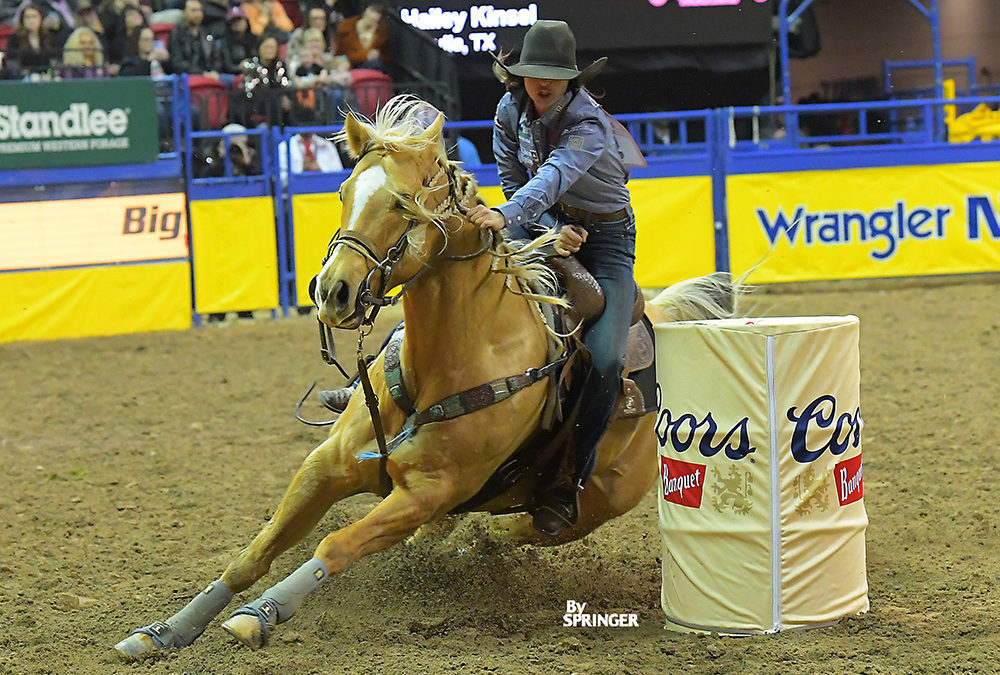 Kinsel Wins Fourth World Title, Morgan Captures First Average Title By Ann Bleiker LAS VEGAS, NEVADA – One year ago, Hailey Kinsel left the Thomas and Mack a little disappointed after her streak of world titles came to an end, but she was determined to not leave empty...
(719) 447-4627
(719) 447-4631 (fax)

431 South Cascade
Colorado Springs, CO 80903
DIRECTIONS
(719) 447-4627 | (719) 447-4631 (fax)
WORLD CHAMPIONSHIP BARREL RACING — Where the Elite Compete®
WORLD CHAMPIONSHIP
BARREL RACING
Where the Elite Compete®