Smalygo Turns in Fastest Time of 2022 Wrangler NFR in Round 8
By Ann Bleiker
---
LAS VEGAS, NEVADA – Leslie Smalygo was looking for a more speedy event a few years ago having competed in western pleasure the majority of her life, so she turned to barrel racing and she is loving the speed. During the eighth round of the 2022 Wrangler National Finals Rodeo presented by Teton Ridge the Skiatook, Oklahoma cowgirl turned in the fastest time of the event thus far stopping the clock in 13.41 seconds.
"This feels amazing," said Smalygo of her first career NFR round win. "He (Gus) has exceeded all my expectations of what he could do in here (the Thomas and Mack Arena). He hates small pens, he hates indoors and he has just done so amazing that I can't even believe it."
Smalygo is making her first appearance at the Wrangler NFR and tonight she made her first victory lap around the Thomas and Mack. She entered the NFR ranked No. 15 and has moved up to seventh in the world.
"I didn't know we had that in us," said Smalygo when asked about turning in the fastest time of the event so far. "It felt so messy. It felt like I was going to fall off and I was just trying to keep him off the barrels. We touched each of them, but we made it work.
"Last night's run gave us momentum coming into tonight and being on top of the ground I knew he had a real good chance. If I was going to make a move it was going to be tonight."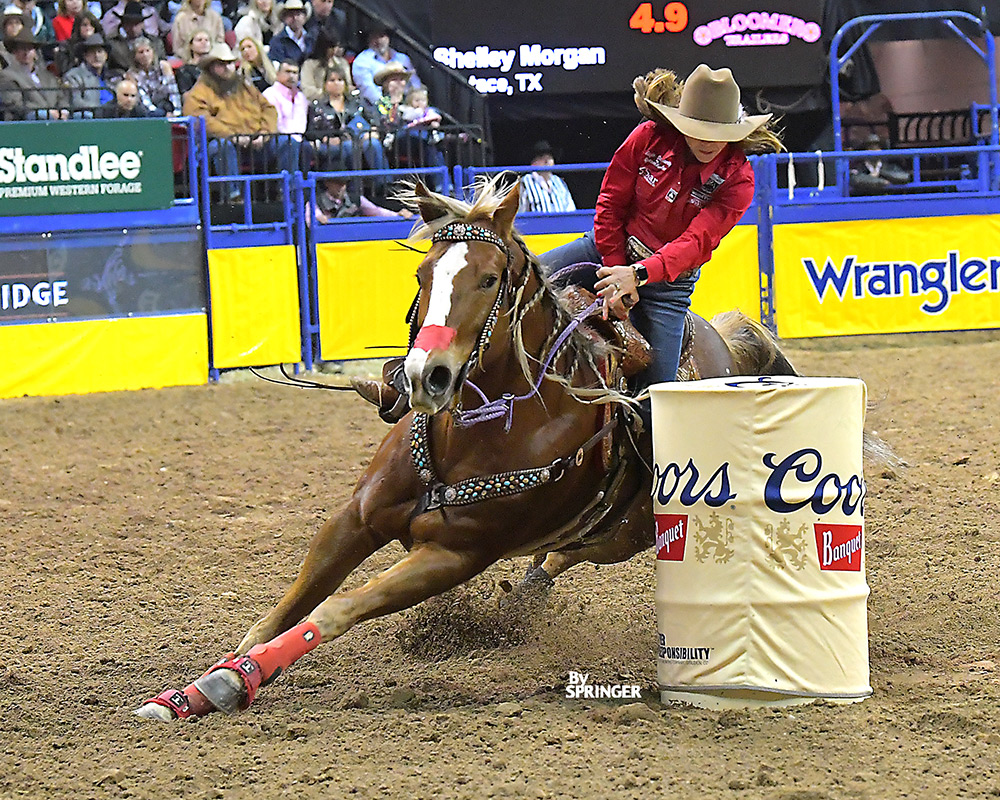 Shelley Morgan
Photo by Kenneth Springer
Wenda Johnson, who won the seventh round, and was leading the average had a very costly barrel penalty tonight allowing Shelley Morgan to take over the top spot in the average. Morgan has a total time of 110.3 seconds on eight runs. She and rookie Bayleigh Choate are the only two remaining barrel racers who haven't hit a barrel at this year's NFR.
Hailey Kinsel returned to No. 1 in the standings after picking up a fourth place check on the round. She has $237,350, with reigning world champion Jordon Briggs No. 2 with $232,082. Despite hitting a barrel early in the week Briggs currently sits fourth in the average in a time of 114.92 seconds.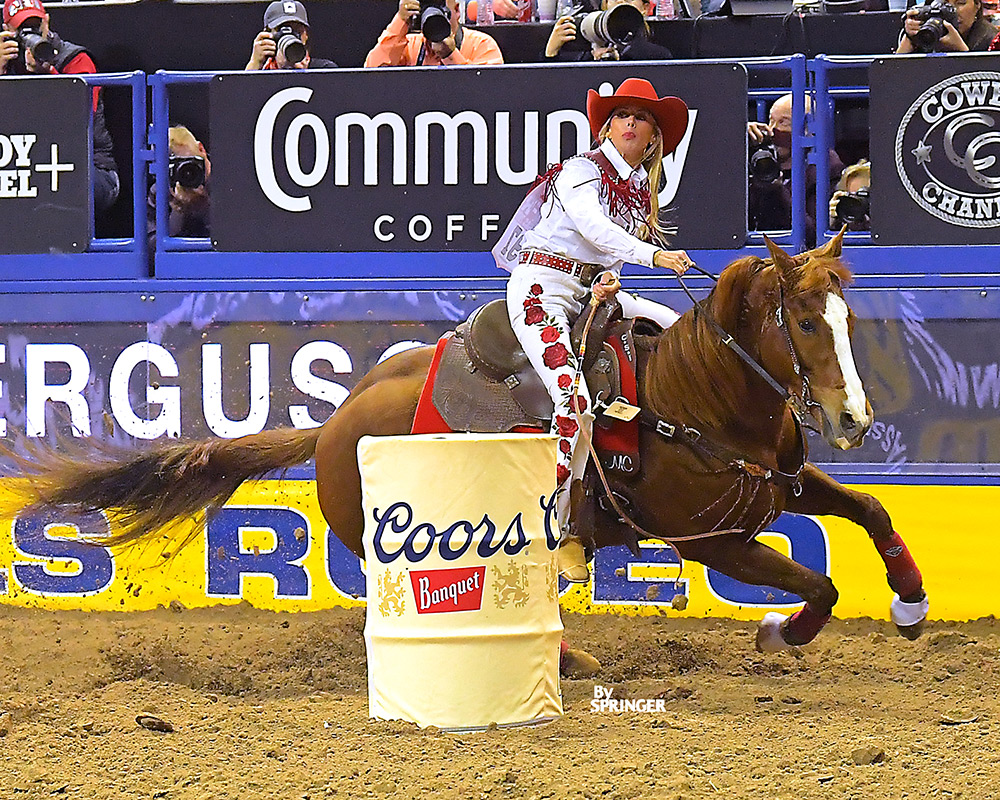 Margo Crowther
Photo by Kenneth Springer
Margo Crowther, who is very much in contention for the Jerry Ann Taylor Best Dressed Award, had some tough luck tonight with a downed barrel in the eighth round but she brought the color and roses for Canadian Night at the NFR.
Fans can vote on the Jerry Ann Taylor Best Dressed award nightly for who they think looked the sharpest. The award is presented by the National Cowgirl Museum and Hall of Fame. Voting is at www.wpra.com
Ninth round action gets underway, Friday, December 9 at 5:45 p.m. PT LIVE on the Cowboy Channel.
Rd 8 results: https://www.wpra.com/nfr-2022-results-thursday-december-8-2022/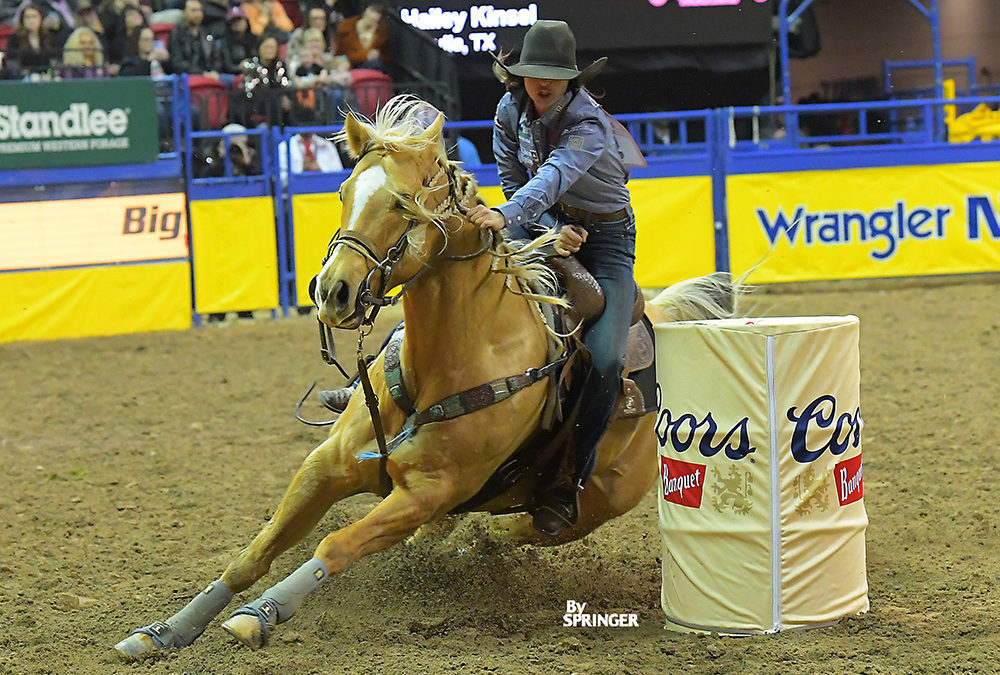 Kinsel Wins Fourth World Title, Morgan Captures First Average Title By Ann Bleiker LAS VEGAS, NEVADA – One year ago, Hailey Kinsel left the Thomas and Mack a little disappointed after her streak of world titles came to an end, but she was determined to not leave empty...
(719) 447-4627
(719) 447-4631 (fax)

431 South Cascade
Colorado Springs, CO 80903
DIRECTIONS
(719) 447-4627 | (719) 447-4631 (fax)
WORLD CHAMPIONSHIP BARREL RACING — Where the Elite Compete®
WORLD CHAMPIONSHIP
BARREL RACING
Where the Elite Compete®