Sister Speeds Through Cloverleaf Pattern Turning in Fastest Time at 2022 Wrangler NFR
By Ann Bleiker
---
LAS VEGAS, NEVADA – Hailey Kinsel and Sister captured their fourth win at the 2022 Wrangler National Finals Rodeo presented by Teton Ridge in speedy fashion during the ninth round. The duo stopped the clock in 13.34 seconds, just a night after Leslie Smalygo and Gus ran the fastest time of the rodeo in 13.41 seconds.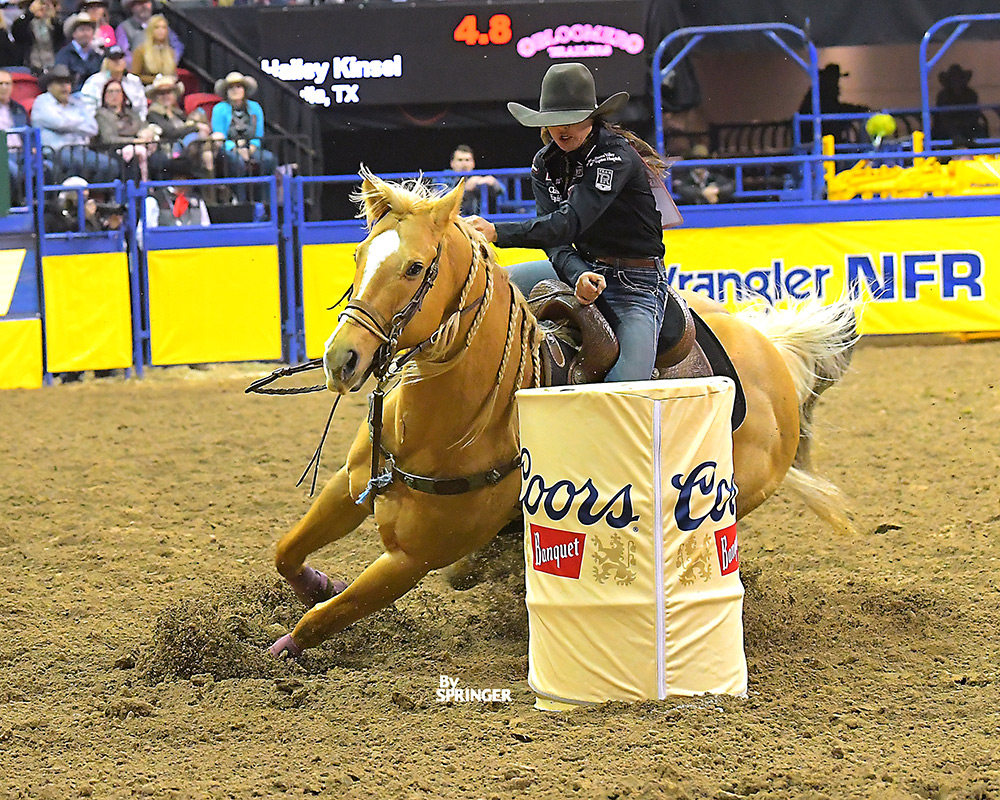 Hailey Kinsel
Photo by Kenneth Springer
During the early 2000s there were two other great athletes at the Thomas and Mack that would feed off each other and try to beat each other's time-Fred Whitfield and Cody Ohl. It is like Sister is human and she wants to have the fastest time and it gets her motor running when another horse out runs her.
"Sometimes it seems that way," replied Kinsel, when asked if she thought Sister seemed human at times. "She is funny especially the times she peaks as it seems like she knows when to make it count. I can only help her feel good so much and when she decides to feel good that is on her.
"She had a good look in her eye today and she was doing everything fast tonight when we were warming up. My mom told me you better hold on tonight. So, she definitely had that in her tonight."
Kinsel continues to lead the world with $266,263 to Jordon Briggs' $232,082. Besides being the fastest time thus far, it was the wild trip around the barrels that Kinsel will remember for years to come after losing a rein coming out of the second headed to the third.
"I can't imagine how Charmayne (James) felt with no bridle," Kinsel said when discussing another rodeo icon and historic run in WPRA history here at the Thomas and Mack. "At least I had half a face. I have never had that happen on her before. Going into the third barrel I knew that the more runs we make in here she is going to get a tick tighter, and I know she knows where the third barrel is at. I had told myself I was going to have to sit down and really ride and had thought I might have to grab an outside rein on her tonight but that wasn't an option tonight. She was definitely doing her own thing tonight and I started off saying woah, but it all worked out."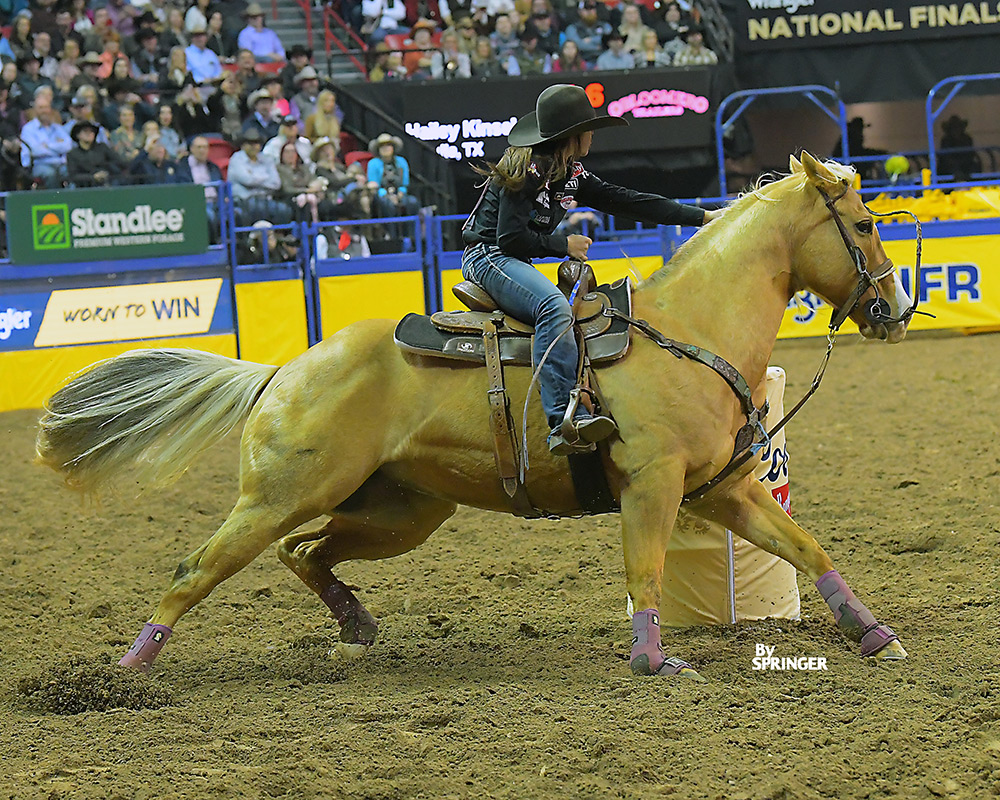 Hailey Kinsel
Photo by Kenneth Springer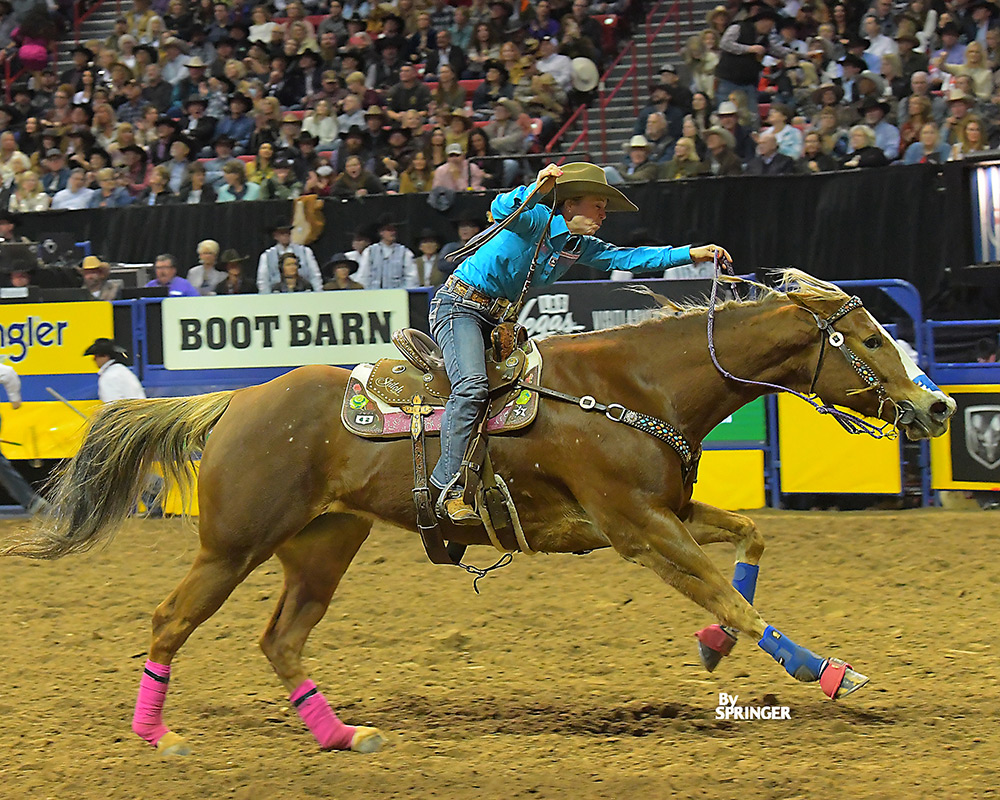 Shelley Morgan
Photo by Kenneth Springer
Only two barrel racers haven't hit barrels through nine rounds and that is Shelley Morgan and WPRA Rookie Bayleigh Choate. Morgan is first with 123.77 seconds on nine, while Choate is looking to become the first WPRA rookie since Charmayne James in 1984 to win the average. She trails Morgan in a time of 125.33 seconds. One can bet Morgan will be laser focused on keeping them all standing on the 10th and final round on Saturday night to win her first NFR average title.
Tonight is the last night for fans to vote on the Jerry Ann Taylor Best Dressed Award as the winner will be announced prior to the 10th round. Fans can vote at www.wpra.com. The award is presented by the National Cowgirl Museum and Hall of Fame.
The tenth and final round action gets underway, Saturday, December 10 at 5:45 p.m. PT LIVE on the Cowboy Channel.
Rd 9 results: https://www.wpra.com/nfr-2022-results-friday-december-9-2022/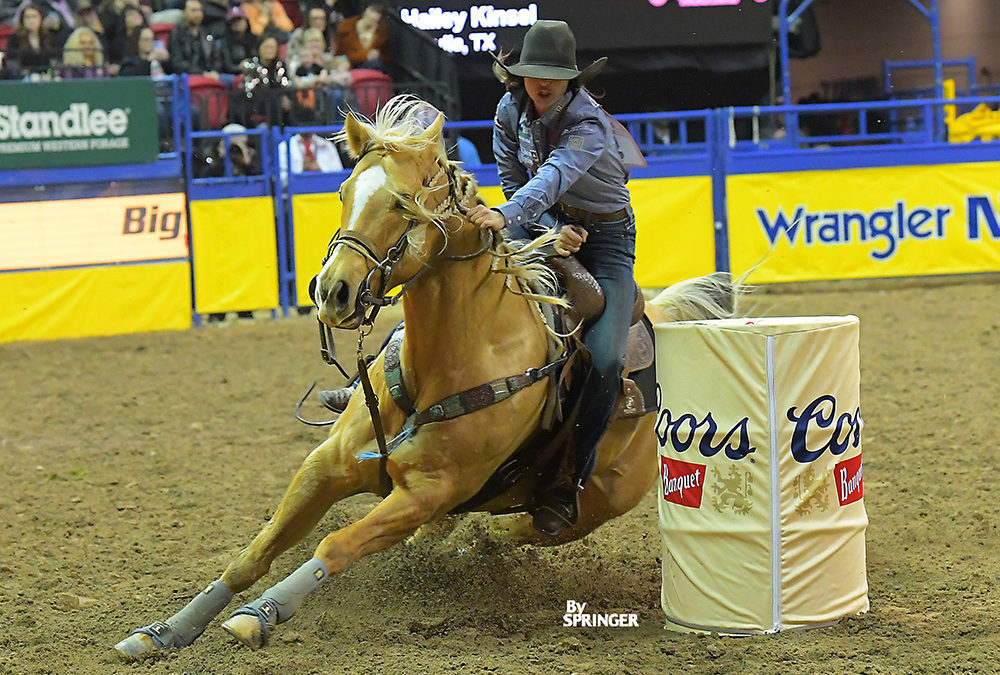 Kinsel Wins Fourth World Title, Morgan Captures First Average Title By Ann Bleiker LAS VEGAS, NEVADA – One year ago, Hailey Kinsel left the Thomas and Mack a little disappointed after her streak of world titles came to an end, but she was determined to not leave empty...
(719) 447-4627
(719) 447-4631 (fax)

431 South Cascade
Colorado Springs, CO 80903
DIRECTIONS
(719) 447-4627 | (719) 447-4631 (fax)
WORLD CHAMPIONSHIP BARREL RACING — Where the Elite Compete®
WORLD CHAMPIONSHIP
BARREL RACING
Where the Elite Compete®