Back-to-Back, Side by Side-Jordon and Justin Briggs' Rollo Wins Second Straight Nutrena Horse of the Year Award
By Tim Gentry
---
Briggs Performance Horses is truly a family-run business. Jordon and Justin own and operate it themselves on their Tolar, Texas ranch, working together every step of the way to offer up a very select yearly crop of barrel and rope horses. Some are bred, some bought, but by the time they're ready for the sale barn, these horses are mentally and physically sound, ready for a lifetime of use and affection.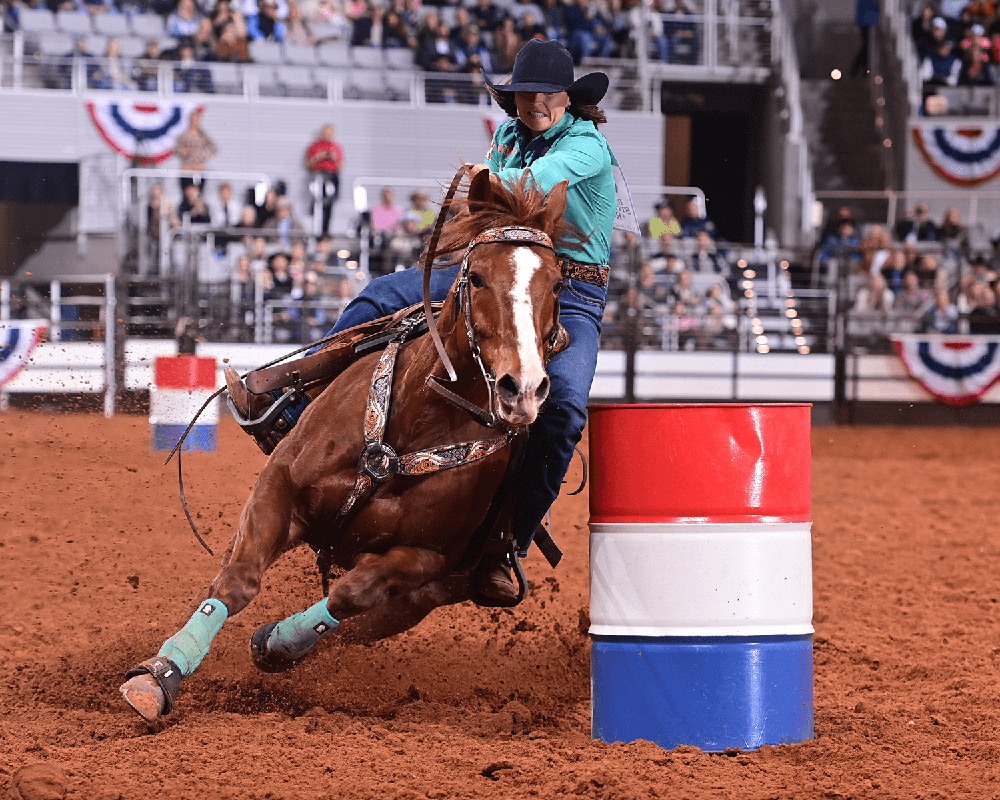 Rollo, Ridden by Jordon Briggs
Photo by James Phifer
Famous Lil Jet is the pride of their stable right now, and with good reason. The 8-year-old sorrel gelding, better known as Rollo, was just voted Nutrena Horse of the Year presented by the AQHA by a jury of Jordon's peers for the second year in a row.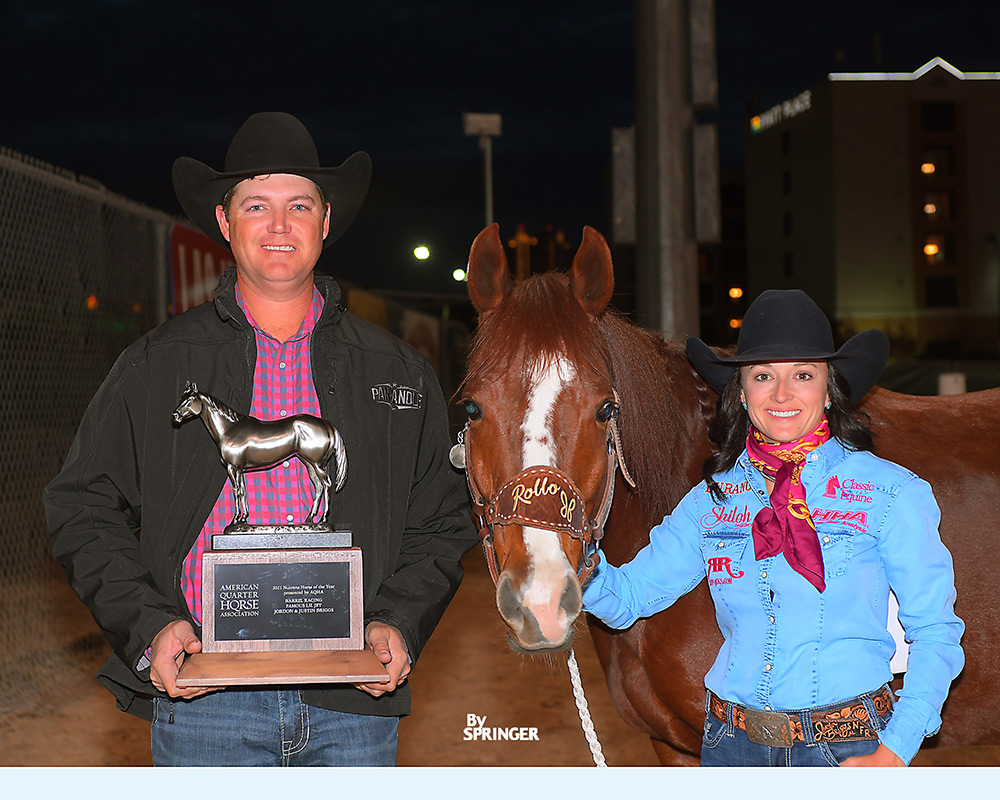 Rollo, Ridden by Jordon Briggs
Photo by Kenneth Springer
"That is so amazing!" said Jordon on hearing the news. "Last year winning this was my favorite title and to win it again is amazing. It's such a compliment that my fellow competitors think Rollo is as great as I do.
"He is the reason that makes me want to rodeo and do this because he is so solid and consistent."
But there's no time to revel in the moment for the current WPRA standings leader. No sooner than the news was released, it was time to board a plane to Italy for a barrel racing exhibition in Malta. So, while she was crossing the Atlantic, Justin was more than happy to share his appreciation for the award.
"It's just very special for the other girls to vote on your horse," said Justin of the award criteria. "I think that's the neat thing about it. It's actually the girls who are out there competing. They have their own horses, too, and could have voted for them."
Rollo came to the Briggs as a one-year-old. With limited time and resources between the two, picking the right prospects is essential. The breeding was enough to make him worth a look, but for the Briggs duo, it all starts with conformation.
"We're looking for one that has the frame, has that look of a horse we want to ride," he explained, "You can look for conformation in breeding, but until you ride them and see how trainable they are and see what kind of mind they have, you don't know."
Once they arrive at the Briggs Ranch, Justin teaches them a few manners before Jordon starts to put a pattern on them. But it's never just barrels. Having a variety of tasks presented to them keeps them entertained and interested. Roping and tracking cattle is the perfect way to teach a young horse how to move, and, most importantly, how to trust their rider.
It takes that trust to push the horse further, letting the rider ask for more, or to try something in a different way. Justin's love of horses is never more clear than when he talks about how intelligent they are, and how you have to respect their personalities. Rollo was smart enough to think he could maybe do it better, but trainable enough to trust his rider.
"All along the way, we told him, 'This is the job,'" said Justin. "'And if you do this job, that's it. It's that simple.' Once he understands what you want of him, he just does that. He doesn't do any overthinking. You're never having to wonder, 'Is he going to cut corners and get ahead of me?' He's just going to run and hit his spots."
That consistency, coupled with his blazing fast "efficiency" as Justin calls it, has led to a lot of earnings in relatively few rodeos. Of Jordon's 31 total entries this season, Rollo got the nod at 27 and pulled checks at 25. It's his ability to excel in all pen sizes, indoor and out, that makes him such a potent threat. Not to mention keeping his run-count down is the best way to keep him rodeo-ready for many years to come.
If future seasons are anything like what he's done so far, there might just be another dynasty in the making, one that might even compare to what Jordon's mother, Kristie Peterson, was able to accomplish with Bozo. It would be easy to get caught up in the future, in expectations for what should happen, but both Jordon and Justin remain firmly planted in the present.
When asked if he thought Rollo's best years were still ahead of him – a horse he broke, rides and ropes on, even warms up on race day – Justin demurred. There's no point making predictions like that. For him, the only predictor worth mentioning is the one that earned him a home at the Briggs Ranch in the first place.
"I think he's got the conformation for long term," said Justin. "That's what we're looking for in colts. We don't want to buy horses that have good pedigree but are going to break down fast. There are things that happen to horses that you can't foresee, but his conformation is going to help him beat some odds."
Working together, Jordon and Justin are doing their best to help him beat those odds. Each having their own special role to play in making and keeping all their horses happy and sound. Rollo's career may be just beginning, but under their watchful eye and care, he's already proven he can beat the best. Being voted Horse of the Year by some of the best barrel racers in the industry is just confirmation.
Jordon and Justin would both like to thank their great sponsors for this season: American Hat, Rock and Roll Denim, Durango Boots, Classic Equine, Shiloh Saddlery, Quanta Services, Horse Hair Analysis, Purina, Rodeo Rigs, and barrelracing.com.
The top three horses are listed below.
Barrel Racing
1. FAMOUS LIL JET, "Rollo", ridden by Jordon Briggs – owned by Jordon and Justin Briggs
2. HIGH VALOR, "Valor," ridden by Dona Kay Rule – owned by Dona Kay Rule
3. CAUTRO FAME, "Truck," ridden by Stevi Hillman – owned by Ty and Stevi Hillman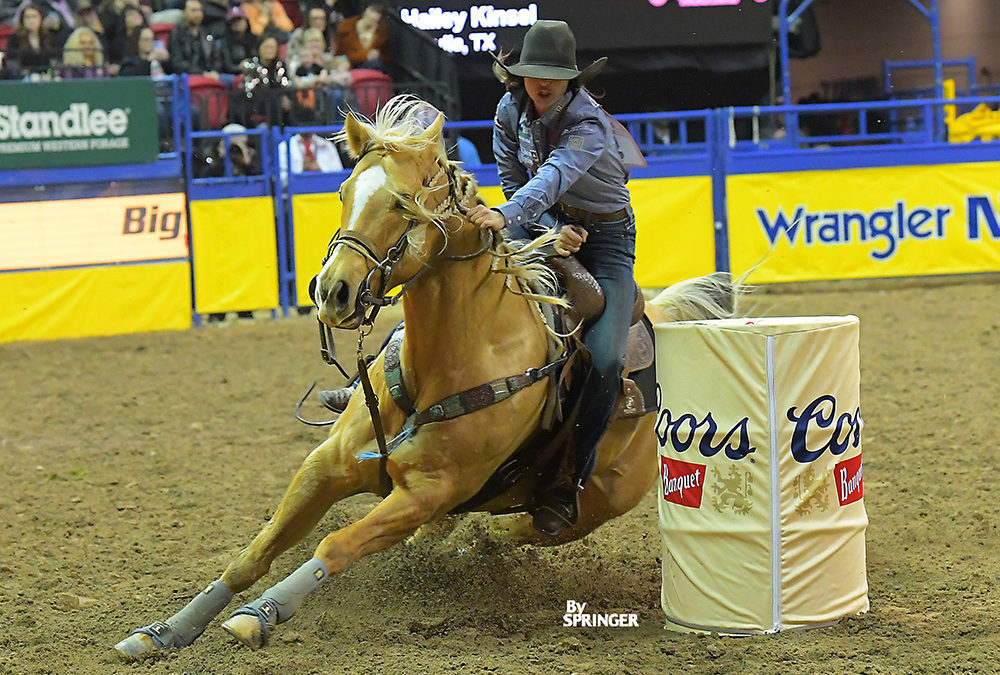 Kinsel Wins Fourth World Title, Morgan Captures First Average Title By Ann Bleiker LAS VEGAS, NEVADA – One year ago, Hailey Kinsel left the Thomas and Mack a little disappointed after her streak of world titles came to an end, but she was determined to not leave empty...
(719) 447-4627
(719) 447-4631 (fax)

431 South Cascade
Colorado Springs, CO 80903
DIRECTIONS
(719) 447-4627 | (719) 447-4631 (fax)
WORLD CHAMPIONSHIP BARREL RACING — Where the Elite Compete®
WORLD CHAMPIONSHIP
BARREL RACING
Where the Elite Compete®