Lockhart, Kinsel Split the Round 5 Win at the 2022 Wrangler NFR
By Ann Bleiker
---
LAS VEGAS, NEVADA – It was an NFR Million Dollar winner's circle during the fifth round of the 2022 Wrangler National Finals Rodeo presented by Teton Ridge. Hailey Kinsel, surpassed the $1 million in NFR earnings during the fourth round and joined Lisa Lockhart in that elite club. Tonight, they shared the round win and added to their figures both picking up $25,882.
"That is really cool but that is Sister's record," stated Kinsel about crossing the $1 million in NFR earnings. "I have had a lot of great horses to help but that is all her. To be able to do that in less than six years, I don't know how to put that into words.
"I came into the ProRodeo world when it was booming. The American took off and the rounds started playing better here (NFR), other rodeos started paying more, ground got better…I am a lucky kid."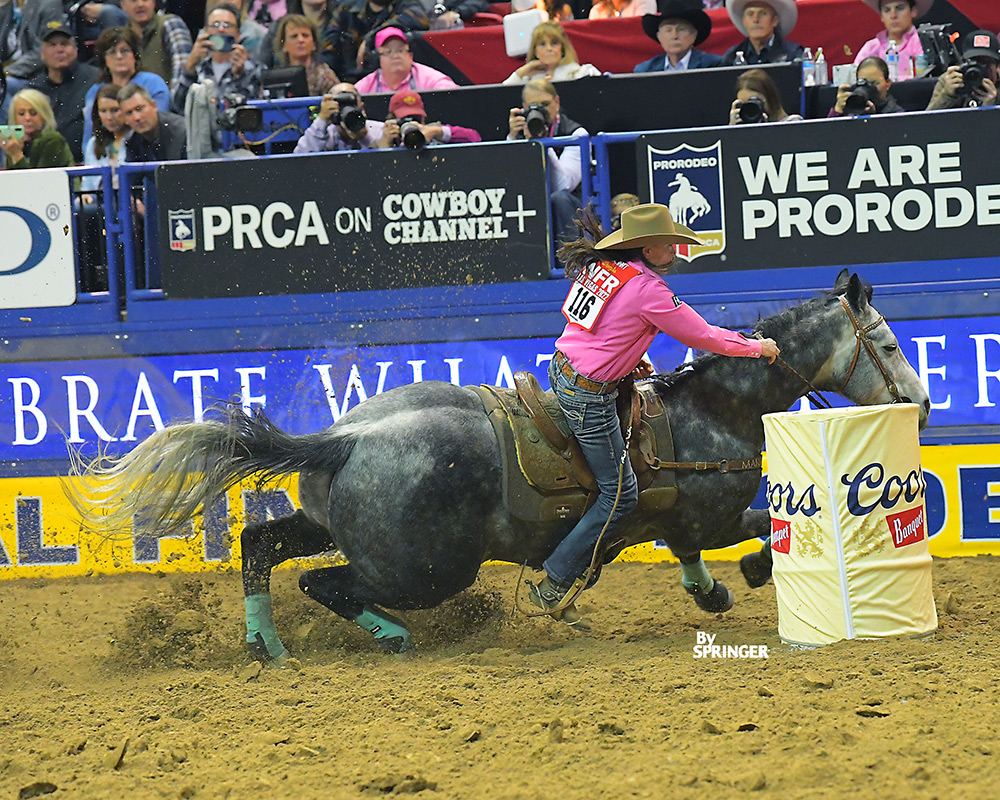 Lisa Lockhart
Photo by Kenneth Springer
Kinsel on Sister and Lockhart on Levee tonight and both jockeys stopped the clock in 13.52 seconds, to surpass Kassie Mowry who had a 13.57 second run as the second barrel racer on the pattern tonight.
"He has just been gaining confidence," said Lockhart of the difference in Levee to get the win tonight. "The first round he was very hesitant, and I figured I should give him another chance. In round two he was definitely more confident and tonight he took the bit from me in the alley, and he went when he wanted to go. It wasn't my plan, but I thought well I better hang on for the ride because I didn't have much choice as he was going. He was just as strong as could be and our timing was good. It is so impeccable to nail the first barrel here and very hard to do. Once we did that tonight it was just trying to get him to the right spots and see what happened."
This is Kinsel's third round win of the 2022 NFR and Lockhart's first but probably not her last. Lockhart leads the average in a time of 68.71 seconds, while Kinsel is eighth after a downed barrel in the first round.
Kinsel did move to No. 1 in the world, a spot Jordon Briggs has held since March after winning RodeoHouston. Kinsel is looking for her fourth world title. Briggs is second in the average with a time of 68.94 seconds on five runs. Kinsel has won $105,835 through five rounds and has $225,225 on the season. Briggs is second in $222,289.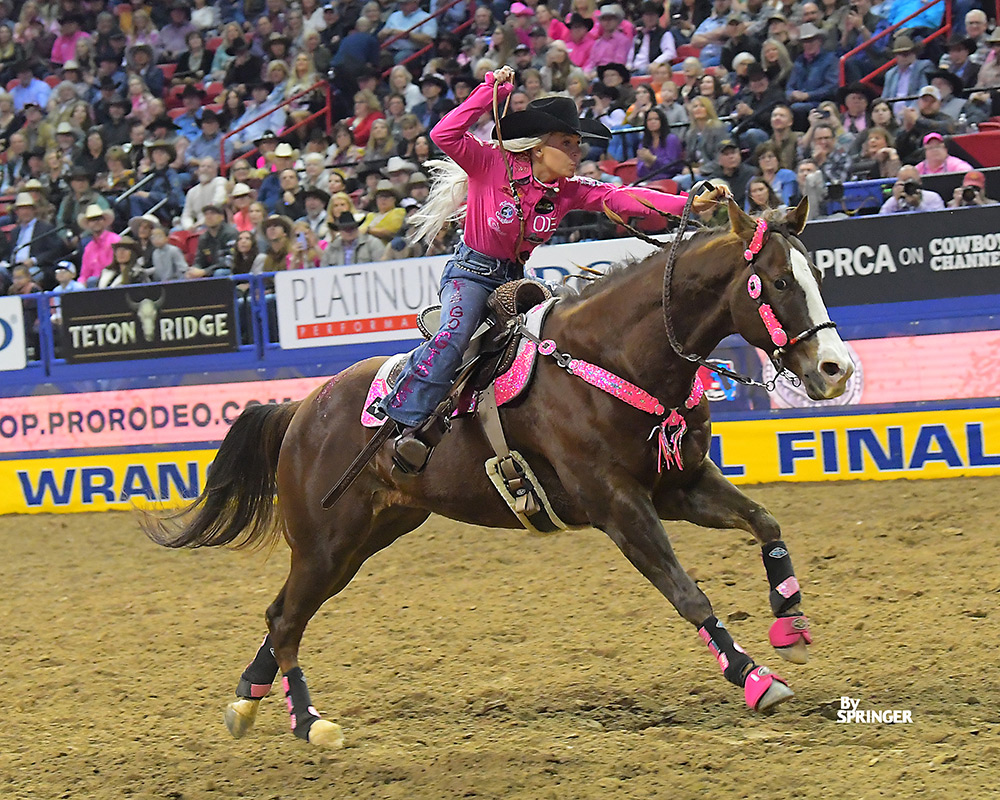 Bayleigh Choate
Photo by Kenneth Springer
The fifth round was pink night at the NFR and WPRA Rookie Bayleigh Choate and Hail To Be Famous "Dash" was decked out. Choate is in one of a handful of ladies in search of the 2022 Jerry Ann Taylor Best Dressed Award.
Fans can vote on the Jerry Ann Taylor Best Dressed award nightly for who they think looked the sharpest. The award is presented by the National Cowgirl Museum and Hall of Fame. Voting is at www.wpra.com
Sixth round action gets underway, Tuesday, December 6 at 5:45 p.m. PT LIVE on the Cowboy Channel.
Rd 5 results: https://www.wpra.com/nfr-2022-results-monday-december-5-2022/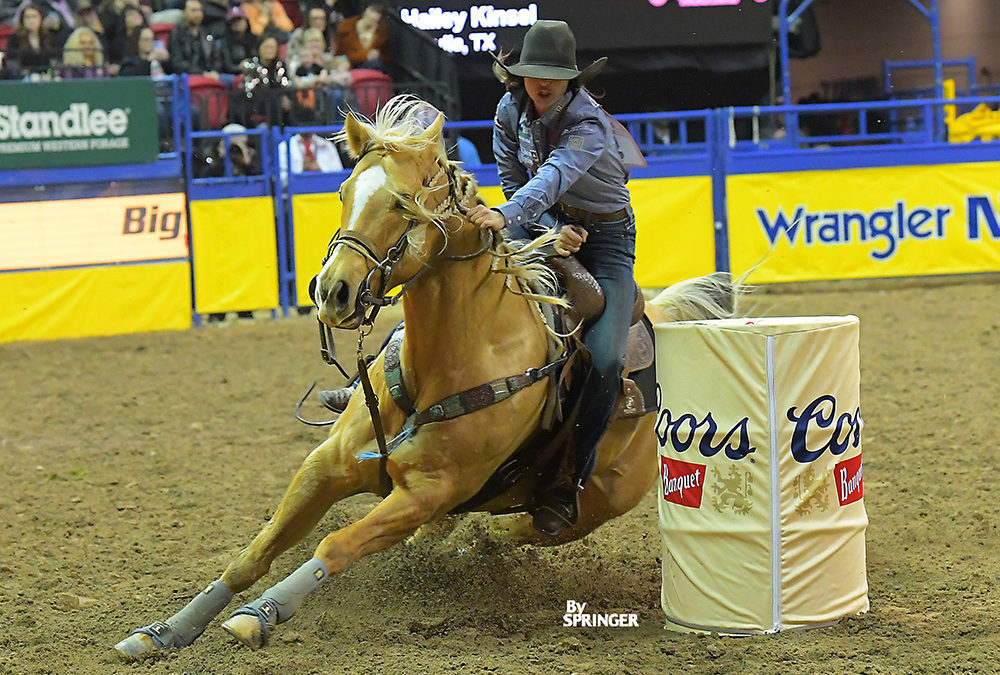 Kinsel Wins Fourth World Title, Morgan Captures First Average Title By Ann Bleiker LAS VEGAS, NEVADA – One year ago, Hailey Kinsel left the Thomas and Mack a little disappointed after her streak of world titles came to an end, but she was determined to not leave empty...
(719) 447-4627
(719) 447-4631 (fax)

431 South Cascade
Colorado Springs, CO 80903
DIRECTIONS
(719) 447-4627 | (719) 447-4631 (fax)
WORLD CHAMPIONSHIP BARREL RACING — Where the Elite Compete®
WORLD CHAMPIONSHIP
BARREL RACING
Where the Elite Compete®