Kinsel Kicked It Into High Gear in Round 2 in Las Vegas
By Ann Bleiker
---
LAS VEGAS, NEVADA – Three-time world champion Hailey Kinsel and Sister were in championship form during the second round of the 2022 Wrangler National Finals Rodeo presented by Teton Ridge.
Kinsel was third out on the ground, same position that Wenda Johnson won the first round in and she and Sister stopped the clock in 13.61 seconds. After a downed barrel in round No. 1, Kinsel put the pedal to the medal and sped through the cloverleaf pattern in typical fashion.
"The first night we spooked at the judge that is right inside the gate that makes sure we come down the alley, but she is just so boogery, that it set her off and cut off my angle going to the first barrel, and we were off from there," said Kinsel of her run on opening night. "She is just so fast that she doesn't really give me time to make a timing error, so I had that step by the first and sent me funky coming around headed to the second barrel. I was just a tick behind, and I said she is just so fast that you can't be a tick behind.
"Tonight, I was just determined to keep her square in my hands going into the alleyway, sit back a little bit so when she was running so hard to the first barrel I could make sure I could be in position and get her to find that first barrel corner. After that it is a lot easier."
Kinsel will move up to run first on the ground on Saturday.
"It is awesome because I know she is feeling confident and not having to run through ruts and if she is confident, we can just keep the gas pedal down, so that is the goal," noted Kinsel on plans for the third round.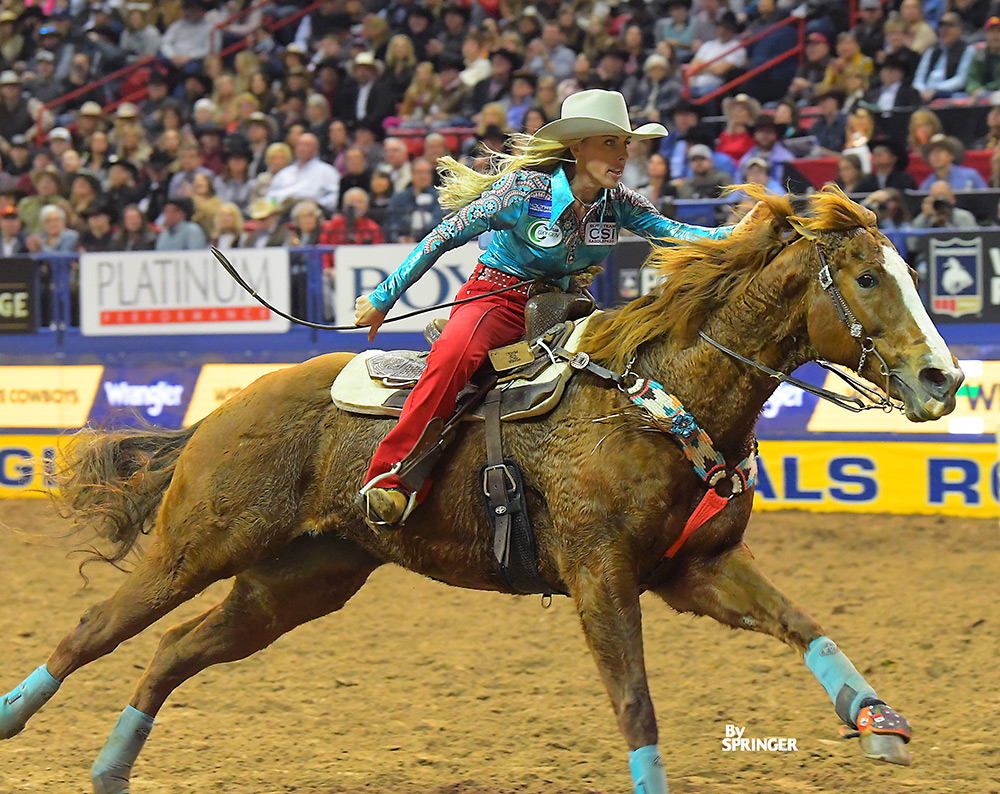 Margo Crowther
Photo by Kenneth Springer
Finishing second in the round and one of the ladies vying for the Jerry Ann Taylor Best Dressed award was Margo Crowther in a time of 13.72 seconds. Crowther of North Fort Myers, Florida, is making her first appearance at the Wrangler NFR and is currently third in the average.
Johnson had another solid night taking third in a time of 13.75 seconds and leads the average in a time of 27.32 seconds on two runs.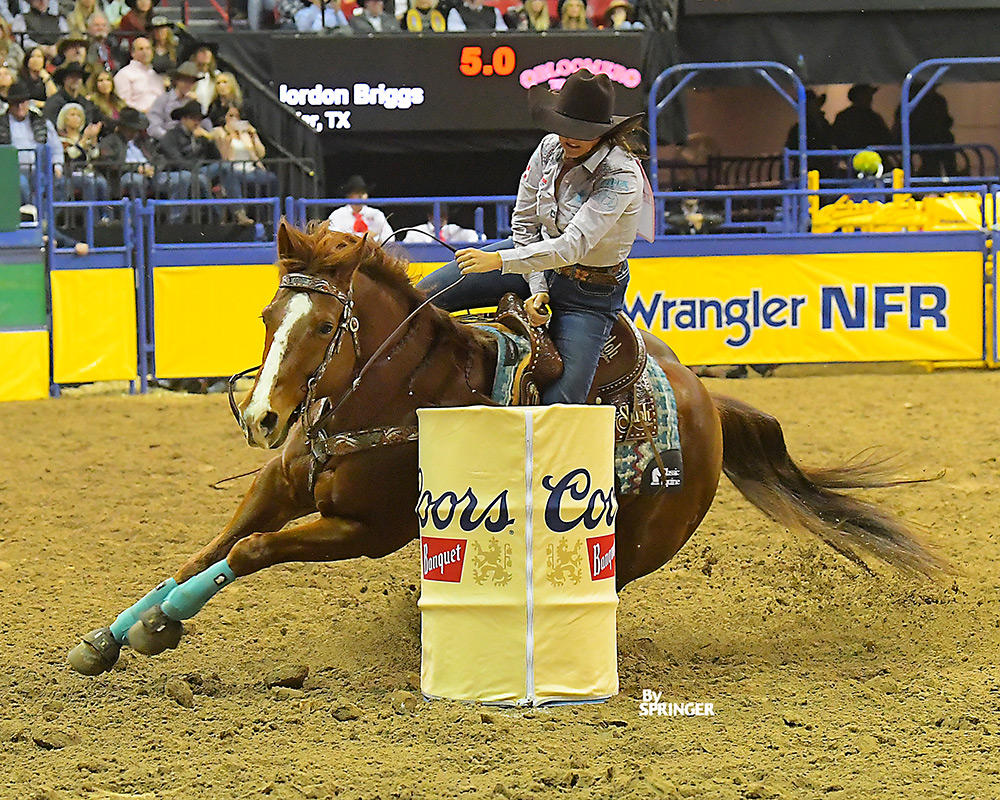 Jordon Briggs
Photo by Kenneth Springer
Reigning world champion Jordon Briggs is still the No. 1 barrel racer with $205,034 won on the year and is second in the average with 27.62 seconds. Briggs is looking to repeat as both average and world champion after 10 rounds in Las Vegas.
Prior to the barrel racing the legendary Charmayne James was honored with an NFR icon award and had a banner unveiled in the Thomas and Mack. The 11-time WPRA World Champion and ProRodeo Hall of Famer joins two other Hall of Famers in receiving these inaugural awards in 2022. She joins Trevor Brazile, who was honored on Thursday night and Ty Murray will receive the honor on Saturday.
Fans can vote on this award nightly for who they think looked the sharpest. The award is presented by the National Cowgirl Museum and Hall of Fame. Voting is at www.wpra.com
Third round action gets underway, Saturday, December 3 at 5:45 p.m. PT LIVE on the Cowboy Channel.
Rd 2 results: https://www.wpra.com/nfr-2022-results-friday-december-2-2022/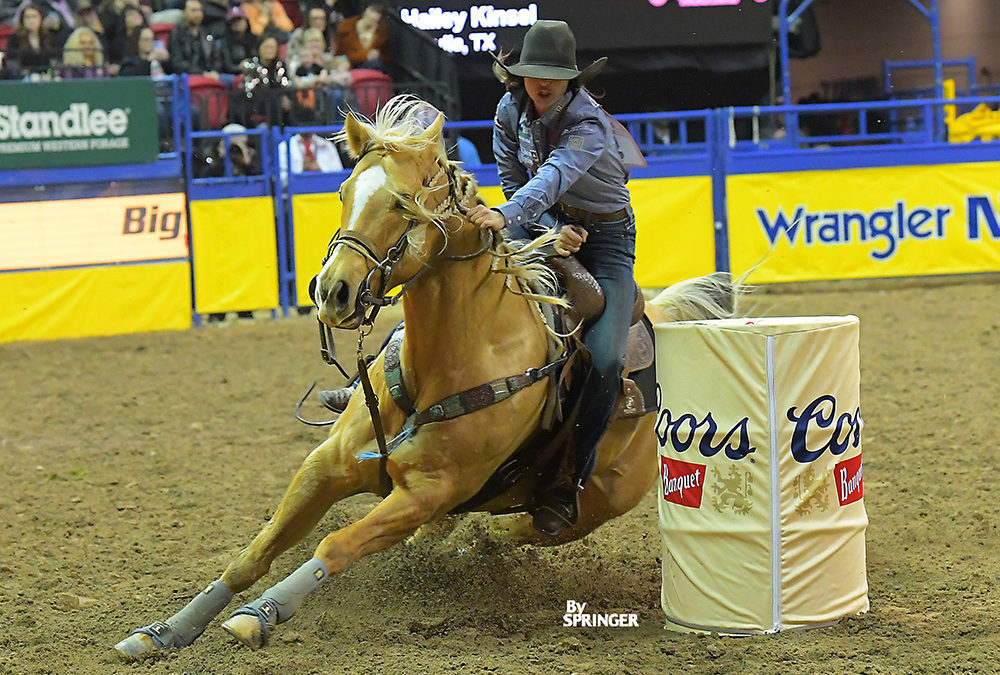 Kinsel Wins Fourth World Title, Morgan Captures First Average Title By Ann Bleiker LAS VEGAS, NEVADA – One year ago, Hailey Kinsel left the Thomas and Mack a little disappointed after her streak of world titles came to an end, but she was determined to not leave empty...
(719) 447-4627
(719) 447-4631 (fax)

431 South Cascade
Colorado Springs, CO 80903
DIRECTIONS
(719) 447-4627 | (719) 447-4631 (fax)
WORLD CHAMPIONSHIP BARREL RACING — Where the Elite Compete®
WORLD CHAMPIONSHIP
BARREL RACING
Where the Elite Compete®