Johnson Stealing Money in Vegas at the 2022 Wrangler NFR
By Ann Bleiker
---
LAS VEGAS, NEVADA – Wenda Johnson rode Steal Money "Mo" to kickoff the first round of the 2022 Wrangler National Finals Rodeo at the Thomas and Mack Center in Las Vegas, Nevada, and she was stealing the money from top 15 barrel racers.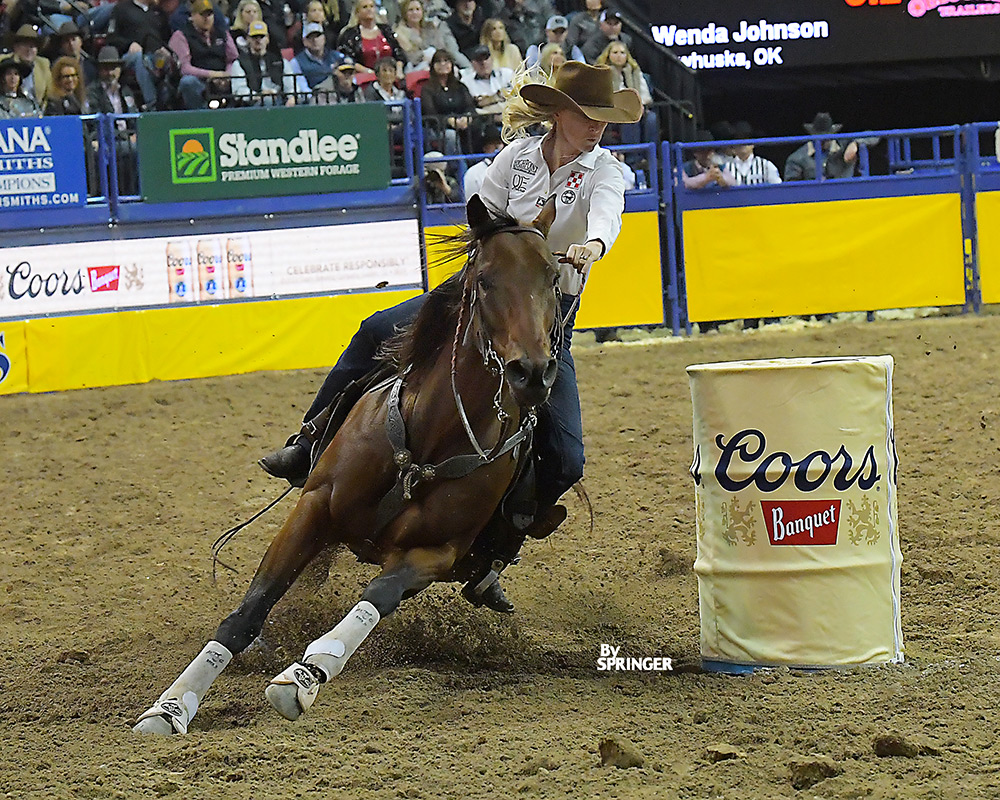 Wenda Johnson
Photo by Kenneth Springer
Johnson and Mo stopped the clock in 13.57 seconds to take the victory lap and $28,914. This is Johnson's third trip to the Wrangler NFR and second here in Las Vegas. Being a very meticulous rider, the experience she and Mo gained last year coming down the alleyway at the T&M proved fruitful in night No. 1.
"We started building confidence in an alley last year and this year I feel he is a little more game on, focused and ready to go," said Johnson of the experience gained in in 2021 in Las Vegas. "He was a little excited before I went, so we will work on that as we go forward and try to keep him a little more flat footed and ready to step in the alley lineup and make his run."
Johnson has two very talented horses with her in Las Vegas but chose to go with Mo as Mac takes a little more time to adjust to new surroundings.
"They are both so amazing and talented," said Johnson of both horses owned by High Point Performance Horses. "The only reason I am going to wait on Mac for a few rounds is it takes him a little longer to acclimate. I have noticed that every time I have come out west whether for Reno (Nevada) or here last year, he can still come out and clock but if I give him a little bit more time to acclimate to the dry climate he will fire a little bit more for me. I don't think I have a wrong choice."
Kassie Mowry was second in a time of 13.65 seconds aboard CP He Will Be Epic "Will" with reigning world champion Jordon Briggs taking third after being on top of the ground. Johnson will be top of the ground on Friday for round No. 2. Finishing fourth, making her first Wrangler NFR appearance and running 15th was Leslie Smalygo and Gus with a 13.80.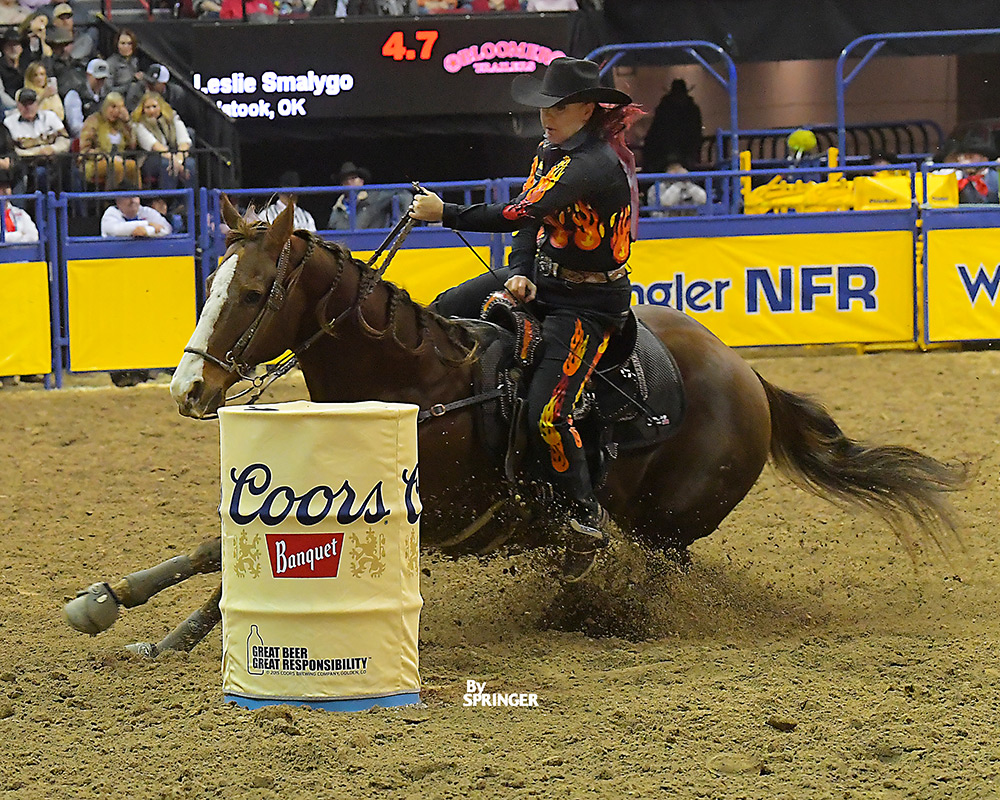 Leslie Smalygo
Photo by Kenneth Springer
A good number of ladies were looking sharp on night number one as they are also vying for the coveted Jerry Ann Taylor Best Dressed Award. Fans can vote on this award nightly for who they think looked the sharpest. The award is presented by the National Cowgirl Museum and Hall of Fame. Voting is at www.wpra.com
Second round action gets underway, Friday, December 2 at 5:45 p.m. PT LIVE on the Cowboy Channel.
Rd 1 results: https://www.wpra.com/nfr-2022-results-thursday-december-1-2022/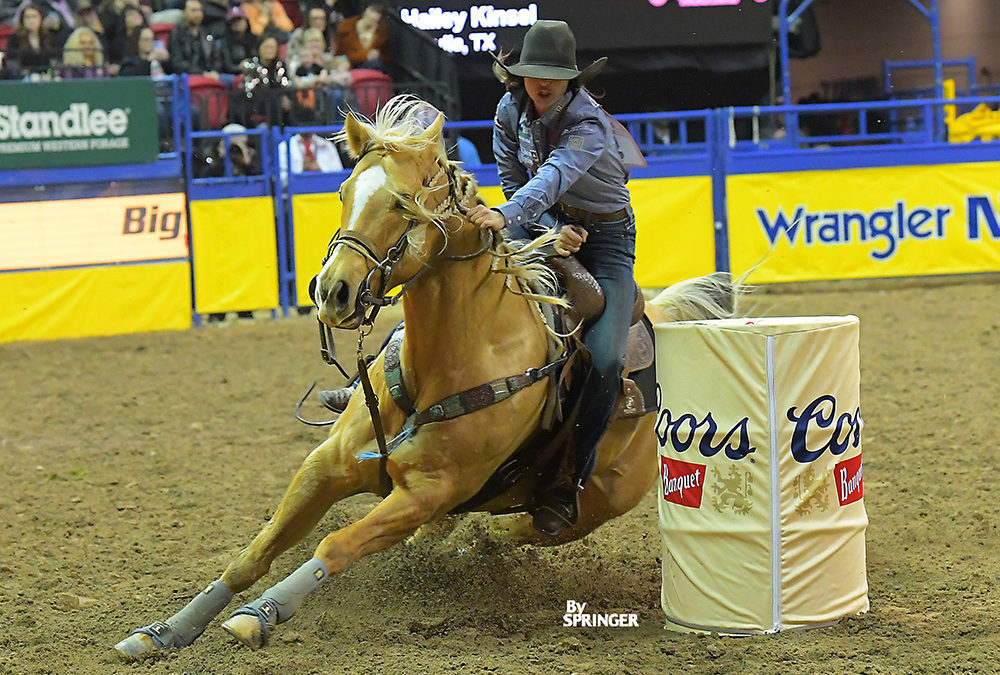 Kinsel Wins Fourth World Title, Morgan Captures First Average Title By Ann Bleiker LAS VEGAS, NEVADA – One year ago, Hailey Kinsel left the Thomas and Mack a little disappointed after her streak of world titles came to an end, but she was determined to not leave empty...
(719) 447-4627
(719) 447-4631 (fax)

431 South Cascade
Colorado Springs, CO 80903
DIRECTIONS
(719) 447-4627 | (719) 447-4631 (fax)
WORLD CHAMPIONSHIP BARREL RACING — Where the Elite Compete®
WORLD CHAMPIONSHIP
BARREL RACING
Where the Elite Compete®