Two Wins out of Three Rounds for Kinsel at Wrangler NFR
By Ann Bleiker
---
LAS VEGAS, NEVADA – Hailey Kinsel could get used to a Groundhog Day like the last two with wins at the 2022 Wrangler National Finals Rodeo presented by Teton Ridge. After a downed barrel in the first round, Kinsel of Cotulla, Texas, has reeled off back-to-back wins.
Kinsel won the third round in a time of 13.59 seconds. The only barrel racer faster thus far was Wenda Johnson on night No. 1 in 13.57 seconds.
"Absolutely," responded Kinsel when asked about getting used to nightly wins. "I am just laughing as it is such a late night (when you win and go to the nightly buckle presentation) and you have this funny thought during the day that I like to win but second isn't terrible as you can get to bed sooner. But all jokes aside it is a good reason to be up late."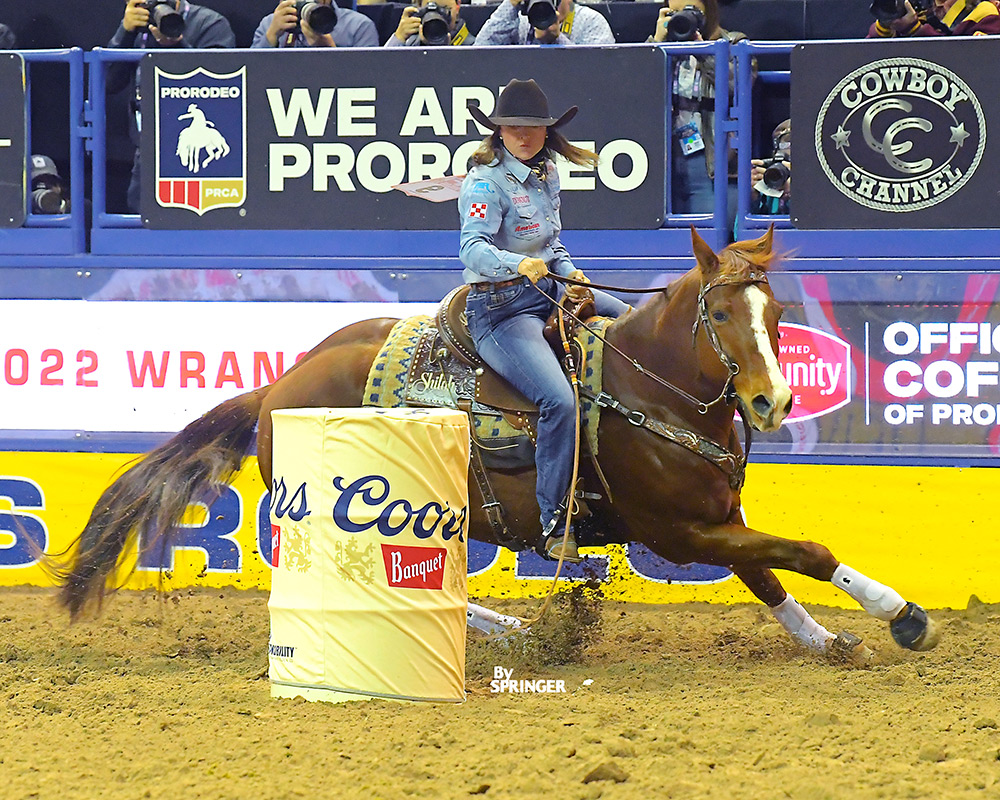 Jordon Briggs
Photo by Kenneth Springer
Plus the money is nice as well as she has added another $28,914 to her winnings for 2022 and is second behind reigning world champion Jordon Briggs. Briggs has $212,496 but Kinsel has climbed up and now has a total of $187,217 with eight more rounds to go. She is the big money winner thus far with $67,827.
"It is so important as you just don't know what opportunities are going to come your way," stated Kinsel on importance of getting these two big wins when she was top of the ground. "You want to just capitalize on those when you can and just go do your job. That was the goal tonight, to just go in, be smooth and do my job."
Johnson leads the average with three clean and fast runs totaling 41.30 seconds. Briggs, who set an average record in 2021 is sitting second with a time of 41.48 seconds.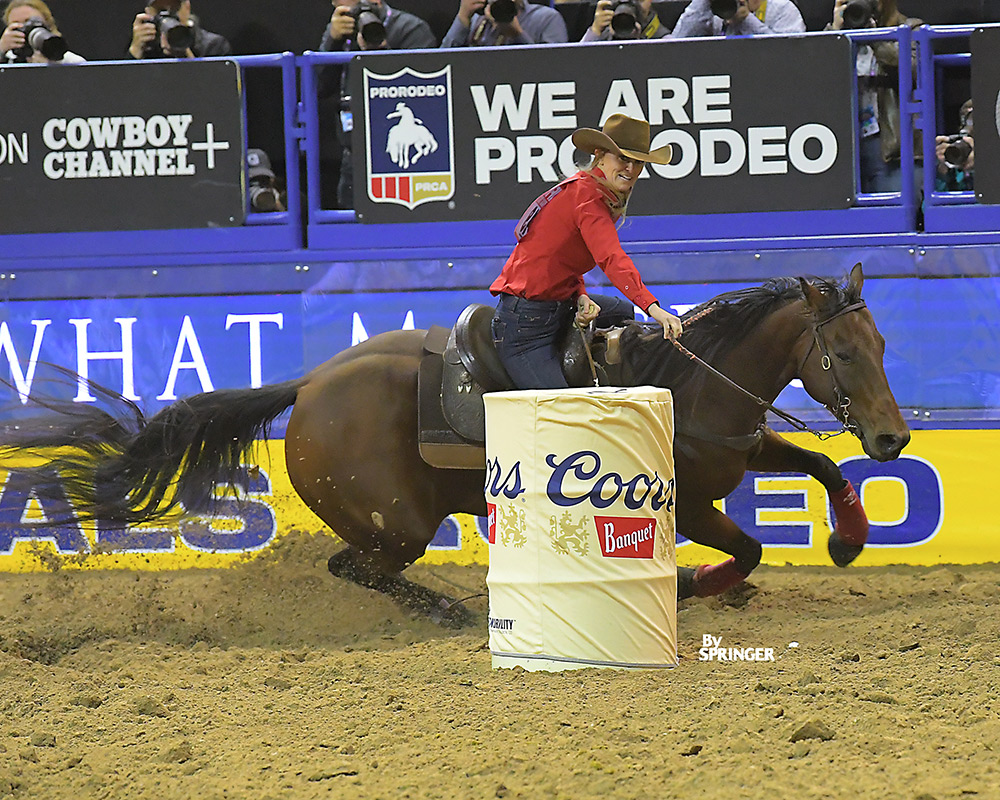 Wenda Johnson
Photo by Kenneth Springer
Fan favorites Dona Kay Rule and Lisa Lockhart finished second and third, respectively on the time with times of 13.74 and 13.78. Valor was voted the WPRA Horse With The Most Heart earlier this week by the Top 15.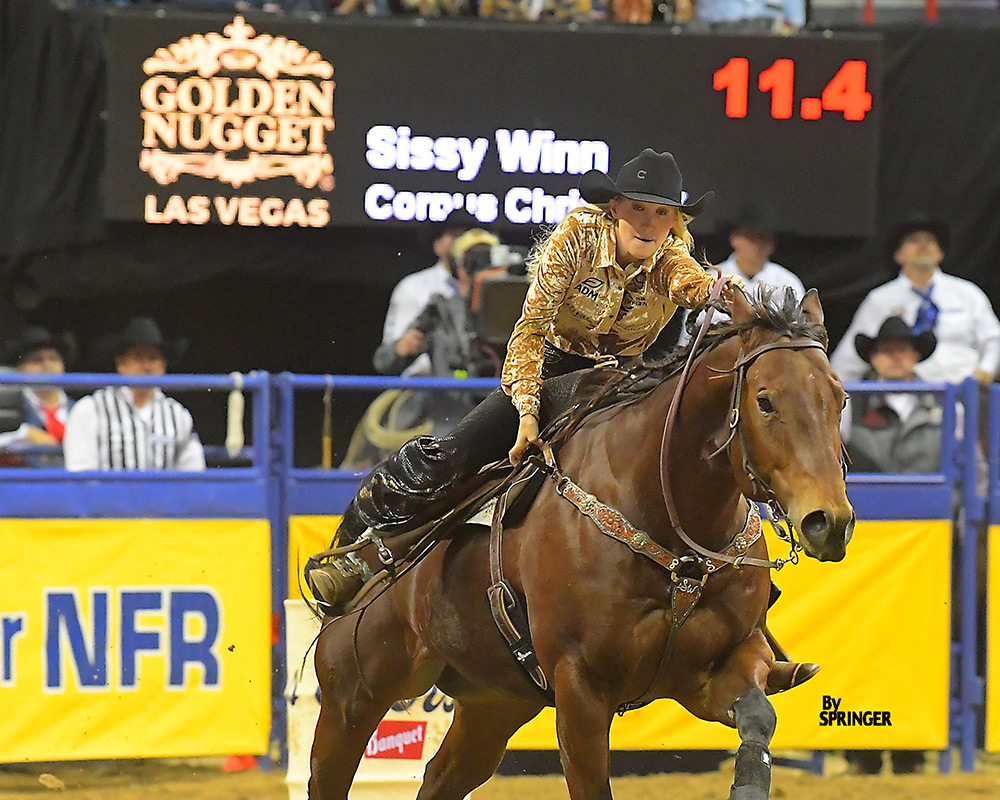 Sissy Winn
Photo by Kenneth Springer
A handful of the WPRA ladies are also competing nightly for the Jerry Ann Taylor Best Dressed award including Sissy Winn, who is competing in her first Wrangler NFR. She won the award earlier this year at the Fort Worth Stock Show and Rodeo, the only other place this award is presented. Winn will be first on the ground tomorrow night, while Kinsel will move to the bottom.
Fans can vote on the Jerry Ann Taylor Best Dressed award nightly for who they think looked the sharpest. The award is presented by the National Cowgirl Museum and Hall of Fame. Voting is at www.wpra.com
Fourth round action gets underway, Sunday, December 4 at 5:45 p.m. PT LIVE on the Cowboy Channel.
Rd 3 results: https://www.wpra.com/nfr-2022-results-saturday-december-3-2022/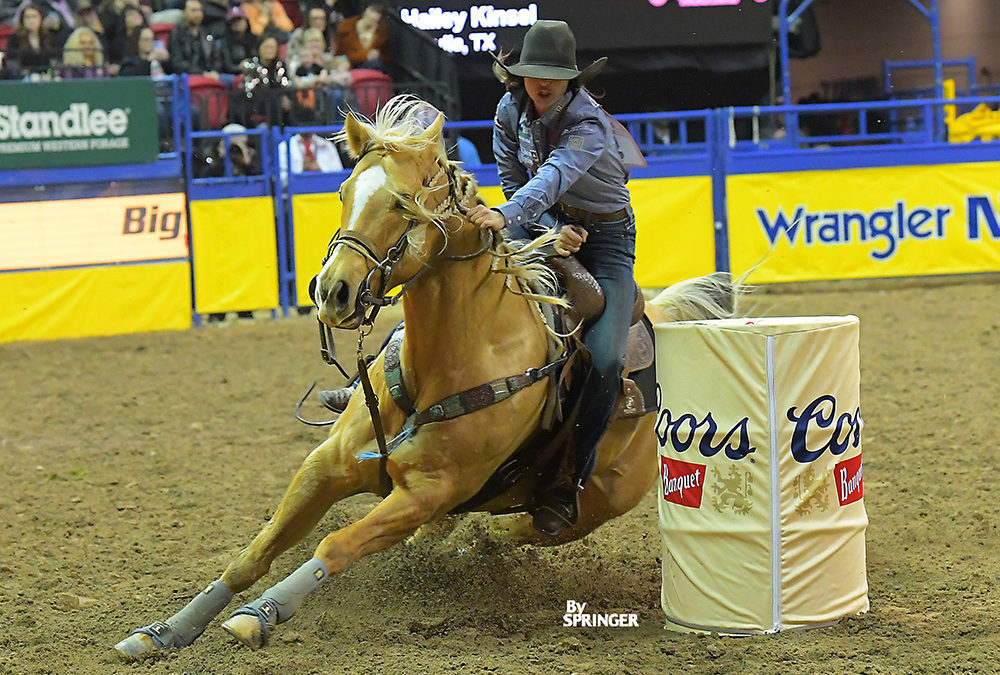 Kinsel Wins Fourth World Title, Morgan Captures First Average Title By Ann Bleiker LAS VEGAS, NEVADA – One year ago, Hailey Kinsel left the Thomas and Mack a little disappointed after her streak of world titles came to an end, but she was determined to not leave empty...
(719) 447-4627
(719) 447-4631 (fax)

431 South Cascade
Colorado Springs, CO 80903
DIRECTIONS
(719) 447-4627 | (719) 447-4631 (fax)
WORLD CHAMPIONSHIP BARREL RACING — Where the Elite Compete®
WORLD CHAMPIONSHIP
BARREL RACING
Where the Elite Compete®